Just Add Power announced yesterday that they are launching new 2GΩ Transmitters and Receivers at the upcoming 2017 ISE Show in Amsterdam next week. Celebrating 25 years of design and manufacturing, the company says these new models are consistent with their theory of evolutionary design.
See more on these new models by Just Add Power…
Just Add Power specializes in enabling HD and Ultra HD over IP and says that these new 2GΩ models are a great evolutionary step for integrators, in part because they are both backward and forward compatible with 1080p or lower resolution sources on 2G (1080p) or 3G (4K) systems. The company says they also include more features than other similar solutions.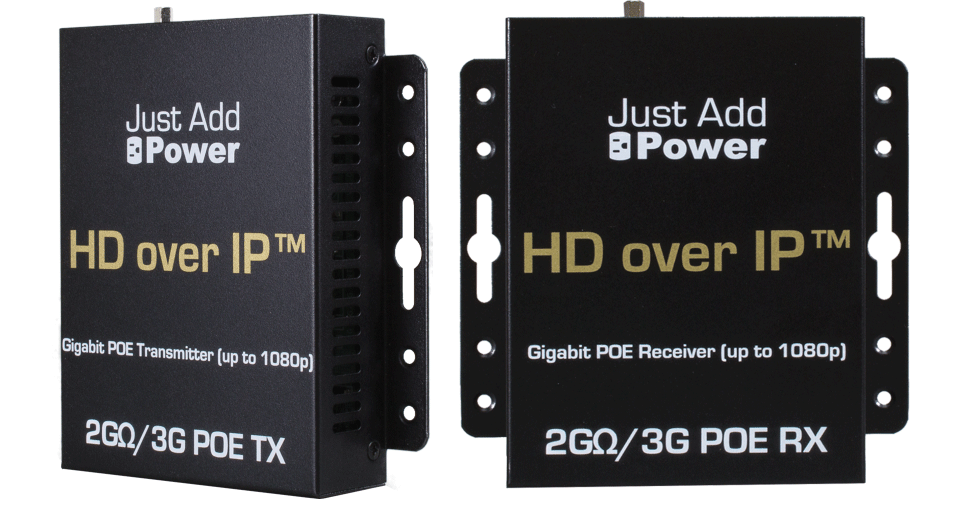 "Our proven track record over the years with 2G being installed in thousands of products has ushered in our new feature-rich 2GΩ lineup of products," said Ed Qualls, President of Just Add Power in a prepared statement. "Just Add Power just celebrated 25 years of design and manufacturing without changing our philosophy of being evolutionary, not revolutionary. One example of evolutionary would be that 2GΩ supports all legacy 2G installs. These models are also forward compatible on all new 3G Ultra HDIP projects using 1080p sources and displays, providing a way to make these systems more flexible and cost-effective."
Features on these new models include:
PoE (power over Ethernet)
Instant Switching
Video Wall modes in Portrait, Landscape, or Mosaic
Lossless Audio (Atmos & DTS:X)
Zero Detectable Latency
Image Preview
Custom Logo Overlay
Custom Image if no video present
VGA and analog inputs
Integrated control over IP
RS-232
IR
The new 2GΩ/3G POE Transmitter and Receiver are available now. Simply contact your local Just Add Power distributor to get your hands on them today.
Are you attending ISE? Be sure to visit Just Add Power in Stand 5-S112.
Learn more about Just Add Power at www.justaddpower.com.