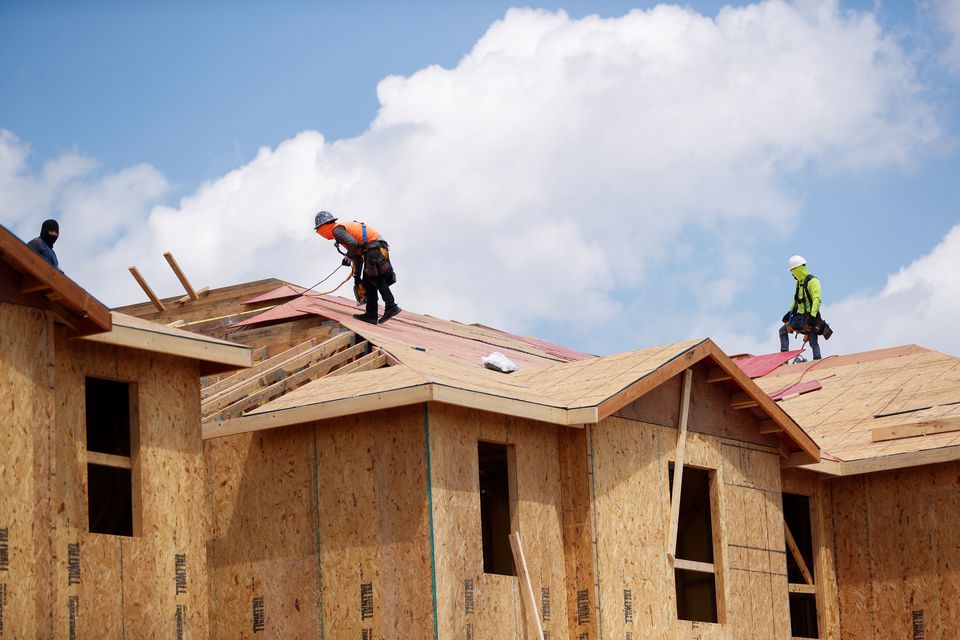 After a dramatic double-digit drop in May, June housing starts declined again, with overall starts not only dropping below May's rate to a nine-month low but also coming in well below the rate in June 2021. Single-family starts in June hit their lowest seasonally adjusted annual rate since July 2020.
Learn all the latest data on June housing starts
In another data point confirming a decline in the housing market, the U.S. Census Bureau and the U.S. Department of Housing and Urban Development released their latest read on the state of residential construction in America. It was not a pretty picture with both overall housing starts (including multi-family dwellings) and single-family starts continuing their downward spiral – although multi-family construction was a less dramatic decline.
Overall housing starts in June came in at a seasonally adjusted annual rate of 1.559 million units or -2.0% lower than the revised May rate of 1.591 million units and -6.3% below the rate of 1.664 million units in June 2021. This was the lowest rate of overall housing starts since September 2021.
Results Fell Short of Economists' Expectations; Single-Family Results Hit the Hardest
According to a poll of economists by Reuters, June housing starts were expected to come in slightly higher, at 1.580 million units.
Single-family starts in June came in at 982,000 units. This rate is a more substantial -8.1% below the revised rate in May of 1.068 million units. This is the first month in two years that the single-family rate dipped below the one million unit pace.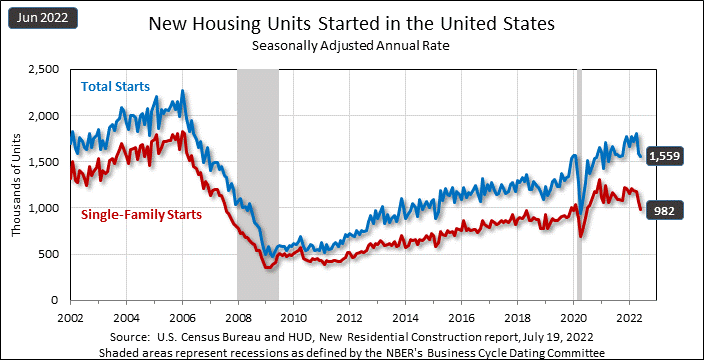 Multi-Family Construction Felt Less Impact
Industry analysts believe the more moderate decline in multi-family dwellings is due to the fact that rents have increased recently offering a greater profit opportunity leading to more projects. Also, with mortgage rates climbing, many people are forgoing purchasing a now less affordable single-family home and choosing to move into a more affordable multi-family dwelling.
I recently reported that the housing affordability index hit a 22-year low, foreshadowing this result.
From Reuters: "Rising rents are creating an incentive to build more rental units, even in the face of rising financing costs," Jefferies economists Aneta Markowska and Thomas Simons said in a note. They estimate that housing overall will subtract 1.1 percentage points from gross domestic product in the second quarter after adding fractionally to total output in the first three months of the year.
Regional Results Show Hardest Hit Areas
On a regional basis, the only region showing any growth in single-family construction activity was the Midwest which was up 2.1%. All other regions declined including the South (-2.9%), the Northeast (-12.7%), and the worst reading was turned in by the West (-25.4%).
Presaging further declines, building permits issued for single-family homes came in at 967,000 in June, another decline of 8.0% below the May figure of 1.051 million units. The "permits issued" reading is a key leading indicator as it represents permits issued for future housing construction.
Permits Issued Suggest Further Declines Ahead
Regionally, permits issued for single-family homes also declined in all regions: Northeast (-14.8%), Midwest (-9.8%), South (-5.0%), and West (-13.2%). Adding in multi-family permits moderated that decline a bit: Northeast (18.0%), Midwest (-15.7%). South (-2.1%), and West (5.8%). However, even with adding in the better results for multi-family permits issued, overall permits issued still declined 0.6% – the lowest level of permits issued since September 2021.
There are many challenges hitting the residential construction industry combining to depress the industry including, labor shortages, high materials costs, supply chain driven shortages, and rising mortgage interest rates. Particularly in the case of rising interest rates, most homes are purchased with buyers getting loans or mortgages from their bank. As interest rates increase, these mortgages become more expensive. In 2022, mortgage rates have nearly doubled, from 3.3% to now nearly 6.0%.
Fighting Inflation = More Expensive Mortgages
What's more, as the Federal Reserve Board continues to increase interest rates to attack inflation, mortgage rates look like they will continue to climb, providing even greater friction to future home purchases. In fact, the Fed meets next week and is expected to increase interest rates another three-quarter of a percent…or perhaps even a full percent. This will raise mortgages rates even more making them even less affordable, especially when you consider that housing is already the least affordable it's been in 22 years.
It looks to be some time down the road before overall prices of goods begin to descend back down to the Fed's target rate of 2.0%. Just last month, inflation stood at a stunning 9.1%.