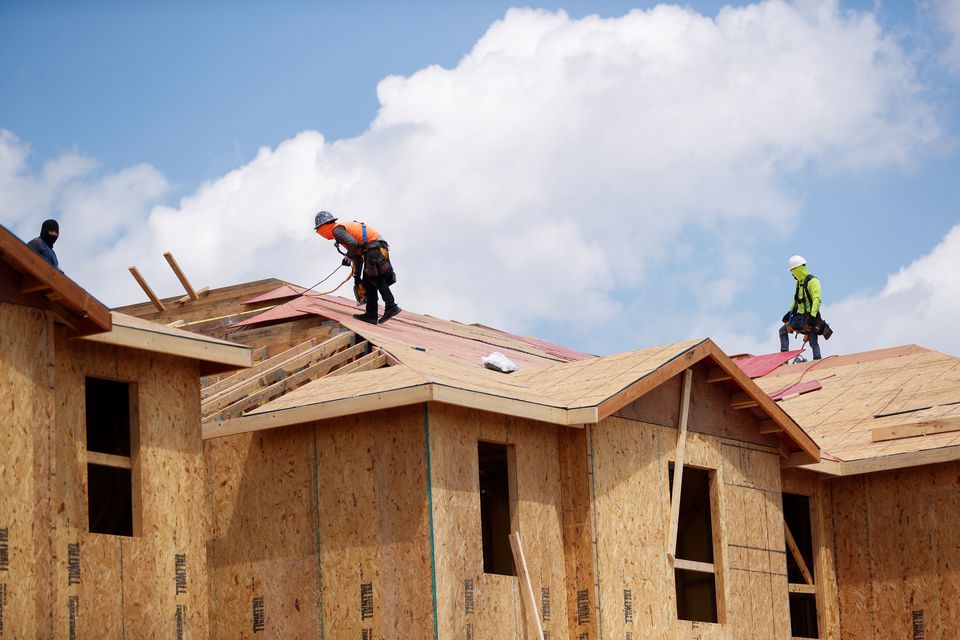 In the latest data from the U.S. Census Bureau and the U.S. Department of Housing and Urban Development, we learn that overall housing starts have hit their lowest level since February 2021 as climbing mortgage rates combined with still-high housing prices have made homes unaffordable for many Americans. The same report also notes that building permits have declined as well, suggesting housing will remain in decline for some time to come.
Learn more about housing starts during July
It's pretty clear that housing is in decline, now to nearly the lowest levels experienced during the onset of the pandemic in early 2020. This is all after housing had a tremendous run – in part because COVID motivated people to move to larger homes in suburban or rural settings to escape densely populated metro areas.
The government said that overall housing starts in July came in at a seasonally adjusted annual rate of 1.446 million units, down -9.6% below the revised rate in June of 1.599 million units. This new rate is also -8.1% below the rate of 1.573 million in July 2021. This is the lowest rate since February 2021 as the pandemic spurred housing starts to go on a 1½-year growth spurt.
Single-Family Starts Drop Below 1 Million Units
Single-family housing starts, a statistic that I believe is a more useful indicator for the custom integration channel, has declined for the last five months in a row, coming in at a rate in July of 916,000 units. This rate is -10.1% below the revised June rate of 1.019 million units and -18.5% below the rate of 1.124 million units in July 2021. This is the first time that single-family housing starts dropped below 1.0 million units since June 2020.
On a regional basis, only the Northeast turned in numbers showing growth in starts, with overall starts gaining +65.5% and single-family starts coming in up +60.4%. All other regions were hit by a decline, with Midwest overall starts off -33.8%, the South down -18.7%, and the West region off -2.7%.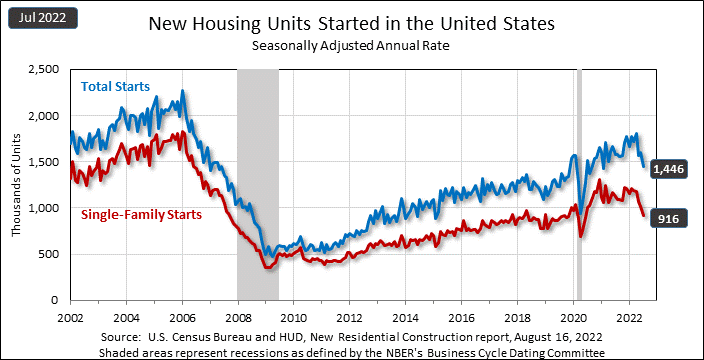 A Reminder of the Last Recession
Building permits, a leading indicator of future construction activity was off in July as well, coming in at a seasonally adjusted annual rate of 1.674 million units. This rate is -1.3% below the revised June rate of 1.696 million units but is +1.1% above the rate of 1.655 million units in July 2021.
For some, the currently declining housing market is a reminder of the financial upheaval in 2008/9, when housing led the country into a recession. Concerns of a recession still exist, but at the same time, the Federal Reserve Board remains committed to bringing down inflation, which recently hit a 40-year high. While inflation moderated a little in July, it is still at a high rate of 8.5%, well above the Fed's target of 2.0%.
Factors Outside of Housing are Cooling Fears of a Recession
Reading the tea leaves on the economy hasn't been this difficult in years. Industrial production has turned down in every economic recession in history, so the record high this month is not consistent with a downturn.

Christopher Rupkey, Chief Economist at FWDBONDS in New York to Reuters
Helping to moderate concerns about a recession is the fact that hiring remains strong and a recent survey showed industrial production bounced back to a record high, a rate that far exceeded economists' forecasts. All of this means that, despite the downturn in housing, the Fed is likely to continue to increase interest rates to slay the biggest dragon – inflation.
Hopes for a 'Soft Landing'
For housing, it looks like we're headed for another tough quarter. But some indicators suggest that if we slip into recession, the Fed may pull off a soft landing…with less negative consequences than has occurred in other recessions.
Let's hope for that!