Josh.ai, the high-end voice control solution that created quite a buzz at last year's CEDIA show, announced today that it is launching its first hardware product, Josh Micro. Josh Micro includes a home control processor, far-field microphone array, and a superior user interface in a small package that "fits in the palm of your hand." It also disconnects Josh.ai from the need to talk into your smartphone…or to a nearby Amazon Echo.
See more on Josh Micro…
Taking the Josh.ai interface to the next level, with Josh Micro, the company is more in control of their eco-system. They also create a home automation control solution that combines their more advanced voice interface with a hardware interface, thanks to capacitive touch control surface on the Josh Micro panel. To be clear, with Josh Micro, you have a complete automation solution "capable of running an entire home with ease."
With the Micro, the company has built-in redundancy as each unit has a full control system, creating a network throughout your home. The company says this offers your clients "unprecedented reliability and failover." And with one processor per room, as compared to the more typical one processor per home, Josh.ai offers added profit opportunity for their dealers.
System Redundancy for Enhanced Reliability
Each Micro is preloaded with the Josh automation software which will automatically connect to your network and discover any connected devices. The company says integrators can easily configure the system, with no custom programming required. Josh.ai says that the Micro makes "installs the fastest in the industry."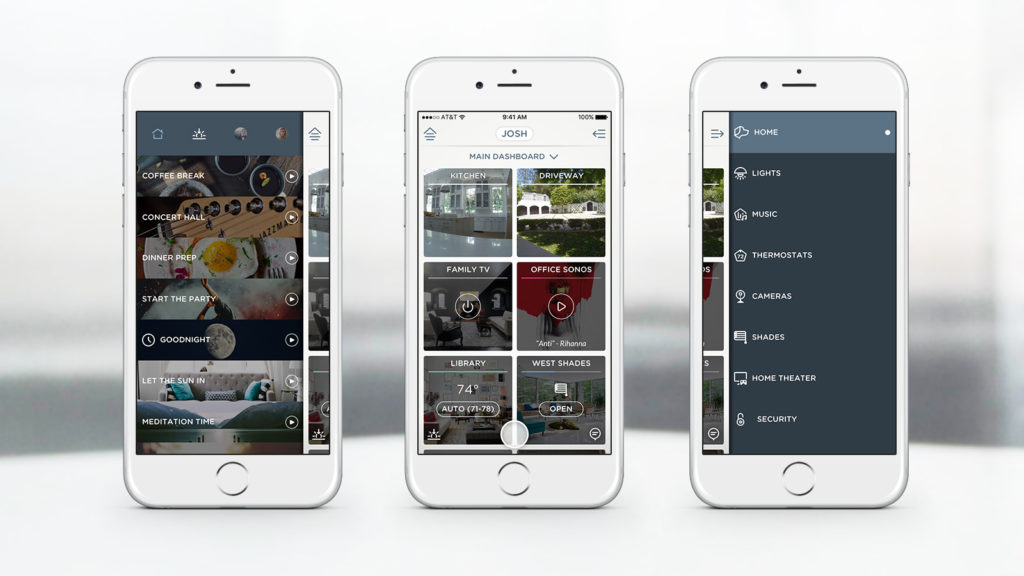 Josh Micro also plays well with others – integrating with Crestron, Control4, Lutron, Sonos, Autonomic, Nest, Chamberlain, Aprilaire, Sony, and others.
More Sophisticated Voice Control
Josh.ai is noted for its more sophisticated voice control capability and that of course, continues in the Micro product. Commands can be more naturally spoken, with the ability to issue compound command strings, and audio and video deep-linking.
One of the complaints we've heard from some integrators about the Echo, is that you have to issue a series of commands, one step at a time and after waiting for the previous step to finish. With Josh.ai, simply say, "Open the shades, dim the lights, stop the music, and watch Breaking Bad," and the system will execute all of the commands in that string.
"While designing Josh Micro, our goal was to distill home control down to its simplest form, providing an effortless interaction in any environment," said CEO Alex Capecelatro in a prepared statement. "Utilizing a series of sensors, far field microphones, and touch capacitive surfaces, Josh Micro sets the stage for a beautiful experience in the home."
That's Really Smart
Waking the system can be accomplished one of three ways – with voice ("Hey Josh"), via a motion sensor (built-in), or by a tap on the surface of the Micro. That's smart. This is smarter – Josh Micro knows where it is…simply say "turn on the lights" and the lights come on in the room within which you are located. That's really smart.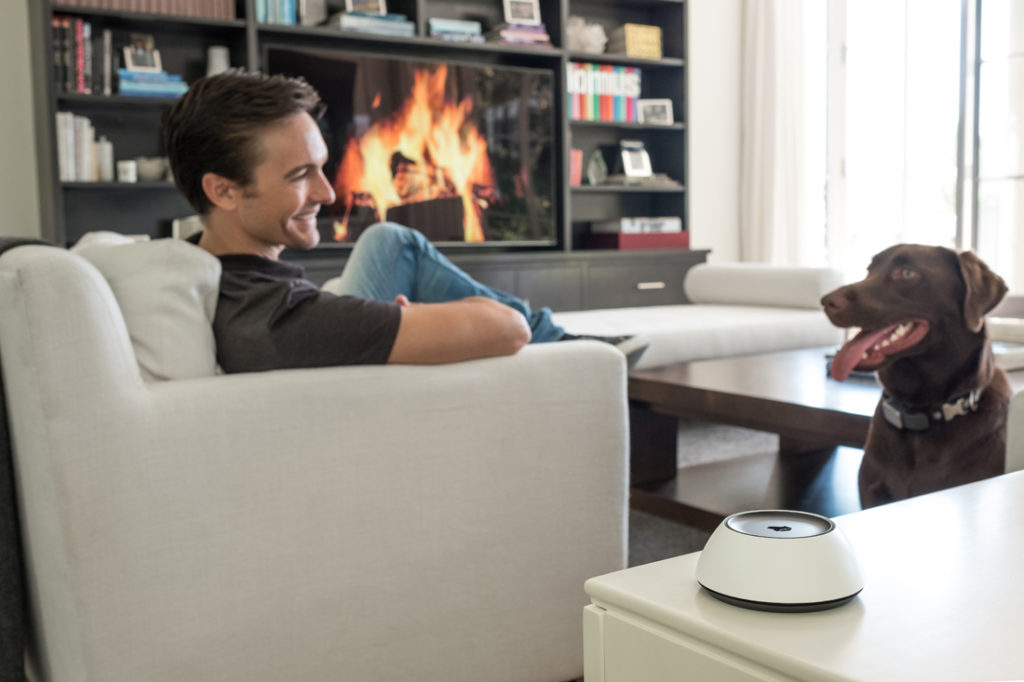 Interestingly, with Josh Micro hardware, the company branches out beyond voice and app access…into touch panel control. The surface of the Micro has an inner capacitive touch screen that can be set to operate a scene. Along the curved edge is a dial, not unlike that of a Nest.
Keypad Replacement?
Out of the box, the center touch button is set for one-tap to activate the microphone, two taps to mute the microphone. But as we said the Micro can be set for scenes. Say for example, you have one wall-mounted by an entry door. It could be set for one tap for an "I'm Home" scene, and two taps for a "Goodbye" scene. And of course, these scenes can be set for the specifics of any room where you have a Micro positioned.
The smart touch ring around the edge of the Micro is designed to adapt to the last command given. So for example, if you activate music, it becomes a "physical" volume control to turn it up, or later, turn it down. On the other hand, ask for lights and the dial becomes a dimmer.
Sensor Central
Josh Micro can be set on a table, mounted on a wall, flush mounted, or even rack mounted. Power can be either via 120volts, or PoE (power over Ethernet). Networking can be either Ethernet or wireless WiFi. Josh Micro has sensors built in for motion, touch, temperature, humidity, and ambient light – each of which can serve as triggers for an automation routine.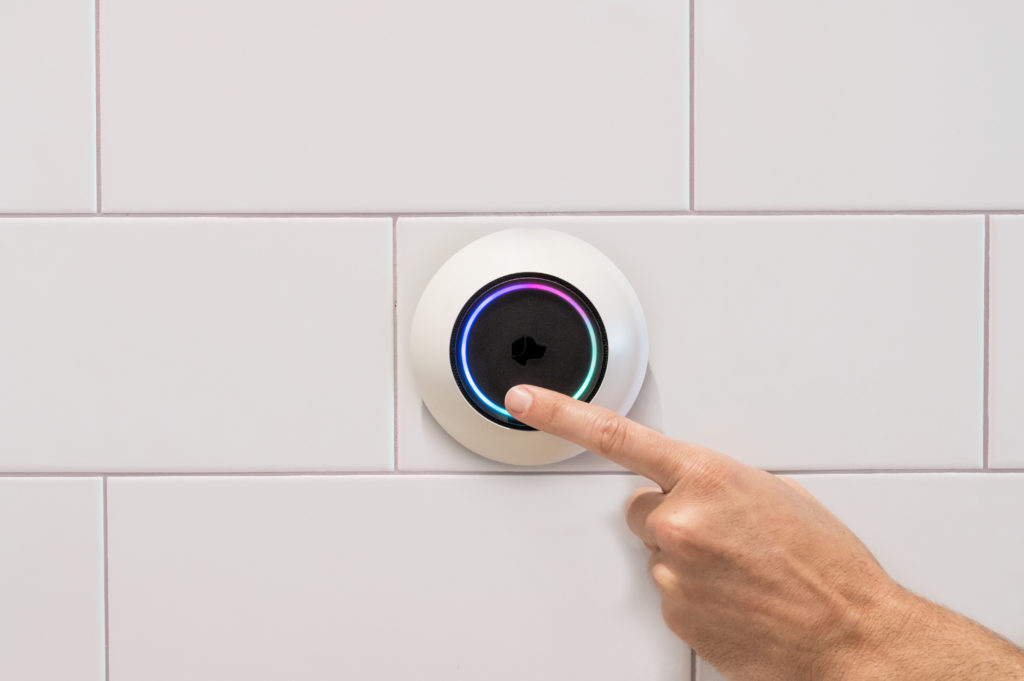 Learn more about Josh Micro by visiting www.josh.ai.
Going to the CEDIA Show in San Diego? See Josh Micro in booth #1810 at the San Diego Convention Center.