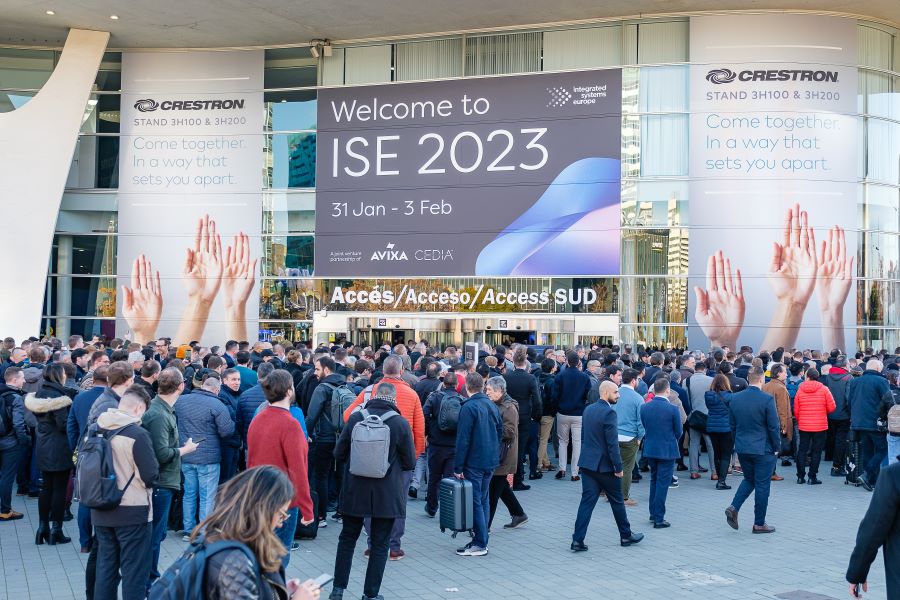 See Solutions from Crestron, Russound, Snap One & AudioControl
Taking place right now in Barcelona, Spain, ISE is a unique show that offers products tailored for both the residential and commercial side of the integration business, as well as for the international market. Of course, many major industry brands that distribute their goods globally are showing there, including these top technology products from the curated selection shown below.
Select these top tech items being shown at ISE 2023
The Integrated Systems Europe show, ISE 2023, is a major event that routinely draws more than double the attendance of the U.S. CEDIA Expo, as it primarily serves the European and other markets. Attendance from Americans is pretty minimal, but for manufacturers who sell products globally, it can be a useful event.
While I don't typically cover it closely, several important brands to Strata-gee readers are exhibiting and have released announcements. Below are a few of the top brands showing this year.
CRESTRON
As many Strata-gee readers know, Crestron is a major player in the residential space with their Crestron Home OS line. But the company is even bigger in the commercial space and so, for them, ISE is a great way to show off all of their wares in one space.
The company flexes its product muscle in a 16,000 sq. ft. "stand" (what the Europeans call a booth) that the company says will be chock full of product displays and experiential presentations. Again, their booth has ample space to feature both their extensive smart home residential line, as well as the entire panoply of digital commercial product offerings.
ISE is a unique show that allows Crestron to exhibit the breadth of our product portfolio from all sides of our business in one booth. Our daily interactions with technology continue to impact the productivity of our workday and transform how we unwind at home. The immersive demonstrations in our booth will highlight technology's influence on our lives at home, in the office, and even in hotels where we may stay.

Brad Hintze, Crestron Exec. VP, Global Marketing
Commercial Solutions
On the commercial front, the company will be showing new software innovations that integrate into the Crestron ecosystem. The first such software solution is DM NVX Software which aids in the device's delivery of seamless HD video streaming from any source to any display straight from an existing PC or server. The company has also expanded its AV-over-IP offerings and has added a strategic partnership with networking powerhouse Netgear, which will make select models of the M4250 line of switches available directly through Crestron.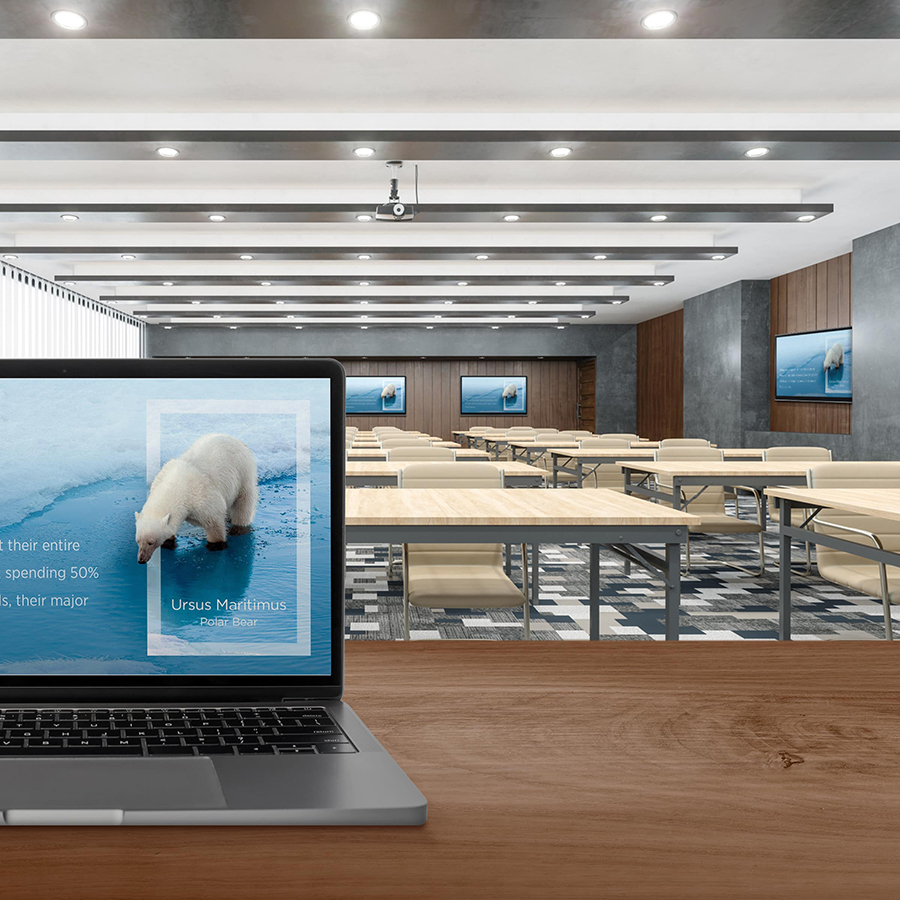 Attendees will also see the company's extensive solutions for hybrid meeting situations, bringing true equity to all participants. Solutions such as their Crestron Sightline and their Crestron Flex Unified Communications line will be on display and demonstrable at ISE. The company will also show the Crestron AirMedia wireless collaboration and Jabra PanaCast 50 video bar – an end-to-end BYOD solution that enables hybrid-first meetings.
Residential Solutions
Crestron continues to expand its share of the residential channel. At ISE, they will show their newest controller, the PC4-R – a powerful processor based on a Dell microcomputer that comes pre-installed with Crestron Home OS. Also on display are many examples of the expanding Creston Home OS ecosystem via the company's deep integration with a wide range of partner products. Also in their stand will be the company's popular DM NVX AV-over-IP solution and DM NAX Audio-over IP.
Another residential technology on display will be the expansion of the Crestron LED light fixture line the company first introduced last year. Since that introduction, the company has pursued many new partnerships with fixture manufacturers dramatically expanding the design solutions for end-users. This includes a partnership with Savage Marine to offer a superyacht lighting system based on Crestron's DMX-C solution.
Visit Crestron at ISE 2023 in Stands 3H100 and 3H200. Learn more about Crestron at crestron.com.
---
RUSSOUND
At this year's ISE Russound is offering a fully refreshed line of multichannel digital amplifiers, a major category for the specialty electronics and loudspeaker brand. These new amplifiers not only offer a new look with a new industrial design, but they also offer more power, more efficient design, and new features – a real win-win for Russound dealers.
This new lineup features three models, including the eight-channel D860, the twelve-channel D1260, and the sixteen-channel D1660. The D1260 is Russounds first twelve-channel amplifier, a nice expansion of the line and the perfect choice for many installations. The company says these new design amplifiers will be available in the third quarter of 2023.
The new amplifiers embody Russound's commitment to refresh, renew, and reinvent. We took the best of our previous models' sound signature, increased the power per channel, updated the industrial design, and even managed to make them lighter and more compact than their predecessors."

Charlie Porritt, Russound CEO
The company says its new industrial design offers more power in a slimmer more rack-efficient package with the D860 and D1260 coming only requiring 1U and the D1660 taking up just 2U. Power is rated at 65 wpc @ 8Ω, 95 wpc @4Ω, and 190 wpc @8Ω bridged. Also new, the amps now include low and high pass filters for more flexibility and control.
Be sure to visit Russound at ISE 2023 in Stand # 2K500. Learn more about Russound at russound.com.
---
SNAP ONE
Snap One, one of the leading custom integration brands, will be showing much of its very extensive lineup at ISE 2023. But they will be especially highlighting a couple of newer announcements, that may be of particular interest to integrators attending the event.
New – Strong In-Cabinet Slide Out Racks
Debuting all new racks at ISE, Snap One thinks integrators are going to really appreciate its new Strong In-Cabinet Slide Out Racks. These new racks are a really handy option that brings professional full-rack strength and performance to smaller-space implementations.
Available in a range of 8U to 42U sizes, these new in-cabinet racks add features such as pedal-activated slide-out and rotation release – and multiple locking positions – for added flexibility with stable operations for gear access. The company says that while these new Strong racks are designed to save space, there is no sacrifice in performance. Thanks to their premium steel construction, these in-cabinet racks can easily handle up to 136 kg of equipment weight.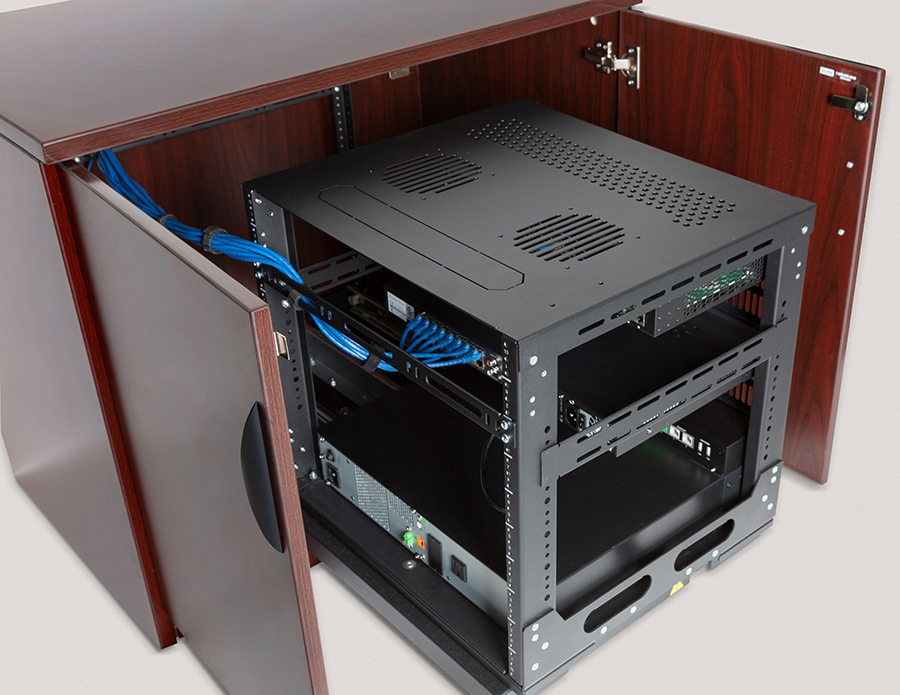 Each model features a 48cm slide-out with locking 180-degree rotation. Both the slide and the rotation can be unlocked using convenient foot pedals for easy single-person operation.
ClareVision 'Color at Night' IP Surveillance Cameras
Although the ClareVision Color at Night IP Surveillance Cameras were first shown in early 2022 and made available domestically, it is in effect a new announcement as the company is for the first time making it available for the international market. This is great news for international integrators as this system is renowned for its ability to leverage wider apertures, Sony Starvis sensors, and integrated LED lighting for impressive nighttime performance and visibility.

The company says this Color at Night system rivals daytime recordings, in large part due to the special low-light, wider aperture sensors that capture up to four times more light. Add to this technology warm white LEDs for more accurate color and wider visibility even in the darkest settings. Finally, utilizing power-over-ethernet, the ClareVision Color at Night system offers integrators much greater flexibility in installation into areas not adjacent to readily available normal power sources. There are no less than 12 camera options in this system that integrators are going to want to check out.
Be sure to visit Snap One at ISE 2023 in Stand 2D400. Learn more about Snap One at snapone.com.
---
AUDIOCONTROL
As a smart and savvy specialty electronics manufacturer, long time Strata-gee readers know I keep a close eye on AudioControl. The company has a strong base of integrator support here in the U.S. – but has also seen its business grow overseas, as well. For this reason, they have a strong showing again at ISE 2023, this year including their 8K home theater products and their ultimate performance high-power amplifiers designed specifically for the custom integration channel.
8K Home Theater
AudioControl has become a real contender in the high-performance home theater arena and its latest 8K-enabled models add to that legacy. Its latest X-Series lineup of monster preamp/processors and AVRs feature HDMI 2.1 with HDCP2.3 support and accept 8K signals. Featuring 16-channels of fully immersive audio, the X-Series support all of the most sought-after surround formats, such as 9.1.6 Dolby Atmos, Auro 3D, DTS:X, and IMAX Enhanced.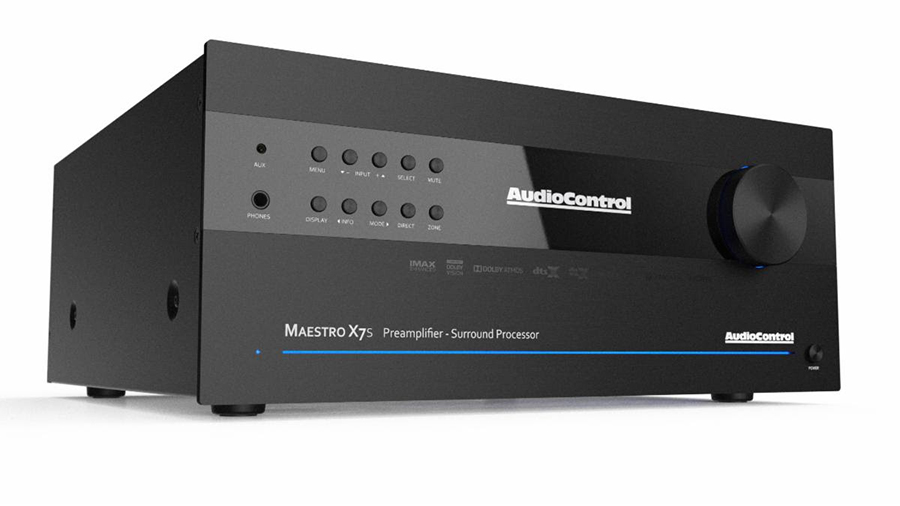 But this is all just the beginning, as AudioControl has stuffed their home theater line with all of the latest high-performance tech. They were one of the first to embrace Dirac Live room correction – now practically an industry standard – and they also incorporate ESS Sabre DACs, Google Cast, AirPlay2, aptX Bluetooth and Wi-Fi streaming, balanced and unbalanced outputs, and app-based user control. Your home theater installations have never sounded better.
An Expanded Amplifier Offering
Premiering in the European market for the first time, AudioControl is rolling out its Architect Model P250EQ amplifier. This amp, coming from a company renowned for its amplifiers (both residential and car), is a beefy 250 wpc (into an 8Ω/4Ω/or 2Ω loads), 2-channel amplifier that the company says is designed to balance ultimate sound quality with integration features. It's a lot of power that packs a punch, yet it is wrapped into a chassis that is a diminutive 1U rack space. The P250EQ will also please integrators with its expanded array of inputs, the inclusion of three selectable EQ curves, and an engineering design to optimize performance with what the company says is "commonly deployed architectural loudspeakers"…you know, the usual suspects.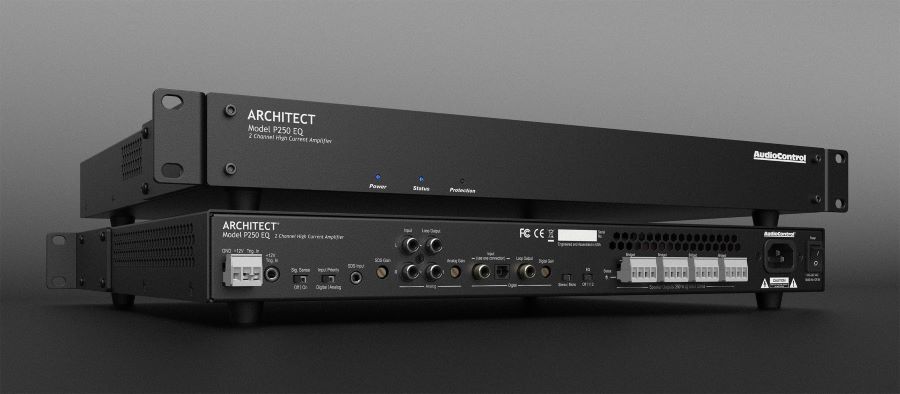 The company is also featuring its CM Series 70-Volt Amplifiers, now with optional Dante connectivity. The company's first head-on foray into the commercial channel, the CM Series is a real workhorse, featuring Constant Power Mode architecture with GaN (Gallium Nitride) chips that delivers better power, efficiency, and sound quality. New this year, the CM Series will offer an optional Dante digital audio networking capability (later in 2023).
And finally, the company will show its popular Director Series Amplifiers – an award-winning series of amplifiers that offers everything integrators need plus superlative sonic performance.
Be sure to visit AudioControl at ISE 2023 in Stand # 2K300. Learn more about AudioControl at audiocontrol.com.