BREAKING NEWS
*STORY UPDATED*

(See note below…)

It started innocently enough when we received calls and email messages asking us what we knew of what was going on at HydraConnect, the manufacturer of unique and useful HDMI matrixes and other devices. Rumors were swirling that the company was out of business. The plot thickened when we visited the HydraConnect website and found that it was down. Now we had a bit of a mystery. Phones at the company went straight to voicemail and we weren't getting called back.
More twists and turns at the HDMI specialist company…
Before we heard back from anyone associated with HydraConnect, a source called us to say that there was a story on CEPro.com that said HydraConnect was out of business and embroiled in litigation. We immediately turned to CEPro.com and sure enough, there was an article titled In Memoriam? HydraConnect, the Progressive Maker of HDMI Switches… which seemed to suggest that HydraConnect was out of business. It was a story that almost read like more of a blog post than a news story. Hours later…the story disappeared from CEPro…more mystery.
Finally, late in the day we were able to speak with David Schanin one of the original founders of HydraConnect who told us that he and partner Tony Anzelmo had sold the company about a year ago to Sean Greer and that they had no operational role in what was going on at the company now. But we sensed more…
"We have litigation with HydraConnect, but right now we have no involvement with HydraConnect," Schanin told us.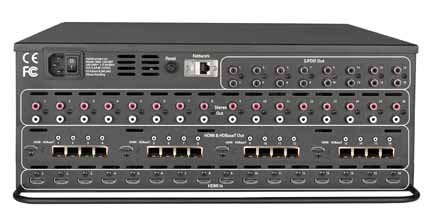 And here was our first clue to the status of the situation. Schanin was the previous President of HydraConnect, but since the company was sold a year ago he and HydraConnect co-founder Tony Anzelmo are consulting on electronics design work. Schanin was understandably circumspect to discuss the specifics of the legal situation surrounding HydraConnect and pointed us in the direction of the new owner, Sean Greer.
Then our phone rang…
"Before we go any farther, I want to inform you that this call is being recorded for obvious reasons," it was Sean Greer speaking rapid-fire in response to our inquiries. "In the middle of this lawsuit, everything's gotten very ugly."
Our question was simple, is HydraConnect out of business? Greer, obviously hyped up with the unfolding developments, demanded to know where we heard that (everywhere) and, before we could answer, asked us if we heard it from a rep (we don't reveal sources, but not initially heard from a rep).
"OK, well there's going to be very minimal stuff I can say to you because of what's going on," he retorted. "HydraConnect most assuredly, at this moment in time, is NOT out of business. The website is down for a variety of reasons including the fact that we have a variety of cease and desist orders regarding the technology that was sold to me from the prior owners."
Cease and Desist from License Holders
The license holders Greer is referring to includes Dolby, HDBaseT, and HDMI. This appears to be a fundamental part of the issue resulting from the sale of the company one year ago.
Greer told us that there was a court case that just took place last week after a year of discovery. And he added that closing arguments "don't even happen until a week from Friday." So obviously, things are happening quickly now.
"We are expecting a judgment in the next four to eight weeks," Greer added. "We have no desire to exacerbate the situation."
A Hot Button for Greer
One hot button issue for Greer was the article in CE Pro by Joe Whitaker about HydraConnect…which he clearly did not appreciate.
Greer told us that CEPro Editor Jason Knott, upon learning more details surrounding this issue, pulled the article. Greer was clearly upset that he was not consulted prior to the article being published…but also a little proud that he was able to get it pulled.
[Jason Knott has confirmed that CEPro did pull the story to do more fact checking.]
No Answers
So the real answer about what's going on with HydraConnect is that the company's new status is not really "out of business," but more like "in limbo."
"Until we have a judgment in this case, there is no answers," Greer emphasized.
This morning on CEPro, Julie Jacobson published an explanation about the situation, saying that the company is doing more fact checking. This should result, she said, in the article being republished sometime today (Thursday) with information on where it may (or may not) have been inaccurate.
HydraConnect Issues Statement
Also this morning, we received a letter of explanation of the matter from Greer's attorney. You can see the entire text of the letter here. With the letter, HydraConnect provided us with a document called Proposed Findings of Fact and Conclusions of Law that has been filed in the case. This document provides an overview – at least from the HydraConnect side – of the matter. It notes, among other things, that HydraConnect claims damages of around $1.6 million for what they say are misrepresentations from the former owners.
We are in the process of attempting to acquire more documents in the matter from both sides and will report our findings if we're successful. Stay tuned for more details…
STORY UPDATED
August 6, 2015; 2:06PM – Link to Proposed Findings of Fact and Conclusions of Law has been updated. Apparently, the first version we were provided was incomplete. The new version is complete as filed with the court.