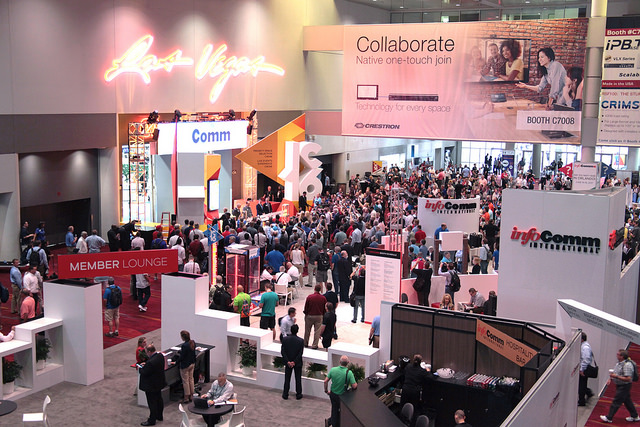 InfoComm 2016 is the commercial AV technology industry trade event that just wrapped up last Friday, June 10, after an apparently very successful week at the Las Vegas Convention Center. According to the organization, the event set all-new records for: number of exhibitors, exhibit space sold, training class enrollees, and number of attendees.
Get all the details on the InfoComm 2016 event…
InfoComm is often spoken of as the metaphorical twin brother of the residential AV technology industry trade event – CEDIA Expo – but it would be more like the twins in the 1988 movie Twins, with Arnold Schwarzenegger and Danny DeVito as twin brothers. Always larger, based on this latest report, InfoComm 2016 would be the Schwarzenegger twin as it had more than double the number of attendees (and exhibitors) as last year's CEDIA Expo.
It's always hard to determine the legitimacy of claimed numbers – smaller shows like InfoComm (and CEDIA) – maintain their own data. Larger events often have their statistical figures verified through an outside agency. However, anecdotal evidence from attendees tends to support the conclusion that InfoComm appears to be growing at a quicker pace than its Danny DeVito residential twin.
InfoComm 2016 claimed it had a total of 38,833 attendees – a figure that includes not only integrators, but exhibitor booth personnel, technology end users, and more. (For comparison purposes, 2015 CEDIA Expo had a claimed attendance of 18,700.) InfoComm says this represented a 4.8% increase over the last time the event was held in Las Vegas – which was two years ago in 2014, with 37,048 in attendance.
Slightly Down from InfoComm 2015
However, this new attendance figure is actually slightly down from the attendance at InfoComm 2015, when 39,105 people attended the event in Orlando, Florida. Fully 35% of the attendance this year were first time attendees, which, depending on your perspective, is either a positive sign of the health of the event – or an unhealthy amount of churn.
The organization also noted that the event occupied 527,105 net square feet of exhibit and special events space – which is also a record. There were a total of 1,000 exhibitors (a record) with 211 of that total – about 21% – representing first time exhibitors.
"The AV industry's commitment to advancing technology and showcasing it at InfoComm has never been stronger," said Jason McGraw, CTS, CAE, Senior Vice President of Expositions, InfoComm International. "The market is constantly changing and we've been pleased to introduce new features at InfoComm, such as drones, the Internet of Things, and content creation and streaming, which reflect the dynamic nature of commercial AV. In all, 91 percent of space was rebooked for next year, demonstrating exhibitors' strong commitment to the show."
Training More Than Ever
The organization said that education and training were also big at the show this year, with attendees registering for more than 12,000 seats at InfoComm University sessions. This was the first time that attendees could pay one price and take any of the more than 100 courses being offered.

"This is a thriving, growing, busy industry – especially this time of year – and the fact that so many professionals continue to gather in one place, including new faces and dedicated InfoComm attendees, underscores the important role that the show plays in the success of their businesses and their careers," said David Labuskes, CTS, RCDDE, Executive Director and CEO,k InfoComm International.
Organization is Expanding
The organization says that it has added more than twice as many new members this year – 750 in North America – as compared to the same period last year. Membership renewals are said to be up 40% over the rate last year at this time – and membership in Europe has grown 17% over 2015.
Learn more about InfoComm by visiting: infocomm.org.