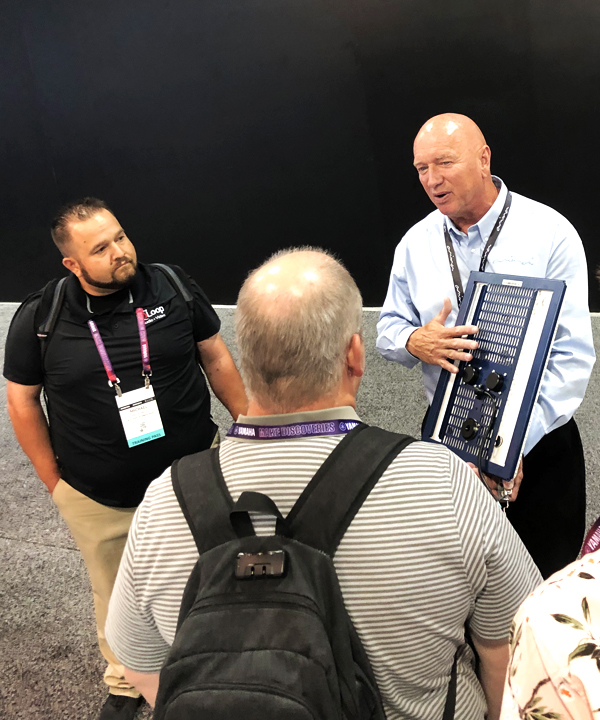 UK based Amina Technologies, manufacturer of so called "invisible speakers," had for years been in a partnership with Triad who distributed their line. Yet in the wake of Triad's acquisition by Control4, Amina ultimately chose to split off and go it alone – launching their independent sales effort at CEDIA Expo 2019.
See more on Amina's line of invisible speakers…
Although they've been in business for 20-years or so, for the last six years, Amina Technologies speakers have been distributed in the U.S. as part of their partnership with Triad. Offering a full line of invisible speakers – which use vibrating panel technology to propagate sound from behind finished walls – the relationship was said to be good between the partners.
Then Triad got acquired by Control4 in early 2017….and things began to change. So early in 2019 – before Control4 was acquired by SnapAV – Amina decided to break off from their partnership with Triad/Control4 and take their fate into their own hands.
Amina's First Independent CEDIA Booth in Years
As a result, this past September, Amina – for the first time in years – had their own booth at CEDIA Expo 2019 and proudly proclaimed their new independence by meeting directly with North American integrators. And the company says the show was a huge success.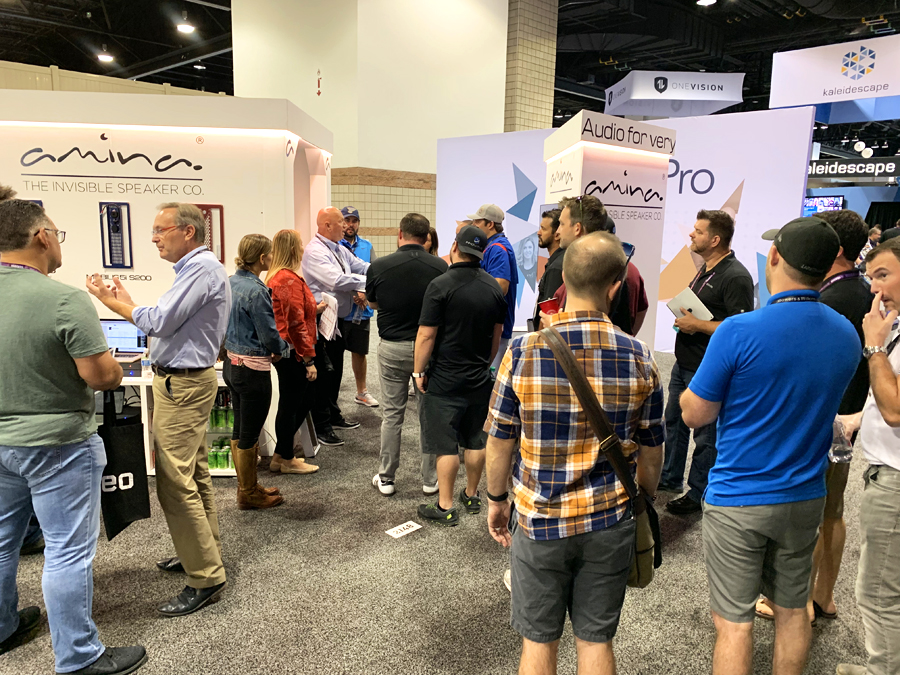 "We felt that this new approach, with a deeper direct presence, was the best way for Amina to effectively serve and grow the North American business. Our focus is to develop and maintain partnerships with dealers as we fully recognize and value the skillsets they bring to the table. As our installation partners they are an integral part of our final product's performance, and by listening to their experiences, they become active participants in our product development."

Keith Vanderkley, Amina's Worldwide VP of Engineering Technologies and VP of Sales for the Americas
A Wide Range of Models in 5 Different Series
The company offers an impressively full line of vibrating panel designs, with exciters integrated into panels that are easily installed into new construction or retrofit renovation projects. Amina offers 12 models in five series of products: Mobius, EDGE, iQ Developer, Lifestyle (70 volt) and ALF (low frequency enhancer).
Amina invisible speaker products are all built in their factory in Great Britain. In addition to their invisible speaker line, the company also offers high-pass filters and backboxes.
High Net Worth Clients Want Performance & Invisibility
In many installations, especially high-end systems, clients are demanding high quality sound…and total invisibility. Only a vibrating panel design is completely hidden in the wall panel. Yet technological advancements in the category have yielded fuller frequency ranges for richer sound and surprisingly wide dispersion for a room filling "sweet spot." And…they offer spouse-pleasing invisibility.
At CEDIA Amina showed a new Mobius i-Series which features panels suitable for wet plaster or other special finish materials, such as stucco, wood, leather, and natural or man-made veneers and laminates. This new Mobius i-Series has an all-new high frequency driver that they call their second generation Excelsior model. This driver is integrated into a honeycomb aluminum soundboard.
New Products in Mobius i-Series & Edge i-Series Lines
The company says this latest technology in the new Mobius i-Series offers a 6dB boost in mid-range sensitivity, with an extended low frequency performance as well. There are two models in this series, the Mobius5i at $1,100 each MSRP and the Mobius7i at $1,600 each MSRP.
The other product the company highlighted at the CEDIA Expo is their new EDGE i-Series, targeted for drywall installations with paint or thin veneer finishes. The company says this new EDGE-i panel takes a new approach providing for even easier installation by allowing attachment just to the wall…not anchored to studs. It is also optimal for retrofit post-plaster installations.
The EDGE-i has a sensitivity of 90dB @ 1w/1 meter…including the wall finish. The company says it offers "a dynamic, engaging listening experience unimagined from a simple installation product." Here too there are two models: the EDGE5i for $1,000 each MSRP and the step-up EDGE7i for $1,500 each MSRP.
Both Mobius-i and EDGE-i are shipping now.
Amina is Setting Up North American Distribution Now

Amina is now setting up their North American distribution, with CEO Richard Newlove and head of North America Keith Vanderkley both attending CEDIA Expo to meet with current and new potential integration partners.
For information on how to get set up as a dealer for Amina Technologies, call Amina America at (866) 462-6462. Or you can find your local sales representative at this link…
Learn more about Amina by visiting: www.aminatechnologies.com.