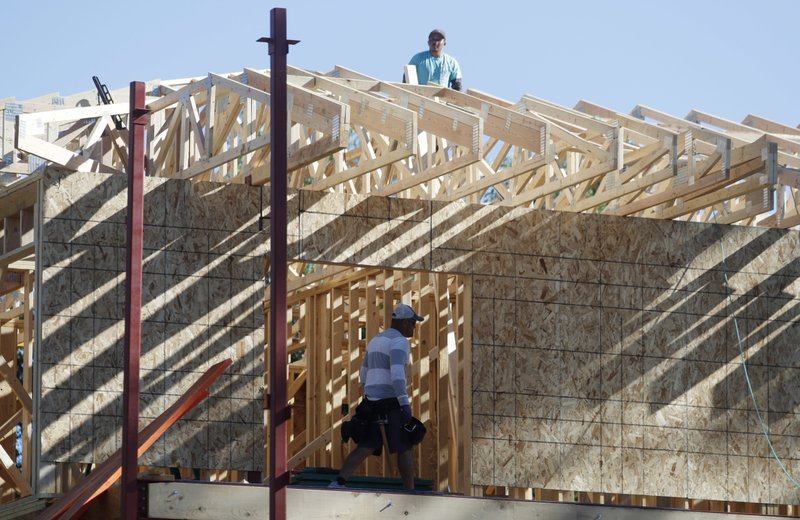 Like at the end of the Christmas movie, Miracle on 34th Street, it appears that Santa brought new homes for all the good little girls and boys at the end of last year. New government data on residential housing construction starts for December 2019 startled economists, jumping an unexpected 16.9% for the highest rate of construction in 13-years.
See more on this unexpected jump in housing starts…
Thanks to an apparently never-ending rate of economic growth, along with three interest rate cuts by the Fed, and ongoing solid employment levels – U.S. home builders are starting new home builds at a blistering pace. In December, housing starts were at a seasonally adjusted annual rate of 1,608,000 units, fully 16.9% higher than the revised November rate of 1,375,000 and an impressive 40.8% higher than the 1,142,000 homes started in December 2018.
The news surprised economists, as a poll of economists by Reuters had shown they expected a December rate of 1,375,000…or a little down from the November reading. Very few had anticipated even a small increase, let along the significant surge shown in the latest government report.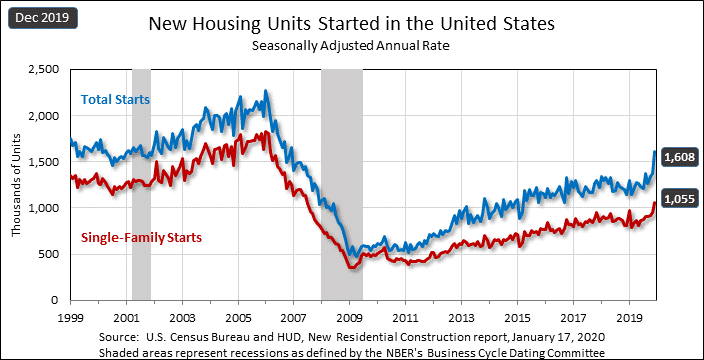 A 'Shockingly Large Rise in Home Construction'
Single-family starts in December were 1,055,000 for a still impressive 11.2% above the revised November reading of 949,000. Single-family starts are a stronger leading indicator for the custom integration industry, as it more directly correlates to integration customers.
"The shockingly large rise in home construction is likely to provide an unexpected boost to growth," said Joel Naroff, chief economist at Naroff Economic Advisors in Holland, Pennsylvania. "However, the first quarter of 2020 it might be a lot softer."

Joel Naroff, chief economist at Naroff Economic Advisors in Holland, PA as told to Reuters
Highest Rate of Starts Since the Collapse in 2006
This is the highest level of housing starts since December 2006 – just before the last economic recession. It is also the highest percentage jump in starts since October 2016…so records all around.
Still, some preach caution. Even within their report, Reuters warned, "Groundbreaking activity last month was likely [helped] by unseasonably mild weather and probably overstates the health of the housing market."
Helped by Low Mortgage Rates &Stable Job Market
There is no doubt that some of the gains in home construction are due to mortgage rates remaining at historic lows – the Federal Reserve Board cut interest rates three times in 2019. Also, job growth remains strong, even if the rate of growth has slowed.
But some suggest these numbers approach "bubble" levels, which would suggest a major approaching correction. Still, the government had previously adjusted their numbers for November…increasing it by 10,000 units from the originally reported 1.365 million units to 1.375 million units.
Home Builder Confidence at 20-Year High; Permits for Future Construction Turned Down
The National Association of Home Builders also reports that their survey of builder confidence is at a 20-year high.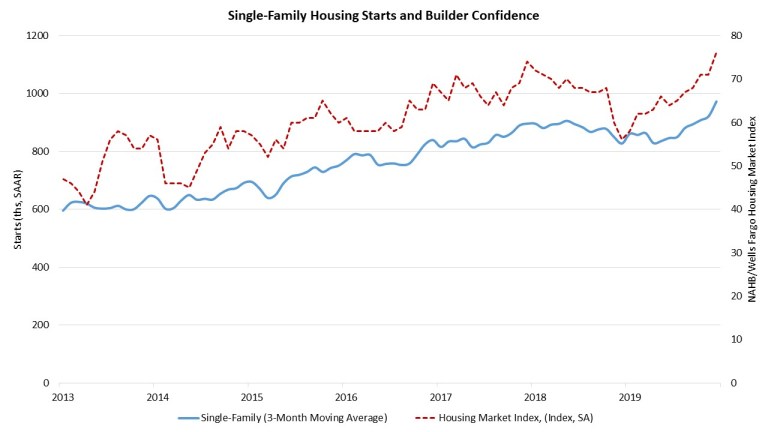 Finally, in a bit of moderating news – the government data report on permits issued…a leading indicator of future housing starts…came in at 1,416,000. This rate is 3.9% below the 1,474,000 rate in November and could suggest a bit of a cooling off period in 2020 first quarter starts.