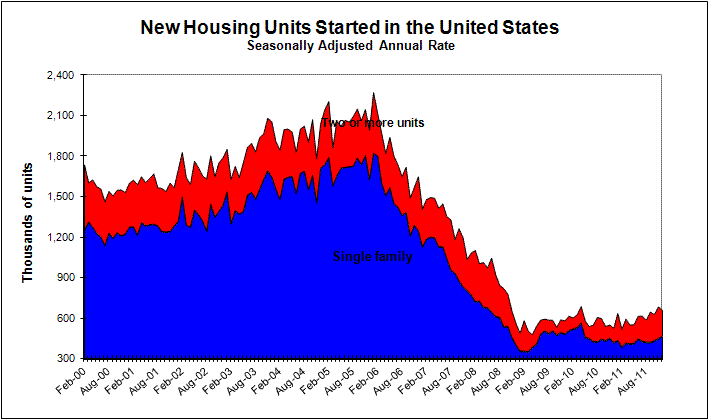 The Commerce Department on Tuesday released the latest report on the residential construction market – a key economic indicator for the custom integration market – and…as you might suspect with this uneven recovery we are in…the data showed yet another zag after last month's zig. Total residential housing construction starts for the month of May were 708,000, down 4.8% from the revised April level of 723,000 units.
But the news wasn't all bad…
Yes, starts dropped from the April reading – but on a more positive note, they were well over May 2011's rate of 551,000…28.5% over to be exact. And while the total number is still well below that "normal" rate of construction (1.3 million units according to the NAHB), this year's rate has stayed reliably within the 700,000-unit range, while last year bounced around in the 500,000-600,000 range.
Another positive indicator is the more specific single-family housing start rate. This pulls out of the total number only those starts that are specifically single-family dwellings which is probably the indicator most significant to the CI industry.
Is three increases a trend?…
In May, 516,000 single-family homes were started…and in this case, the reading represents a 3.2% increase over the April level of 500,000 units started. The May reading was also a solid 26.2% over the May 2011 rate of 409,000 starts. Finally, it was the third straight month in a row of an increase in single family starts.
"Today's report is a good sign that builders are cautiously moving to replenish their depleted inventories of single-family homes in response to increasing buyer demand," Barry Rutenberg, chairman of the National Association of Home Builders (NAHB) said in a prepared statement. "In certain housing markets across the county, the momentum toward recovery is gradually building, though tough credit conditions and inaccurate appraisal values continue to weigh down that progress."
Permit me to add…
The Commerce Department's report includes data on building permits issued for the construction of new homes. The number of construction permits issued is also an indicator of future building activity. In May, overall permits issued increased by 7.9% over the April rate of 723,000 units to 780,000. Permits for single-family homes were at a rate of 494,000 units, or 4.0% over the April rate of 475,000 units.
Adds the NAHB Chief Economist David Crowe: "The latest data provides evidence of the kind of slow but steady growth that we expect to see in housing production through the end of the year, and shows that housing continues to regain strength regardless of some weakening in other parts of the economy. Particularly encouraging are the gains in permit issuance posted in both single-family and multifamily sectors in May, which are indicative of builders' intentions to start new projects in the coming months."