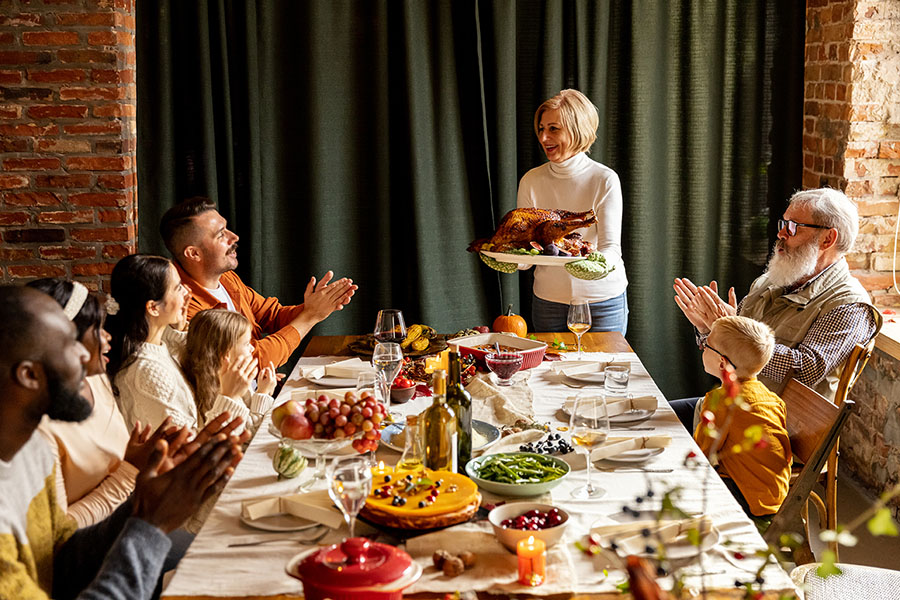 Last year at this time, I pondered whether it was possible to be thankful at Thanksgiving in a year that contained so much pain and suffering. With 2020 as the year of COVID-19, there was so much negativity everywhere, how could we possibly be thankful? Part of my answer was to look forward to the "return to normalcy" as we exited the pandemic in 2021. Whoops!
See my thoughts on THIS Thanksgiving
Okay, as I wrote that message last year I had no inkling that 2021 would see the pandemic extended with the emergence of the Delta variant of COVID-19 in the U.S. (and around the world). Nor had I contemplated that the anti-science, anti-government movement here in America would render the U.S. – a world leader in technology – as one of the worst in the civilized world as far as the percentage of the population fully vaccinated. A recent article on issues in Austria, said to have the lowest vaccination rate in Europe, noted that its rate is higher than the U.S (66% fully vaccinated versus just 59% in the U.S.).
Most experts say this means that new variants of the COVID pandemic will likely cycle through the U.S., forcing new rounds of illness, hospitalizations, and deaths – hosted by those same anti-vaccination masses here.
Still, as I concluded last year, there are ALWAYS things to be thankful for at Thanksgiving. So this year, you could say that this is Part 2 of my 2020 Thanksgiving message. Indeed, there are always things to be thankful for if you look for them. And I, for one, plan to focus on and embrace those factors as I look to the future.
The Economy

– The U.S. economy continues to grow, powering itself out of the COVID-induced recession of 2020. And while there are some troubling elements of that (i.e. inflation) the fact is that there are more jobs than applicants – many of which are better paying than they were pre-COVID, consumers are for the most part in a better financial position as far as solid income (and lowered debts) than ever experienced coming out of a recession, and more industry segments are performing better than expected (i.e. a "wide" recovery).

Tech Industry

– As I've written about before, for all of the horrors of COVID, one unintended consequence of Americans being forced to spend months in lockdown was their collective realization that technology is no longer seen as a luxury, but is now viewed as an absolute necessity. And while I've posited that the "wind is out of our sails" as consumers reenter a more normal out-of-home existence with more options for them, this change of posture for Tech will serve our industry well from this point on.

Coping with COVID (Delta and future emerging varieties)

– It would really help to protect public health if all Americans got vaccinated; however, it appears that is something that is apparently not likely to happen. Notwithstanding that fact, is that it is unlikely that we will face any future mass lockdowns. This means we will be able to continue to move around, visit with friends and family and continue to get closer to a more normal existence with public gatherings. We may have to wear masks, but that is an incredibly small price to pay to protect each other.
Of course, I'm most thankful for my incredible family, who never cease to amaze me every day. To Liz, Amy, Teddy, Jenn, Tim, and Ben – as well as my extended family – I've never loved you more and am so thankful for you all. It's been quite a journey!
I'm not going to lie to you…members of my family went through some incredibly dark days during the pandemic in 2020. But now, the future looks brighter than ever…
And of course, the following have also greatly impacted Strata-gee and The Stratecon Group:
Sponsors – Without Strata-gee's sponsors, I could not do what I do here. Please join me in thanking them for their continued support! A million thanks to (in alphabetical order):

AudioControl, Crestron, James Loudspeaker, Savant, Sonance, and Sound Advisors

. How about a big round of applause for these generous folks who keep me coming to you every day!! And if you are in the market for what they supply, you should definitely start by looking at their offerings, as they are all top players in our industry!

Clients

– A huge thank you as well to the clients of our sister company – the Stratecon Group! Like sponsors, the support of clients help me move forward with everything I do, including this website.
Last, and most importantly, I am most thankful for YOU, the Strata-gee reader. I said this last year about YOUR influence on me:
I don't know how else to say it…Strata-gee readers are the one thing I'm most thankful for this year and every year. And there are many new readers this year – thanks largely to my CEDIA Expo coverage, during which subscriptions exploded. So THANK YOU to all new subscribers this year. I hope to continue to earn your support and your longevity.
Finally, as you celebrate the holidays with your friends and family, please keep those less fortunate in your hearts. You, or someone you know, has an empty spot at the table, either from COVID or some other cause. Please take some time to think of them…
Happy Thanksgiving Everyone!!!