Report Says Sharp Plans to Withdraw from Consumer Electronics & Solar Businesses in Europe
In a new report out of Japan, the Nikkei is forecasting that Sharp Corp. will book a net loss of around ¥2 billion ($19.6 million) for their fiscal first quarter (April – June) this year. The report further says that the company plans to exit both the consumer electronics and solar panel businesses in Europe in order to refocus their efforts on other markets.
Why is a ¥2 billion loss good news? See more below…
In spite of the seemingly alarming theme of these reports, Sharp's projected ¥2 billion loss is a full 89% less than the ¥17.9 billion loss in the same quarter the previous year. So in this case, a substantially less loss is very positive news for the Japanese corporate giant in the midst of a historic reorganization.
Not only that, but the Nikkei is projecting that the company actually booked an operating profit of between ¥4 billion – 5 billion in the quarter. However, this operating profit was hit hard by costs associated with the company's decision to exit the solar panel business in Europe – which hit the company with a whopping ¥14.3 billion charge.
Loss is less than expected…
When news hit of the company's decision to exit its Europe solar panel business, most experts predicted a huge net loss for the quarter as a result. However, the company has decided to offset that loss by drawing from its litigation-reserve accrual for extraordinary income to reduce the net loss to a more negligible level.
The red ink for Sharp's fiscal first quarter marks the fourth time in a row that the company has recognized a net loss in its fiscal year's first quarter. Still, the report notes areas in the company that are definitely showing improved results.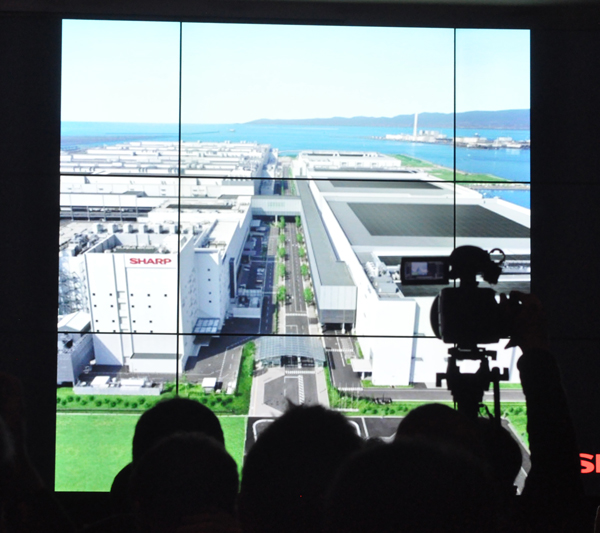 Small LCD panels…
For example, its small LCD panel manufacturing business – which makes panels largely going into Chinese smartphones – is said to be doing well. Sharp says its proprietary IGZO (indium-gallium-zinc oxide) LCD technology offers it opportunities to expand its business with Chinese manufacturers of inexpensive smartphones.
Still, the company is going through a wrenching turnaround process that has forced them to make several tough decisions. One of those decisions was to exit unprofitable businesses and refocus on certain key markets which promise stronger future growth.
Exiting solar panels AND CE business in Europe…
For this reason, Sharp has decided to exit the apparently unprofitable European solar business. And, in what might be a surprise to many, the company has indicated its intention to withdraw from the consumer electronics business in Europe as well. Sharp has a TV factory in Poland up for sale, as part of this plan to exit the European CE business.
Sharp intends to focus its energies in other geographic regions. Specifically, the company has identified Asia in general, and Southeast Asia specifically, as areas they will focus on. The company also says that the Middle East and Africa are two other geographic areas where they will seek to intensify their focus.
Even though the fiscal year is starting off with a net loss, for the full fiscal year Sharp expects to generate an operating profit of ¥100 billion (down 8% from last year) and a net profit of ¥30 billion (up 160% from the previous fiscal year).