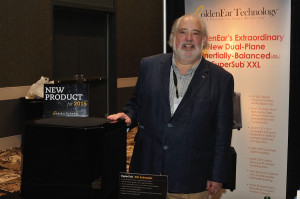 GoldenEar Technology, a manufacturer of more affordable high-end loudspeakers, has announced a new top-of-the-line model that takes speaker performance to an even higher plane. The company calls this new model the Triton Reference, and has positioned it above its highly acclaimed Triton One tower speakers.
Learn more about GoldenEar and the remarkable Triton Reference speaker system…
When GoldenEar launched their Triton One model at the January 2014 CES, we thought THAT was their reference model. At 54″ high, each Triton One featured three 5″ x 9″ powered woofers, two pair of 7″ x 10″ passive radiators, 1,600 watt Class-D subwoofer amplifier, two 5¼" multi-vaned phase plugs mid-range drivers, and their now famous High Velocity Folded Ribbon tweeter. How do you top that?
According to a release from the company, their team briefly considered launching "an all-out assault on the ultimate state of the art" with a six-figure design that would go up against the best of the best. But remembering their pledge, "We Make High-End Affordable," they threw out that concept and got to work on a more logical reference model. The result – the Triton Reference – manages to achieve a higher level of performance over the Triton Ones, but stay in the realm of affordability (by high-end standards that is).
Element by Element Upgrades with New Technology
How did they do it? Basically, GoldenEar engineers looked at each element of the Triton One, and took each item to the next level. This is no small feat. Each driver in the Triton Reference is an all-new design created specifically for this model. In fact, every element is new: drivers, subwoofer amplifier, crossover and 56-bit DSP control unit, and cabinet…are all new to this model.
In order to do this, some new technologies had to be invented in order to "up" the level of performance from an already well designed item, The company noted a few of these, including;
New 6″ upper-bass/midrange drivers which are cast-basket units with a low-mass voice coil and a new cone design with special loss-mass bonding to the butyl rubber surround for improved transient response. Not only that, but these new 6″ drivers also feature what the company calls a newly engineered "Focused Field™" magnet structure. Focused Field refers to a magnet designed to better direct the magnet flux to the voicecoil gap.
New woofers for the active subwoofers, which at 6″ x 10″ have 40% greater surface area than the Triton One. These woofers also feature a larger voicecoil and a larger magnet structure. And the new woofers also incorporate the new Focused Field technology.
New passive radiators – (GoldenEar calls them inertially balanced 10½" x 9½" planar, infrasonic radiators) – that are similar to those used on the company's spectacular SuperSub X subwoofer, but "have been retooled to allow for even greater excursion."
A new High-Velocity Folded-Ribbon tweeter with 50% more rare-earth neodymium magnet material for better transient response and higher efficiency.
Even the Cabinet is High Tech
There's much more, as the company upgraded every element over and above the Triton One. But the driver upgrades are, we think, quite significant.
The company also mentions significant upgrades to the cabinet, which features a hand-rubbed piano gloss-back lacquer finish on a one-piece monocoque design. The company noted that they even added a 3/32″-thick steel plate in the base of the cabinet to further stiffen it for increased stability. The cabinet also has "complex internal bracing," all new internal wiring, and even new stainless steel floor spikes and cups.
GoldenEar says their design goal was to create a speaker "with a dramatic and authoritative voice." The company says they compare with speakers costing 10 or more times the cost of the Triton Reference. With extensive time and energy devoted to voicing the speakers, the company says they possess "world-class neutrality." A neutrality, they add, that allows the Triton Reference to perform equally well at reproducing music…and movies.
Price and Availability
GoldenEar's Triton Reference is priced at $4,249 each and is expected to ship in the Spring of 2017.
AT CES: See GoldenEar's Triton Reference speaker system at the 2017 CES show in Las Vegas this week in the Venetian, suite 30-120.
Triton Reference Specifications
Dimensions: 6¾" (W, front) x 9¼"(W, rear), x 18¾" (D) x 58″ H (with base)
Frequency Response: 12Hz – 35kHz
Efficiency: 93.25dB
Recommended Amplifier Power: 2-750watts/channel
Nominal impedance: Compatible with 8Ω
Built-in Subwoofer Power Amp: 1,800watt ForceField digital/DSP amplifier
Driver Complement
Three (3) 6″ x 10″ woofers
Four (4) 10¼" x 9½" passive radiators
Two (2) 6″ upper bass/midrange drivers
One (1) High-Velocity Folded-Ribbon tweeter
See more about GoldenEar and its products at: www.goldenear.com.