GoldenEar, the now 3-year old brainchild of speaker savant Sandy Gross, continues an aggressive product launch schedule announcing both a new larger soundbar and a line of center channel speakers with the rather shopping mall-sounding name of SuperCenters. Like all GoldenEar products, these new models are reserved strictly for GoldenEars' limited distribution to predominantly specialty dealers and installers.
See more on these interesting new GoldenEar speakers…
First up – an expansion of GoldenEar's soundbar line, called SuperCinema 3D Array. The new version – even bigger and better – is the SuperCinema 3D Array XL. Some were surprised when GoldenEar entered the soundbar business as it is not typically something you would expect from a – pun intended – golden eared audiophile like Gross.
But GoldenEar knows that, with solid engineering, good sound can come in many different form factors – from imposing tower speakers…to sub/satellite speakers…to in-walls…AND to soundbars. GoldenEar dealers are doing a variety of systems and installations, and the company wants to be able to meet their needs.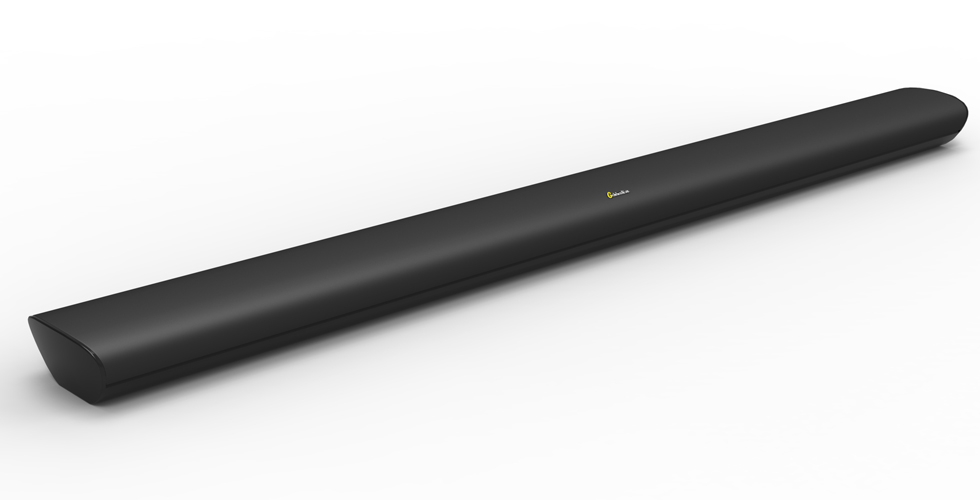 XL size for XL performance…
The 3D Array XL is a larger version designed to complement TVs sized 70-inch or larger (XL TVs?). As in the earlier version, GoldenEar has incorporated spatial circuitry to offer a more immersive experience (hence the 3D in the name). GoldenEar calls it "special 3D image optimization technology" but they are referring to 3D sound…not 3D video.
Where's the magic? The SuperCinema 3D Array XL has a full left/center/right speaker configuration…AND…a second set of drivers. They are the secret sauce that takes advantage of GoldenEar's proprietary technology that cancels out crosstalk distortion and delivers a convincing three-dimensional soundfield.
The company notes that in a cabinet that is 62-inches wide and only 2.7-inches deep – listeners hear a full 180-degree soundfield. GoldenEar also suggests that if users add rear surround speakers and one of their ForceField subwoofers – they'll get a system that rivals all-component based systems. But these are optional add-ons that most buyers won't feel they require based on the sound from the system itself.
SuperCinema 3D Array XL Specifications
Dimensions: 62″ wide x 4¾″ high x 2¾″ deep
Cabinet: aerospace-grade extruded aluminum in piano-gloss-black color
Mount: Can be easily wall mounted or shelf mounted
Configuration: 8 – 4½″ bass-midrange drivers; 3 – High-Velocity Folded Ribbon tweeters
Frequency response: 80Hz – 35kHz
Efficiency: 91dB
"Projected" retail price: $1,499.
Available Spring 2014
Hanging out at the SuperCenter…
GoldenEar also announced two new products they call SuperCenters – the SuperCenter X (SCX) and the SuperCenter XL (SCXL). The company says dealers asked them for this product – their customers want "more substantial, more traditional, center-channel loudspeakers."
The SuperCenters are relatively big boys – so don't go spec'ing these in installations requiring slim, diminutive presentations. They are, however, very appropriate for high-performance home theater systems.
Newly designed driver…
How capable are they? The company says they are designed to hold their own when used in conjunction with their popular (and muscular) Triton Tower speakers, as well as their Aon Bookshelf speakers.
The SuperCenters use a newly designed long-throw 5¼″ bass/midrange drivers used in a D'Appolito Array surrounding the company's workhorse High Velocity Folded Ribbon tweeter. The system also incorporates top-mounted pressure-coupled quadratic planar low-frequency radiators for extended bass response. There is one 7″ x 10″ radiator in the SCX. The SCXL features two 6¾″ x 8″ planar radiators.
SuperCenter Specifications
Dimensions: X: 5¾″ high x 20″ wide x 11″ deep; XL: 5¾″ high x 29″ wide x 11″ deep
Weight: X: 15lbs.; XL: 21 lbs.
Frequency response: X: 45Hz – 35kHz; XL: 36Hz – 35kHz
Efficiency: X: 90dB; XL:91dB
Nominal impedance: Both: compatible with 8 ohms
Driver complement: X: (2) 5¼″ bass/mid-range drivers, (1) HVFR, (1) 7″x10″ radiator; XL: (2) 5¼″ bass/mid-range drivers, (1) HVFR, (2) 6¾″x8″ radiators
Recommended amplification: X: 20-200 watts/ch.; XL: 20-250 watts/ch.
Price: X: $599; XL: $799
Both will be available in October 2013
For more information, see: www.goldenear.com.
SEE GoldenEar Technology at CEDIA in the Soundrooms SR-6