News of Gibson's $10M Monthly Loss Gives Some Pause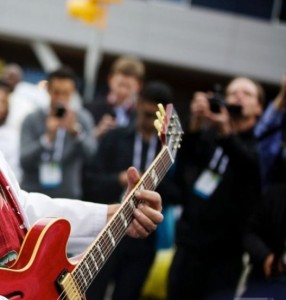 Gibson Brands, Inc. declared bankruptcy on May 1, 2018, thereby placing themselves in Chapter 11 protection from creditors. Now under the guidance of bankruptcy court, the company buys itself time to put a plan together to present to the judge offering a path out of bankruptcy for the company. During this time, debts are frozen until the judge determines the final disposition – a disposition that typically includes some level of payment to debtors, both secured and unsecured.
So how is Gibson doing? According to a story by the Nashville Post, Gibson posted a loss of nearly $10 million in May – its first month under bankruptcy court protection from creditors.
See more on the bumpy bankruptcy road upon which Gibson finds itself…
Gibson reported that for the month of May, they had sales of $22.4 million according to the report. Around $3 million of those sales came from subsidiaries that are not part of the parent company's bankruptcy filing. Furthermore, the report shows the company generated an operating profit of $3.2 million. So why the big net loss?
First, the $22 million in revenues seems off pace from the company's previously known quarterly reports of $71 million in the fourth quarter, and $77 million in their previous third quarter. This suggests that the company's sales may in fact have been impacted by the widely reported news of the iconic guitar maker's bankruptcy.
Money is Expensive
Second, even though the company has been granted access to a much-needed $135 million post-petition financing, it is expensive. The company reported interest payments in May of $3.7 million…a heavy load for a weakened company to carry.

But the big killer of their profits really centers around their bankruptcy filing and associated activities. The company reported approximately $8 million in costs associated with their bankruptcy – including heavy restructuring charges.
Millions to Lawyers and Financial Advisors, in Just One Month
In the month of May, the company reported that they paid nearly $2.5 million in fees for lawyers and financial advisors. In addition to this, Gibson was hit with another $4 million in costs directly related to their bankruptcy – including a $1.5 million write-off in prepaid expenses for "consumer electronics trade shows" according to the report.
It is an inauspicious beginning for the "new" Gibson. However, once the company emerges from Chapter 11 bankruptcy – IF it emerges from Chapter 11 bankruptcy – many of these costs will begin to taper off. However, a monthly loss of $10 million is noteworthy, and a far cry from the EBITDA of $11 million the company reported in their fourth quarter.
Will Gibson, Like Tiny Tim, Tiptoe Through the Tulips?
In a separate report, Gibson suggests they may launch a line of ukuleles… (BTW, this is not a joke, CEO Henry Juszkiewicz told Reuters that this is a category the company is investigating entering…)
See more on Gibson by visiting: www.gibson.com.