Marissa Mayer's Resume 'Broke the Internet'
Is one of your New Year's resolutions to get a new job? If that's the case, then you are likely going to need a resume. Has it been awhile since you did one of those? Well, take a look at a resume for former Yahoo! CEO Marissa Mayer (now at her AI startup Lumi Labs) – a modern take on a resume that is eye-catching, informative, and facilitates comprehension.
Get ideas for your resume from Marissa Mayer…
In this example, Mayer's resume is created by an SaaS application called Ehancv. Ehancv has contemporized the concept of a resume in new, creative and graphic ways. The concept is to rethink the resume and find new methods to help structure your skills and background information such that potential employers better get a sense of who you really are and why they should hire you.
When Enhancv published Marissa Mayer's resume, they said it "broke the internet," catching so much attention it was run by several business and technology websites and blogs. And I'd say rightfully so, as this resume's design concept coupled with an intensely interesting subject matter was truly attention grabbing.
A Unique and Extensive Career in Tech and Business
Truthfully, this is a sample resume the company created for Marissa Mayer, based on her unique and extensive career in tech and business with multiple positions at big tech companies like Google and Yahoo. But that does not take away from its value as a potential template for your resume, as the company utilized some interesting design conventions throughout her sample resume.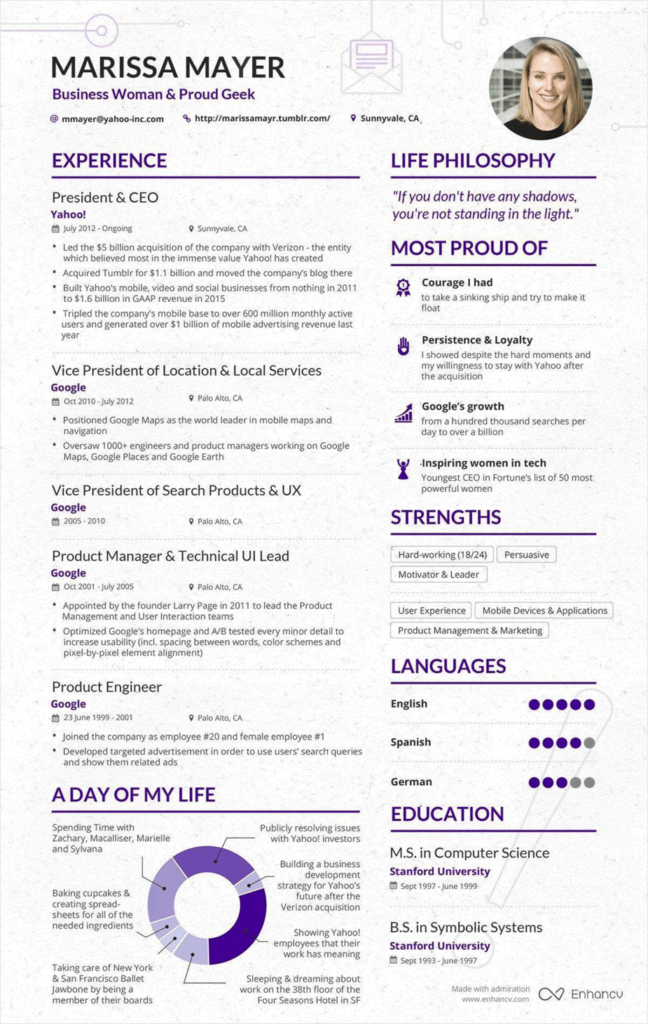 Yes, if you look closely, you'll see some tongue-in-cheek comments, but it's all in good fun. The company says they created this sample resume for Mayer "with admiration."
Updated & Hip…and Easy-to-Read
The many contemporary elements of this design really makes it feel updated, hip, and easy-to-read. Each group of the Experience section starts with a job title in large, readable font. Underneath this is the company's name in a contrasting color that helps it stand out.
Graphic tools, like the wheel chart titled "A Day of My Life" helps to graphically represent the candidates responsibilities on a day-to-day basis. The "Most Proud Of" section gives you space to list your major accomplishments in bullet-point style for quick reading.
Skills 'Keywords'
In the "Strengths" section, you can list keyword-style traits you possess – similar to LinkedIn's Skills & Endorsements section – that potential employers will find desirable. Notice how under "Languages" the graphical dotted strength bar gives a sense of the relative strength of your individual skills…in this case, language skills.
This design is created by Enhancv whose system steps you through the process to end up with a document that best represents you.
Learn more about their system at: enhancv.com.