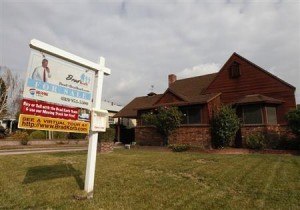 In a new report from the National Association of Realtors (NAR) that further reinforces the rebound in the housing market, sales of existing homes for the month of April rose to their highest level in the almost 3½ years since November 2009. And while there were minor quibbles of forecast misses, overall the report contained clear evidence of positive trends including solid pricing increases – as well as an increasing pace of sales.
The NAR has some concern about tight inventory, but see more on this good economic news…
Existing-home sales refers to the total sales (completed transactions) of single-family homes, townhomes, condominiums, and co-ops. It is a figure collected and compiled by the NAR and is widely watched as a key statistic in showing the health of the housing market. Along with new home sales and housing construction starts, many analysts believe that existing-home sales is one of the most important economic factors to follow.
In the month of April, existing-home sales increased .6 percent to a seasonally adjusted annual rate of 4.97 million, up over a revised rate in March of 4.94 million units. The April rate is also 9.7 percent over April 2012, which had a rate of 4.53 million units. According to Reuters, analysts had expected a rate of 4.99 million units, so this increase missed their mark. Even so, the trend looks positive when looked at over the long run.
Highest level since 2009…
Perhaps even more notable is the fact that the April reading is the highest level of existing-home sales since sales hit a rate of 5.44 million in November 2009. The rate in November 2009 was helped by a home buyer tax credit implemented by Congress to stimulate home sales.
To further show the durability of the rebound, the NAR says that total sales of existing homes has remained above the rate of the same month a year ago for 22 consecutive months. Add to that the fact that prices have increased in a like year-over-year manner for 14 consecutive months, and you have a convincing housing rebound.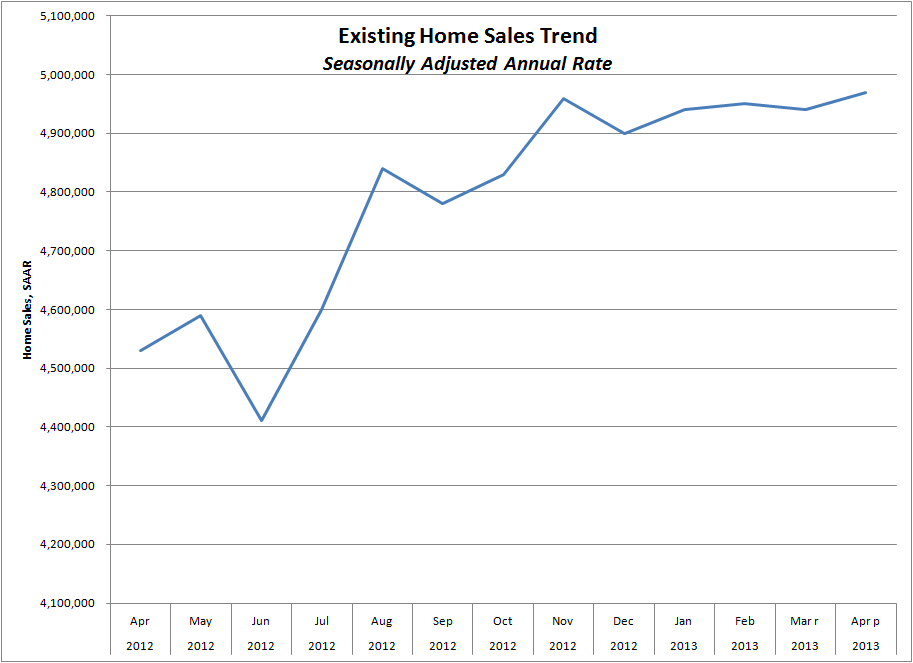 "The robust housing market recovery is occurring in spite of tight access to credit and limited inventory," NAR chief economist Lawrence Yun said in a prepared statement. "Without these frictions, existing-home sales easily would be well above the 5-million unit pace. Buyer traffic is 31 percent stronger than a year ago, but sales are running only about 10 percent higher. It's become quite clear that the only way to tame price growth to a manageable, healthy pace is higher levels of new home construction."
Why inventory is a concern…
The overall inventory of existing homes that are available for sale increased in April 11.9 percent to 2.16 billion units. Even though the inventory of homes for sale increased in April, the reason Yun is concerned is because it stands at a 5.2-month level. This level is 13.6 percent below the available inventory a year ago – and it is below the 6-month level that many experts say is the rate that best defines the optimal balance between sellers and buyers.
Perhaps because of this constricted inventory position, the median home price increased in April, up 11 percent to $192,800.
Distress is down…
Another indicator of a healthier sales growth is the fact that distressed homes – homes on the market through a foreclosure or short sale – made up only 18 percent of the April sales rate. This is down from 21 percent in March and 28 percent in April 2012.
Sales of existing homes were brisk. The median time on the market for a home-for-sale was 46 days in April. This is down dramatically from 62 days in March. The rate in April 2012 was 83 days or 45 percent higher than the April 2013 pace.