Content Biz Declines; Company Announces Restructuring of Content Unit
Noting solid gains in their trade show segment, Emerald Holding, Inc. (NYSE: EEX) management proclaimed satisfaction with their fiscal 2023 third-quarter results. However, while the tradeshow business – the segment containing its CEDIA Expo show – saw a post-COVID increase in attendance and revenues, all was not rosy, as the company reported a dramatic drop in profits. Not only that but continued trouble in its content business – the segment with its CE Pro and Commercial Integrator (and other media brands) properties – saw revenues decline and even forced the company to revise its overall annual financial guidance downward.
See more on CEDIA Expo- and CEPro-owner Emerald Holding's results
Before stock markets opened on Monday, Emerald Holding, the parent company of the Emerald Expositions business which owns both the CEDIA Expo and CEPro/Commercial Integrator businesses, announced the results of their fiscal 2023 third quarter. Despite the exuberant optimism of Emerald CEO Hervé Sedky and CFO David Doft, Wall Street immediately registered a solid thumbs down on the reported results, even though its revenues grew 16.2% in the quarter.
The key issue for investors was not revenues, rather it was an 88.5% drop in net income. Also troubling for the Street, the company's content business – which is on their books as "Other Marketing Services" booked a revenue decline of 27.5% and was clearly continuing to struggle. In fact, Other Marketing Services has declined in each of the three quarters of fiscal 2023.
A Deeper Dive into the Revenue Numbers
So let's dig a little deeper into some numbers. For the fiscal third quarter – the period that ended September 30, 2023 – the company reported Revenues of $72.5 million. This figure represents a $10.1 million increase or 16.2% over revenues of $62.4 million in the same quarter last year. The company says that this growth was mostly driven by an increased performance by its trade show segment's events fielded during the quarter, along with added revenues from new events and acquisitions.
Revenues were also helped out by the receipt of $2.8 million in "Other Income" which represents the proceeds from the company's event cancellation insurance for events canceled or impacted by the COVID-19 pandemic. However, the company warned investors that this amount is the final payment from insurers, as all of its outstanding claims have been processed. By the way, in the same quarter last year, Other Income was $151.0 million.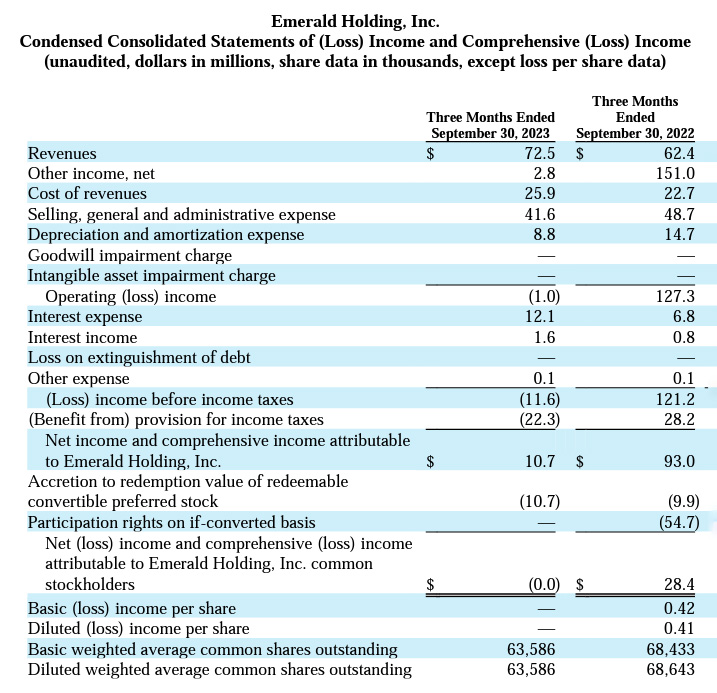 We are very pleased with the continued double-digit growth we're seeing in our live events business. Trade shows remain a durable and high-return part of our customers' marketing budgets, providing exhibitors with an unparalleled opportunity to access a large number of quality buyers at their industry's must-attend event. Our focus on delivering increasing value to customers has translated to higher re-bookings along with sustained strength in pricing – trends which are reflected in our sales pacing data as we continue to book reservations for shows up to a year in advance.

Hervé Sedky, Emerald's President and Chief Executive Officer
Overall Shows Did Well…Except Those in the Design, Creative, and Technology Category
While a 16.2% increase in overall company revenues is a respectable number that reinforces the positive post-pandemic climb back to normalcy, a closer look shows that this revenue growth was not uniform. In a breakdown of revenues by show category – there are three categories – we find that the Design, Creative, and Technology category…the one that the CEDIA Expo is in… actually saw revenues decline.
Revenues in the Design, Creative, and Technology category were $19.3 million in the quarter this year, down $3.7 million or 16.1% as compared to the revenues of $23.0 million in the category a year ago. The company says the decline was largely the result of shows that were fielded in the quarter a year ago that have been shifted to a different quarter this year. They also note some discontinued events.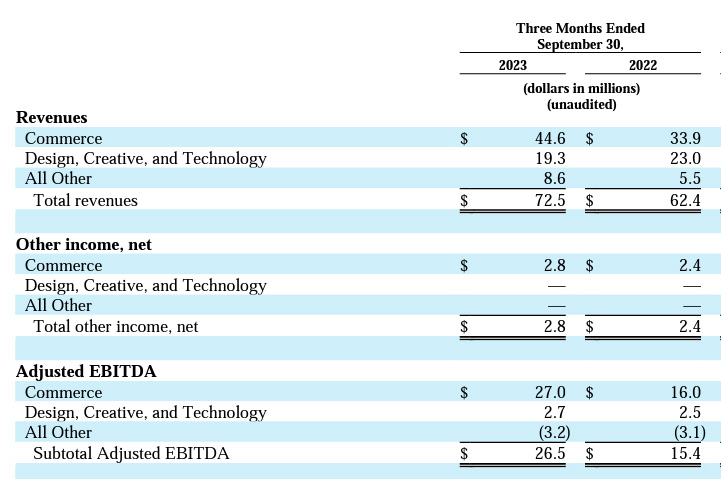 A Loss from Operations
In terms of the results of operations, known as Operating (Loss) Income, Emerald booked a $1 million Operating Loss, a dramatic decline from the $127.3 million in Operating Income booked in the same quarter in fiscal 2022. Remember, last year benefitted from a $151 million tailwind in insurance proceeds.
Other Items of Note
Interest Expense – a cost category, came in at an elevated $12.1 million in the quarter. This is a significant 78% increase over the interest expense in Q3 last year of $6.8 million.
Net Cash Provided by Operating Activities – a measure of operating efficiency, came in at $8.5 million, a 94.5% decline compared to the $153.5 million in the quarter last year
Adjusted EBITDA – a measure of profits, in this case, "adjusted" by a custom formula created by Emerald management (usually to make things look better), came in at $10.8 million or 92.8% lower than the Adjusted EBITDA of $149.7 million in the quarter the previous year
Some of the numbers above would look much better if you removed the event cancellation insurance proceeds last year of $151 million. Taking that out of the equation would have resulted in plunging last year's results into the negatives, which would then make this year's numbers look much better.
Finally, the all-important Net Income result came in at $10.7 million, an amazing 88.5% decline as compared to Net Income of $93.0 million in the same period last year. On a fully diluted basis, Emerald says Net Income is $0.00/share versus $0.41/share in the quarter in fiscal 2022.
DISContent with the Content Business
The company provided a table of disaggregated revenues which allowed us to see results by business segment. This breakdown reveals the revenue results of each of the segments "Trade shows," "Other events," "Subscription software and services," and "Other marketing services." All of Emerald's business segments delivered revenue gains of varying degrees in the third quarter this year…except for Other Marketing Services, the division that houses their content properties, such as CEPro and Commercial Integrator.

Other Marketing Services had total revenues in the quarter this year of $5.8 million, down $2.2 million or 27.5% compared to revenues of $8.0 million in the quarter the year before. As I mentioned, this segment has seen its revenues decline in each of the last three quarters in 2023.
Poor Performance in Content Unit Forces Cut in Expectations for Annual Performance
Notably, Emerald management acknowledged that its troubled content division – "…especially in the tech segment…" will most likely continue to show declines in the upcoming fourth quarter (Q4), its second-biggest quarter of the year (Q1 is its biggest quarter). With this being the case, the content segment's declining performance adds risk to the company's go-forward results – so much so that it was forced to reduce its forward performance guidance for its anticipated fiscal 2023 results – something Wall Street really hates to see.
Since the beginning of the year, Emerald management has provided the following guidance for anticipated fiscal 2023 performance:

In the wake of the fiscal Q3 results, the company has cut guidance as follows:
FISCAL 2023 TOTAL ANNUAL REVENUE – The company now says that it anticipates a total annual revenue of $385 million – $395 million, instead of the previously forecast more-than-$400 million
FISCAL 2023 ADJUSTED EBITDA (PROFITS) – The company now says its adjusted EBITDA will be in the range of $95 million – $100 million
FISCAL 2023 FREE CASH FLOW – The company now says free cash flow will be in the range of $50 million – $60 million
While the revised guidance still holds out hope that two of the three (adjusted EBITDA and free cash flow) could still hit the previously provided figures, Emerald is clearly projecting a hit to revenues. And it is certainly opening the door to a potential miss in all of the three key guidance categories.
Content/Media Business Looks Like a Significant Problem for Emerald
The fact that the continued decline of their content business (again, Other Marketing Services) is significant enough to force the company to revise its total company guidance for fiscal 2023 – and risk investor pushback – tells you that this is a big problem for the company. Although listening to management, you'd think it was no big deal…
The performance of our content business was somewhat muted in the quarter, driven by cautious ad spending trends within the technology sector, where we have broad exposure. Nevertheless, we expect content to be a positive contributor to our results over time, offering not only opportunities for profitable growth but also synergies with our broader portfolio as we leverage the data and marketing resources of our media assets to grow our shows.

Hervé Sedky
'Modest Downward Pressure'?
Adds Emerald CFO David Doft, "In our content business, reduced ad spend in the tech sector put modest downward pressure on our top line and as a result, we anticipate our FY 2023 revenue guidance will now be in the range of $385 million to $395 million."
While the executive's script for the analysts seemed to downplay the situation in its content segment, I suspect it is a bigger issue than they let on. With public companies, actions really speak louder than words. Not only did the content segment's performance force a downward revision of the total company's performance, the executives later went on to tell investment analysts in a conference call that the content division was undergoing a transformation.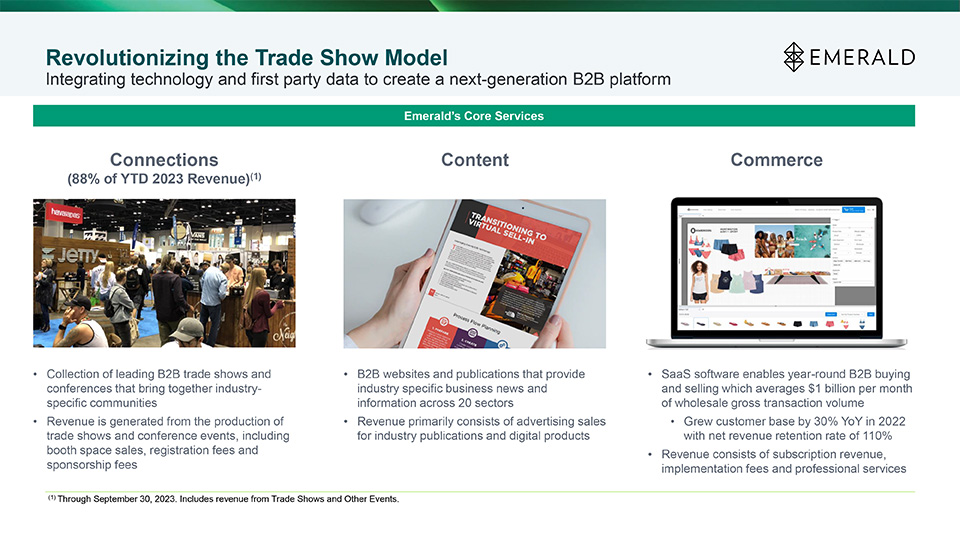 Emerald Reveals Content & Media Segment Reorganization
It seems that Emerald has decided that its content unit will no longer be a business based on generating advertising revenues for the company. Rather, the company managers now say it will transition these properties to become lead-generating devices for the trade show segment, its "core" business "which comprises the bulk of our operations." Both Sedky and Doft spent some time explaining to analysts that 2023 has been a transformational year for what they called their content or media business.
I should note that, to my knowledge, this transformation strategy has never been revealed to investors before. However, the management team felt the need to explain the goings-on in the media segment in the wake of its poor performance this year.
Analyst to Executives: What Are You Doing to Improve Results Here?
Alan Klee, an analyst with Maxim Group, directly asked the Emerald executives about the poor performance of their content business. "For media content, is there anything that you're trying to do proactively to improve the results there?"
Absolutely. About a year ago, we made some changes where we separated our content and media business from our tradeshow business. So that was the first step of really creating a standalone media and content business. We hired leadership across a number of areas – someone to head up the entire unit, but also a editor in chief and a head of marketing and a head of sales. All those hires were done in Q1 of this year. So our goal here is to transform and to convert that business from an advertising driven model to a more of a lead generating model. And we are just at the beginning of that transition, but we're optimistic that we'll continue to make make progress.

Sedky
Sedky went on to note that their content and media business serves several segments and that the weakness of the numbers came predominantly from the tech groups. He also informed analysts that this new structure has already had a big win, launching a newsletter for small businesses that "cuts across all of our sectors" and has already built up a mailing list of 300,000 subscribers.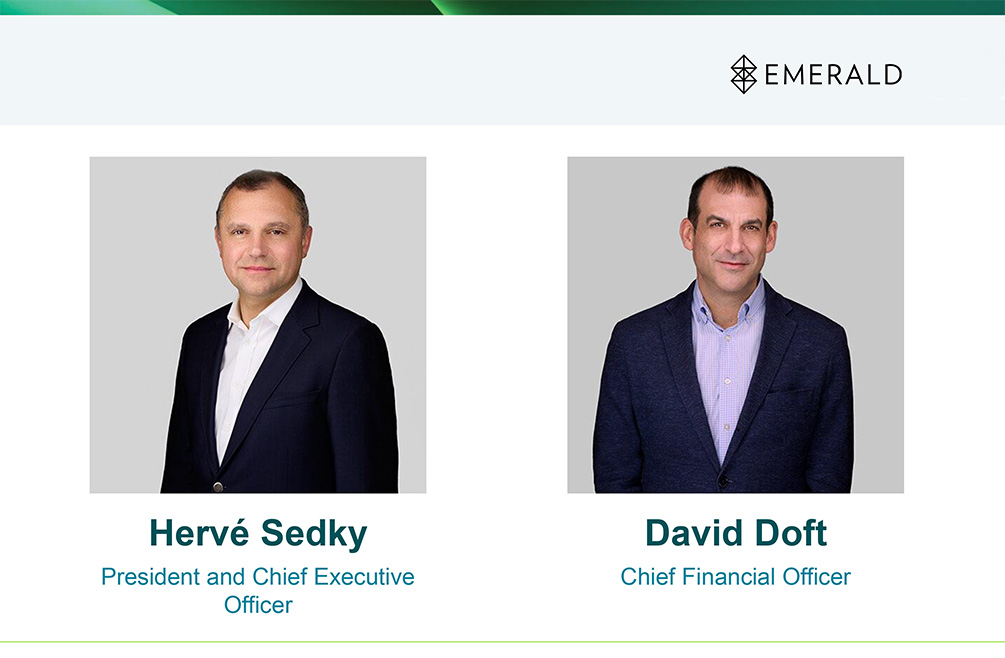 'We're in the Middle of Substantial Change in' the Media Unit
One of the things that I think is important to keep in mind is, as Hervé indicated, not only was there weakness in advertising budgets this year, and I think you're probably well aware of that, given what's going on with a lot of other players in the space – ad agencies or other media companies that are exposed to the tech sector – but we're in the middle of substantial change in that unit. And, you know, maybe it wasn't the ideal time side by side, but you got to do what you got to do for the business to set it up for the future. But we went through a change in the sales force by separating the sales teams from the events into a more dedicated media and content unit.

We created a central newsroom so that all of our editors and reporters weren't operating independently and we can get leverage. We began to leverage the consolidated database and as Hervé indicated, by launching new products against it. It's pretty stunning to us because it's not something Emerald had ever done before but to stand up a new content product and within a few weeks, have almost 300,000 subscribers to that product that horizontally cuts across all of our sectors, as an example. And there's massive opportunity then, as we continue to refine the new approach to then monetize at a much higher level, and in a much more consistent level, with a bigger focus on leads. And so while it's a disappointing year in the financial results of that business, it was actually a very successful year in the transformation of that business. And we're really excited about the prospects of what that can mean in 2024 and 25 and beyond.

David Doft, Emerald Chief Financial Officer
That Nervous Narrative in Answer to One Simple Question Tells the Story
That was a whole lot of answering, a kind of nervous narrative, for one simple analyst question. But I think it gives you an idea of how defensive the Emerald executives were feeling about the numbers hit by the underperforming content or media division.
Time will tell if the company's idea of a centralized newsroom with combined cross-industry editorial resources enhances the content these teams produce (for each of those individual segments) or just makes it cheaper to grind out more generic content. Launching a "small business" newsletter that is designed to speak to a cross-industry reader is more of a mass market mentality. However, it was a multi-segmented specialty industry strategy, each with its own optimized media content for that specialty industry, that built Emerald up in the first place.
Will This New Content and Media Unit Strategy Work?
We'll have to wait and see how this all works out for them. But it seems entirely logical that these many changes Emerald has been making in how they structure and operate this new generalized media and content division that may have been part of the reason that the segment underperformed this year. And if I'm right about that, it means it may continue to underperform for another year or so…until they get it right.
If they do…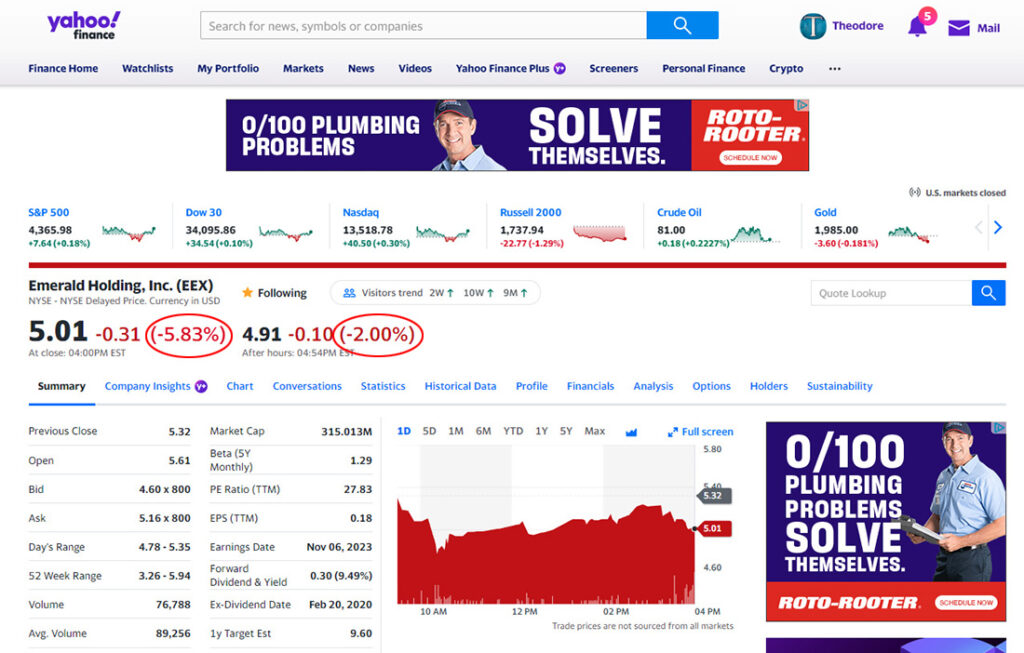 Investors are Skeptical
Finally, as I mentioned earlier, Wall Street turned a strong thumbs down on this quarterly earnings report by Emerald. On the day of this release, the NYSE index was down a couple of tenths of a percent, but the value of EEX stock dropped almost 6% (5.83%). And in after-hours trading, EEX lost another 2.0% in value. While it gained much of that back today, the message from investors was pretty clear…they're skeptical.
Learn more about Emerald by visiting emeraldx.com.