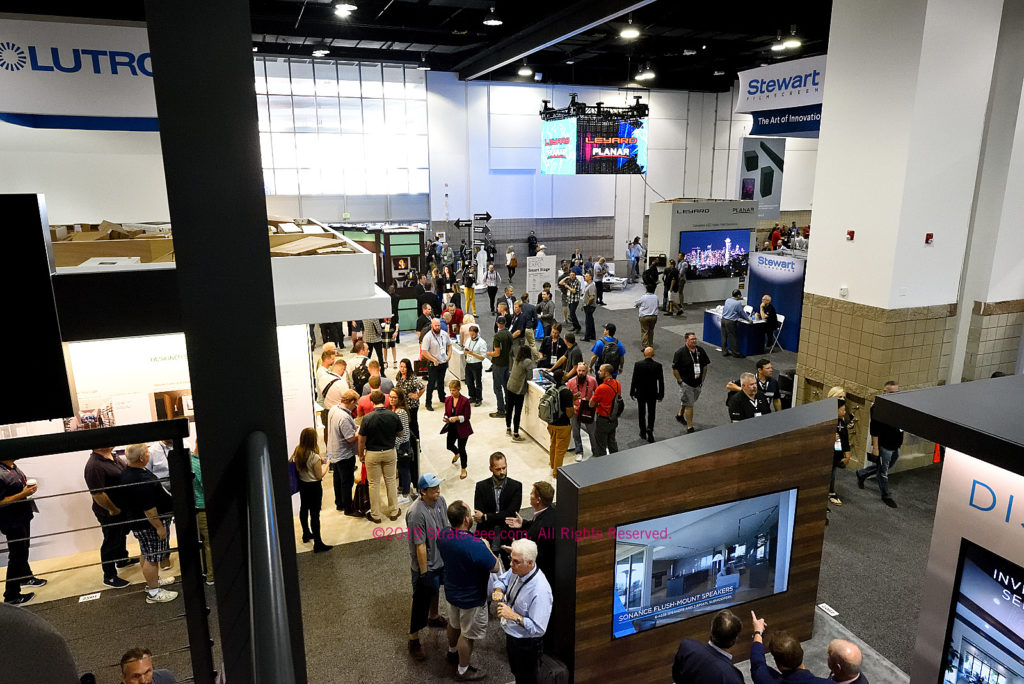 Owner of CEDIA Expo & CE Pro Plan Return to Live Events in 2nd Half
Emerald Holding Inc. (NYSE:EEX), formerly Emerald Expositions Events Inc., the national B2B exposition company that owns the CEDIA Expo show as well as certain industry publications such as CE Pro, announced last week financial results for their fiscal first quarter. The news was bleak with a massive decline in revenues and a large net loss as the company is still suffering from the impact of the COVID-19 lockdowns.
Emerald made several other announcements as well. The company says it has acquired an online photography education business, and – perhaps more ominously – it has filed a lawsuit against their event cancellation insurance providers.
Learn more about the Emerald 1st quarter report…
For their fiscal first quarter, Emerald reported total revenues of just $12.9 million or 87.1% lower than the revenues of $99.7 million in Q1/2020. The company says that on those revenues it generated a net loss of $15.3 million in the quarter, a substantial improvement over the net loss of $570.1 million in the same quarter in 2020, which was impacted by a $623.4 million charge against earnings to write down impaired goodwill and intangible assets.
As is their style, the company struck an optimistic tone in their report on the fiscal first quarter results. Yet some of the numbers they reported still gave me pause. Despite engaging in online "virtual" shows, acquiring and implementing an online B2B eCommerce program for continuous customer engagement, and receiving event cancellation insurance reimbursements, the company's reported results were still surprisingly impacted.
For example, first quarter revenues were a reported $12.9 million, with the company receiving another $14.1 million in reimbursement from their event cancellation insurance plans. The company has also been on a tear to reduce their overhead and improve operating efficiencies. But still, Emerald lost – on a comprehensive basis – $22.5 million.
1st Quarter Revenues Include a Live Event in Florida
On an "organic" basis, which in this case means taking out $2.2 million in revenue from their newly added Plum River acquisition, first quarter revenues came in at just $10.7 million. Keep in mind this includes the fact that Emerald actually staged an in-person show during the quarter, the Surf Expo Winter show in Orlando, FL. How did that event do? Well, attendance was down by a full 50%, but according to Emerald management, exhibitors were happy with the quality of buyers in attendance and claimed that there was a high ratio of buyers to exhibitors.
In looking at first quarter revenues by company segment, the Commerce segment generated $5.7 million versus $49.5 million last year…Design and Technology (the division with CEDIA Expo) generated $3.0 million versus $36.8 million a year ago…and the All Other segment (includes CE Pro) generated $4.2 million versus $13.4 million last year.
Our business is at an important inflection point as the COVID-19 vaccines are now widely available and vaccination rates are rapidly increasing. We are pleased to see many states planning for large, in-person events over the next two months. As a result, we expect a safe resumption of our trade shows this summer as we plan for the busiest second half of the year in Emerald's history in terms of the number of events we plan to execute."

Hervé Sedkey, Emerald's President and Chief Executive Officer
A Surprising Turn: The Company Sues Their Event Insurance Providers
I was surprised to learn that Emerald has filed a lawsuit against their event cancellation insurance providers. That piece of news added a new meaning to the comment in their report that, "Emerald is actively pursuing collection of the remaining unpaid amounts of filed insurance claims for its cancelled and impacted 2020 events, in addition to claims for its cancelled and impacted 2021 events." This is the first public sign of problems between Emerald and their insurance providers, whom they are relying upon for hundreds of millions of dollars of reimbursement for lost revenues from their cancelled shows in 2020…and now in 2021.
The company says that so far it has submitted claims against their event cancellation insurance coverage totaling $167 million. Against these claims they have received payments of $121.1 million – with $89.1 million received in 2020, $29.6 million received in Q1 of 2021, and $2.4 million received in April 2021. Emerald has also submitted an additional incremental claim of $52.9 million against events scheduled in the first half of 2021 that were subsequently cancelled, rescheduled, or otherwise impacted.

Events Worth Over $300 Million Were Cancelled; Relying on Insurance Reimbursement
Like other companies engaged in the exposition and travel industries, Emerald was hit hard as the COVID-19 pandemic swept across the country forcing state and local governments to restrict travel and in-person gatherings. Emerald has so far been forced to cancel a total of 108 such events. Of these 108 events, 94 were scheduled to stage in 2020 representing a total revenue of $230.6 million; 14 events were set to stage in 2021 representing a total revenue of $71.2.
The company has been relying on receiving the insurance reimbursements, and has assured investors this insurance protects their revenues. As far as we have known up until now, everything has been proceeding in an orderly fashion with the company regularly receiving reimbursement checks from their insurance providers.
Emerald Heads to Court to Force Reimbursement
But in this report, Emerald reveals that during the first quarter in February, they filed a lawsuit in Federal Court in California against their event cancellation insurance carriers. While they did not provide a lot of detail, they did say why they felt the action was necessary.
"The Company believes the insurers have acted in bad faith and failed to timely pay amounts due and owing on submitted claims. Under its complaint, the Company is seeking to enforce its rights under the policies to receive the maximum coverage for the 2020 and 2021 event cancellations, postponements and reductions, and to receive court-ordered payment on all outstanding submissions for 2020 and 2021 events."

Litigation is Expensive; Latest Acquisition
Reading between the lines, I'd say it looks as though there may be a dispute between the parties as to the total amount owed under their policies, as well as to the sluggish pace of reimbursement. In any event, in a call with investment analysts Emerald's CFO David Doft, seemed to suggest that this lawsuit is a normal part of their collections efforts. But in my experience litigation is usually a last ditch, when-all-else-fails option. Litigation is extremely costly and even if they prevail, legal fees will reduce their ultimate proceeds.
The last bit of news from the Emerald report is that the company has acquired Sue Bryce Education (SBE), which is said to be a member-based portrait photography business. The SBE business includes a subscription based revenue model for content provided to their members. While this business is targeted specifically to the photography business, Emerald believes they can propagate their online e-learning business to the other markets in which the company participates.
A Truly Spooky Ending, The Analyst Conference Call
I would have to say though, that one of the most shocking things I heard in relation to this report by Emerald took place at the end of the conference call with investment analysts. After the presentation was done, the operator opened up the line for analysts' questions. And that was when I heard the spookiest thing I've ever heard on an analyst conference call – dead silence. There was not…one…single…question. Just…crickets…
If I was a member of the Emerald management team…that silence would send a shiver down my spine.
Learn more about Emerald Holding by visiting: emeraldx.com.