Fiscal Q4 Saw $57M in Sales, But a $90M Loss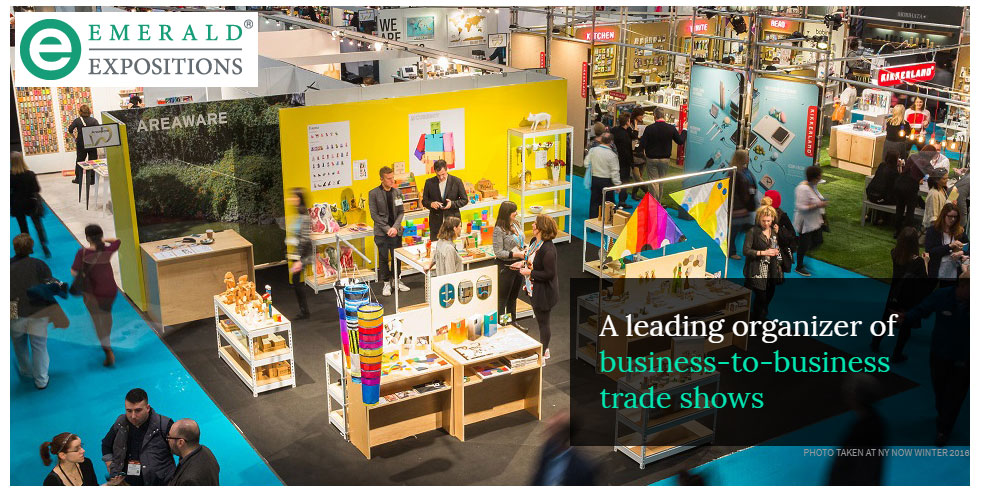 Emerald Expositions Events, Inc. (NYSE: EEX), owner of the CEDIA Expo and many other shows, reported their fiscal 2018 fourth quarter and full year results on Thursday and it was a dramatically mixed picture that suggests the company is still working through problems on many of its largest shows. Revenues in both periods increased nicely, largely thanks to acquisitions – but the company reported a large net loss as it was forced to take an impairment charge against earnings to write down the value of some of their shows as carried on their books.
See more details on Emerald's mixed results…
"Clearly, 2018 was a challenging year and, you know, we still have work to do in 2019," Interim CEO and CFO Phil Evans said as he wrapped up a conference call with investment analysts and other interested parties that disclosed Emerald Expositions' (Emerald) financial results for last year. Emerald reported revenues grew to $57.0 million in the fourth quarter (Q4) of 2018, fully 81% higher than the $31.5 million booked in the quarter a year earlier, in part thanks to acquisitions. However, at the same time the company reported a net loss in the quarter of $90 million, largely due to being forced to take a charge against earnings of $104.3 million to write down the value of their shows on the books that have seen their real market value decline.
For the full fiscal year, Emerald reported revenues of $380.7 million, an 11.4% increase over revenues of $341.7 million for 2017. However, like Q4, the company reported a net loss of $25.1 million versus a profit of $81.8 million in 2017.
Revenues Up Strongly, But So are Expenses…Driving Value of Portfolio of Shows Down
The company also reported a decrease in net cash from operating activities, down 15.1%, coming in at $35.4 million versus $41.7 million a year ago.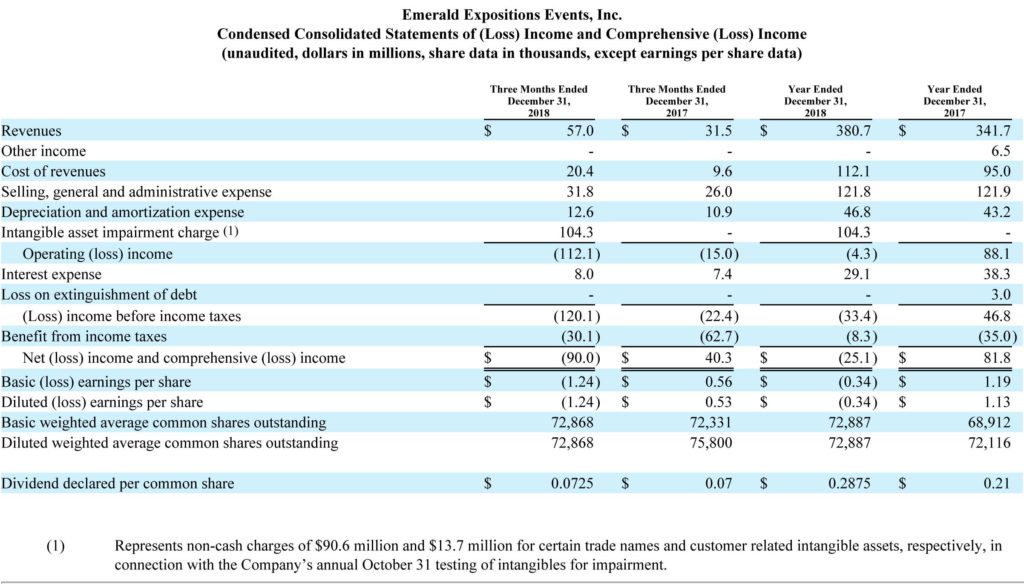 "We delivered strong growth in revenues and Adjusted EBITDA in the fourth quarter of 2018. This growth partly reflected the benefit of several successful launches, including our new Outdoor Retailer Winter Market show in November. We also experienced a strong contribution from our two acquisitions in the second half of 2018, including Boutique Design New York which staged in November and grew revenues by a low double-digit percentage over the prior year's show, in line with our expectations.

Phil Evans, Interim Chief Executive Officer & Chief Financial Officer, Emerald Expositions
The Q4 revenues benefited from acquisitions which added $17.7 million in the quarter, with another $2.8 million added from show scheduling changes. Take these extraordinary items out of the numbers and you get a organic growth of 15.9% to $36.5 million, as compared to the $31.5 million the same quarter in 2017.
Cost of Revenues and SG&A Expenses Become Bigger Factors in 2018
The company also reported that their Cost of Revenues at $20.4 million in Q4 was 112.5% higher than the $9.6 million COR last year. This dramatic increase in cost was largely due to the cost of acquisitions and scheduling changes.
SG&A Expenses were also higher, coming in at $31.8 million or 22.3% higher than the $26.0 million in Q4 2017. This increase in SG&A was also said to be largely attributable to costs of acquisitions and a $1.1 million increase in stock-based compensation. This cost was partly offset by a $3.1 million reduction in non-recurring items.
"All-in-all, 2018 was a mixed year for Emerald. Amongst our best performing tradeshows in 2018 were the Kitchen and Bath Industry Show (KBIS), CEDIA Expo, Hospitality Design Expo, International Pizza Expo, ICFF, Couture, and our military shows. And we also saw good growth from our Outdoor Retailer franchise, as it moved from a two to a three show cycle. In total, we launched six new events last year."

Phil Evans
Company Closes a CEDIA EXPO-Sized Show
The company has made many decisions, including closing one show – the Interbike Show – as well as some smaller events, which will have a negative impact on their revenue numbers in 2019. The Interbike Show, by the way, is in the same size in revenue range – $5 million to $10 million – as CEDIA Expo.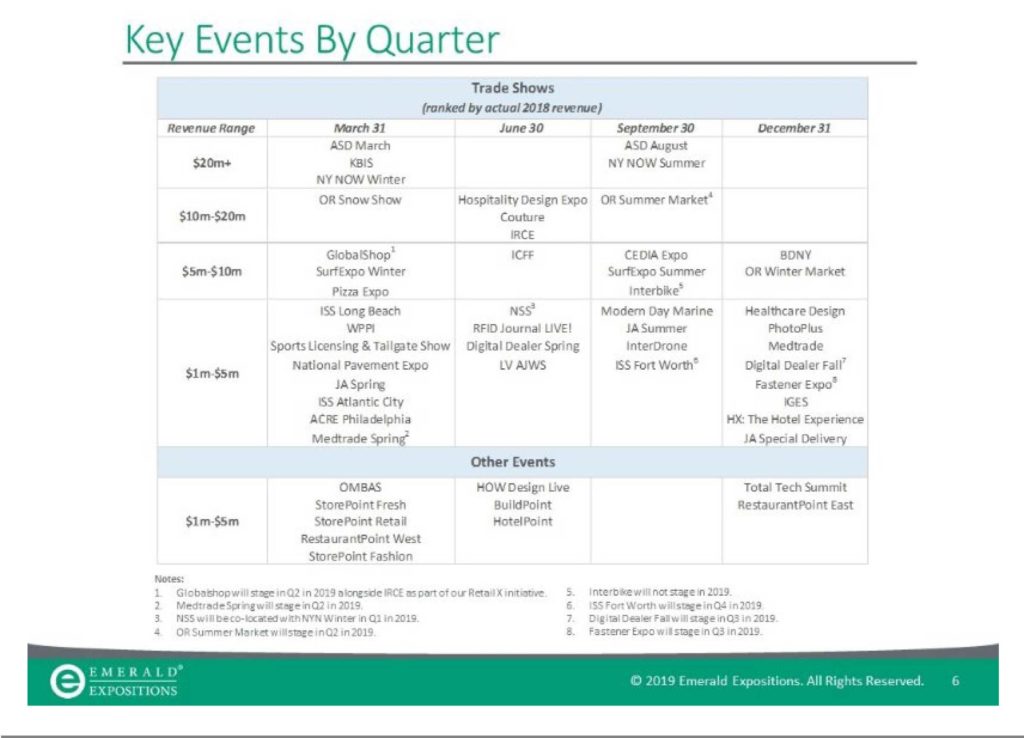 In addition to this, Emerald is struggling with revenue declines at four of their largest shows, the NY NOW shows and the ASD shows. The company is in the process of attempting to reposition the NY NOW shows as more upscale events. All four of these events are in Emerald's top revenue bucket of $20 million and up, which makes it critical for them to get these events turned around.
"At the same time, we faced challenges in several of our largest brands, which proved to be a headwind to organic revenue growth. As noted on previous earnings calls, we experienced revenue declines in 2018 in our NY NOW and ASD shows…plus difficult circumstances specific to the bicycle industry which impacted our Interbike show in September.

Phil Evans
What About EH Media?
The company did not have much to say about EH Media (home of CE Pro, Commercial Integrator, etc.), although on a conference call with analysts, they received a direct question specifically about that. EH Media is in Emerald's "Other Marketing Services" category.
On an organic basis, Other Marketing Services was only about 7% of the company's revenues in 2018, "and an even lower percentage of our profit," Evans told analysts. This group "declined in revenue by a low double-digit percentage." This 2018 result, however, does not include EH Media.
Emerald's 2019 Performance Guidance was Sobering
The company issued guidance ranges that actually included potential further declines in their results on the low end, to low single-digit increases on the top end. Typically, investors like to see a little more optimism than this.
Total revenue range is: a decline of 0.7% to growth of 2.5% for a dollar range of $378 million to $390 million. Emerald expects to experience "solid" growth from "many" of their shows, "slight" growth in Outdoor Retailer shows (3 of them), and a "modest decline" in their two ASD shows (also in their top revenue category). The company additionally expect a decline in revenues from their NY NOW shows of between $5 million-to-$8 million.
Organic revenue range: a decline of 1.7% to growth of 1.1%
Adjusted EBITDA range: $140-to-$150 million, this is a decline of 7.9% to 14.1% as compared to 2018
Adjusted Net Income: $76 million to $88 million or a decline in the range of 12.2%-to-24.2% compared to 2018
Adjusted Diluted EPS (Earnings per Share): $1.02-to-$1.20 or a decrease of between 9.8%-23.3% compared to 2018
The company remains hopeful that some of the digital expertise that EH Media brands bring to Emerald will help their other brands in the Other Marketing Services division transition from print to digital and grow their revenues in digital media. "We're optimistic that we can benefit from that, [but] it really is going to take some time to do that," Evans said.
Struggling to Get a Handle on Challenges
The company is clearly still trying to get a handle on their challenges as represented by a range of mostly conservative – even negative – performance guidance numbers, the most negative I've seen for a growing public company (with the possible exception of Amazon, which lost money for years). Emerald has several smaller shows (like the CEDIA Expo, for example) performing well, but they have four large shows performing poorly (ASD, NY NOW). In addition to this, they have no CEO – and they are facing a period of heavy investment to try and turn underperforming shows around. It adds up to a rough road ahead in 2019. Evans sought to put a positive spin on their 2019 guidance, saying: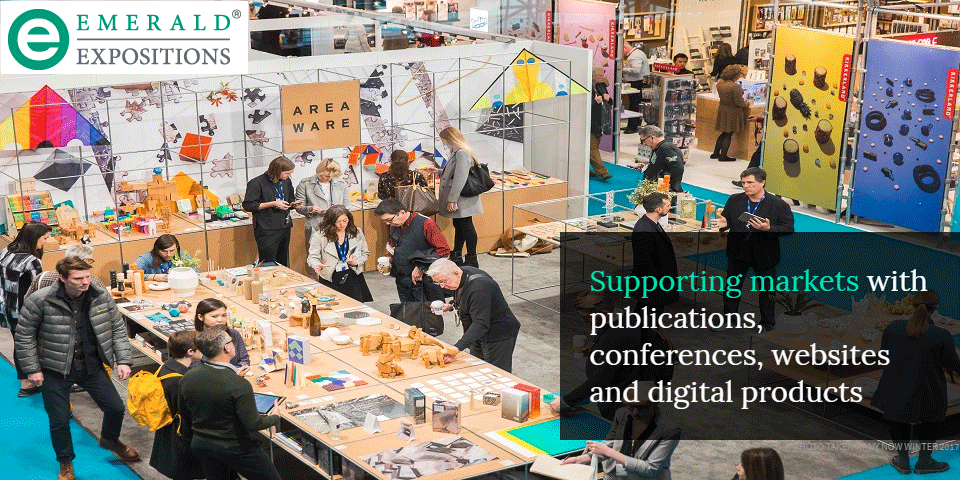 "Looking to 2019, our guidance reflects the bold actions that we are taking to reposition our NY NOW shows and to enhance our event experiences broadly across the portfolio for both attendees and exhibitors. We are confident that these actions and incremental investments will be rewarded with improved performance in the future… Overall, we have a strong portfolio of market-leading brands and, as we stabilize NY NOW and ASD, we expect the portfolio to return to solid organic growth. Looking forward, we remain committed to delivering strong cash flows and shareholder returns over the long term."

Phil Evans
Incidentally, a quick read of Emerald's quarterly report would give one the impression that the only reason they lost money in Q4 was due to the $104.3 million writedown. However, this impression would be incorrect. In fact, according to my calculations Emerald generated an operating loss of $7.8 million BEFORE even considering the writedown. This fact, coupled with the fact that they are forced to further invest in existing shows to try and pump up their results by attracting more attendees and exhibitors, suggest a long slog ahead.
Company will 'Slow Down' on Acquisitions
Interim CEO Evans suggests that investors "might expect to see a slowdown in our activities" as far as acquisitions are concerned. While he doesn't rule out "opportunistic" acquisitions in 2019, a slowdown also makes sense. Evans told investors that the company desires to have the entire organization focused on maximizing the benefits of the incremental investments they are currently making to strengthen their business. Also, given that the company is searching for a new CEO, "it would make most sense to wait to have that person's input in the process."
Emerald Expositions stock closed at $13.88 on Thursday, down 8.7% from its previous close of $14.43 the day before. The Dow was also down on Thursday, but only by 4/10ths of one percent.
See more on Emerald Expositions by visiting: www.emeraldexpositions.com.