Does Good Spin Offset Bad Numbers?

Emerald Expositions Events, Inc. (NYSE:EEX), a leading provider of trade shows and events and the current owner of CEDIA Expo, announced their financial results today for the first fiscal quarter of 2019. And while this tends to be a rather mundane or even robotic process, there were a few things unique about this report from Emerald – most notably their head-scratching comments that dramatically contrasted with the numbers.
See Emerald's results & comments…
I've often talked about how companies can get really creative in writing about their financial results and that it can take a bit of digging to ascertain the reality about their performance. This doesn't mean that companies necessarily lie about their numbers, they just find the best way to present them to create an unrealistically positive impression.
So it was with great interest that I reviewed Emerald's fiscal 2019 first quarter performance. And what caught my attention was their very positive spin at the top of their release…and it's contrast with what I saw in the troubling numbers in the text below.
How the Report Started
"We were pleased with our first quarter performance, as we drove good growth in many of our events, including the Kitchen & Bath Industry Show, Sports Licensing & Tailgate Show, National Pavement Expo, The Original Miami Beach Antique Show and the International Pizza Expo. While our first quarter results were solidly in line with our expectations, and many of our key franchises are performing well, we are experiencing moderate softness in our Other Marketing Services portfolio and several upcoming shows, including ICFF and RetailX, which, taken together, are causing us to expect our full year financial results to be in the lower half of our previously communicated full year guidance range."

Phil Evans, Emerald's Interim President and Chief Executive Officer and Chief Financial Officer
Sounds pretty upbeat…doesn't it? Statements like "pleased with our first quarter performance," and "drove good growth in many of our events," and "results solidly in line with our expectations" and "many of our key franchises are performing well," all sound good to me. So what were the actual financial results these upbeat statements refer to? Well, let's start with their top line summary of results, as provided in their very own materials:
REVENUES decreased 3.4% to $137.4 million, compared to $142.2 million in the same quarter last year
NET INCOME came in at $26.5 million, a decrease of 30.4% versus the net income of $38.1 million in Q1/2018
NET CASH from operations decreased to $11.6 million, a 43.7% drop from the $20.6 million in the same quarter last year
ADJUSTED EBITDA (earnings) on a non-GAAP basis decreased 13.2% to $59.4 million versus the $68.4 million generated during Q1/2018
ADJUSTED NET INCOME, another non-GAAP measure, dropped 17.2% to $38.5 million as compared to $46.5 million in the quarter last year
FREE CASH FLOW, yet another non-GAAP tool, declined 43.8% to $11.3 million versus $20.1 million the previous year

These are the Highlights?
I hasten to add that these were the highlights as provided by the company in its press release. Is it just me, or is there a bit of a disconnect between this report of a decrease in all key metrics…and the fact that they are "pleased with our first quarter performance"?
In fact, Interim President, CEO and current CFO Phil Evans acknowledged that while these results were – according to him – in line with their expectations, they were in fact well below Wall Street analysts' consensus estimates.
Wall Street was Thumbs Down; Exec Tries to Explain
As a result of this contradiction, on the day of the announcement the market reacted quite negatively to the company's reported results – EEX lost nearly 6% of its total market value in afternoon trading on Thursday, finally closing at $13.20/share, down 5.44%. Whatever it was that Emerald execs were selling, financial analysts were not buying it.
Evans did his best to try to explain the results. While he went deep in the weeds, talking about progress of many of their individual shows, the fact is, Emerald is caught in a – if you pardon the electronics expression – a negative feedback loop. The company has several shows that are struggling and while they've taken steps…even drastic steps in some cases…to correct the situation – only the small to mid-size shows have shown some improvement.
Small Shows are Growing, Big Shows are Declining
The fact is, their big shows are still showing declines in revenues. It's like trying to take down an elephant with a pellet gun. It takes a WHOLE LOT of positive performance in shows of $1 million in revenues…to offset double-digit declines in multiple shows of $20+ million in revenues. And while Evans claims some success with the larger shows, it is more of a less-bad situation, rather than a good situation.
Evans must feel like he's playing a giant game of Whack-a-Mole…he solves one problem with one or more shows, but right away another problem pops up in other shows preventing a positive financial contribution from the initial fixed problem. I was exhausted listening to him try to explain it in a conference call with analysts. And some of the analysts were clearly tiring of hearing the same excuses quarter after quarter after quarter.
Other Problems Emerald is Grappling With
In addition to their efforts to try and bend their revenue curves back up to growth at their biggest shows (ASD and NYNow) the company additionally is struggling to get their costs under control. You don't have to be a math genius to see that revenues are declining, while at the same time costs are increasing. This combination is shooting canon balls through their profits and cash generation.
The two biggest factors on the cost side are normal incremental y-o-y cost increases to put on events, and additional costs associated with acquisitions last year.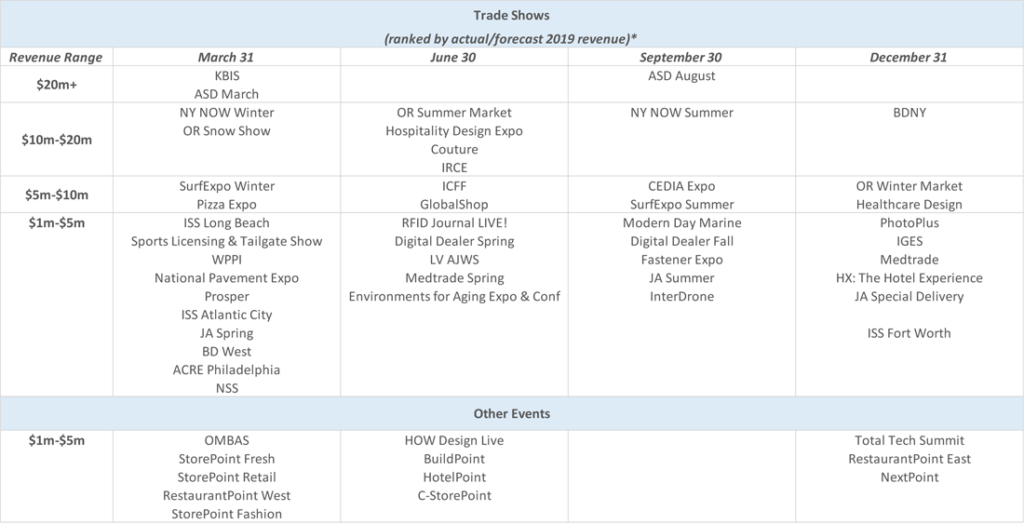 And Then There's This
Although Emerald professes to be satisfied with this performance, there are continuing signs that the truth is something less than that. First, their search for a new CEO continues and, to me at least, seems to be taking a little longer than usual to accomplish. We are now coming upon six months with an interim CEO who continues to defer major and important decisions reserving them for a new CEO, whenever he or she is found.
And I could be completely off base here, but Evans sounds weary under close questioning by analysts to me, and I note that he often jumps to the that'll-be-for-the-new-CEO-to-decide line of defense.
Acquisition Strategy Pushed to Back Burner
At one time, Emerald had described an aggressive acquisition strategy to drive growth, now that plan appears to be on hold. Evans again suggests that they will look at small, targeted opportunities, but in general their M&A activities will await a new CEO.
"While we remain opportunistic in our acquisition activities, we have, to some extent, slowed down our outreach in order to ensure that our teams are appropriately focused on addressing the challenges and opportunities in certain of our existing brands."

Phil Evans, Interim President, CEO and current CFO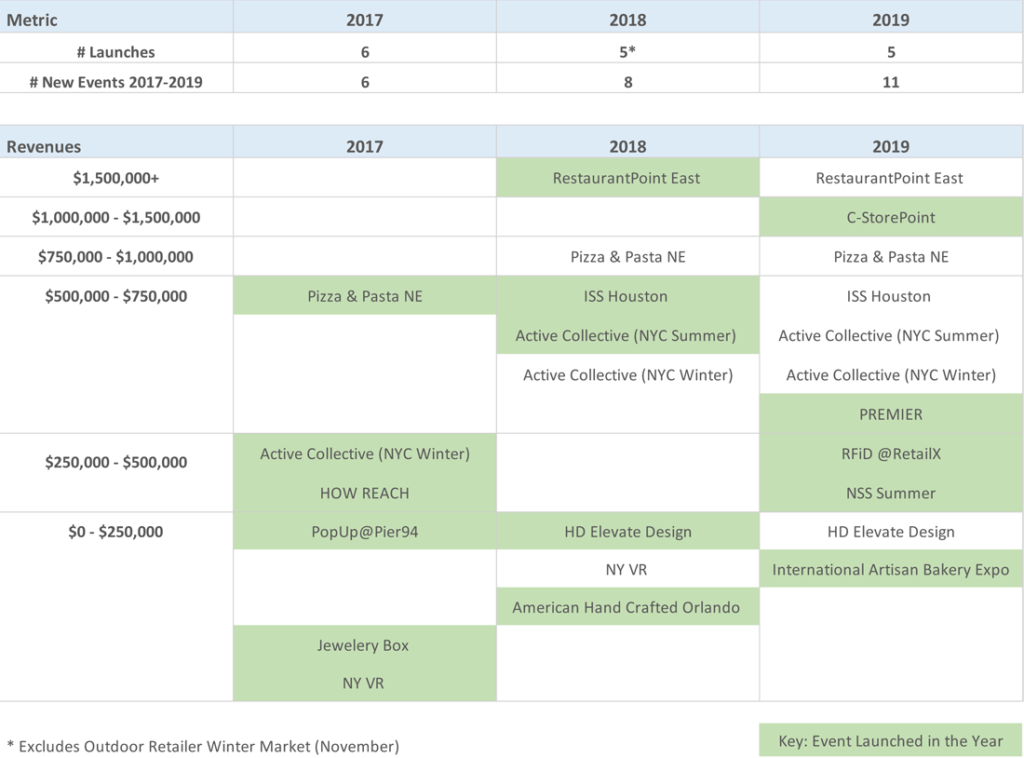 This decision makes complete sense to me. The company is currently juggling 58 shows. They planned on adding five new shows last year…and they plan on adding another five shows this year. And yet, execution is struggling as under close questioning by analysts, Evans admits their challenges are mostly execution problems…not structural issues. In short, they've got to get their act together on the shows they've got, before they push further into more and more shows.
Evans admitted to analysts that, "We're not happy with some of the issues we've had. There's some self-inflicted issues here."
One More Thing to Note
Finally, I note that one of the issues Emerald raised in their call with analysts is an unexpected and disappointing result from their Other Marketing Services category. My ears perked up here because this is the division in which the newly acquired EH Publishing brands, such as CE Pro and Commercial Integrator, were acquired to help drive growth. In a previous report, Evans expressed confidence that the EH acquisitions had strong growth numbers and they were looking to take advantage of that in their other media brands.
Yet the Other Marketing Services division suffered a decline of 20% in revenues – from Q4/2018 revenues of $8.2 million to $6.6 million in Q1/2019. Evans could only say that they have experienced a drop off in advertising revenues.
To be fair, this number is still higher than the $5.5 million in Q1/2018. But I think Emerald's management – and perhaps by extension, investors – had hoped that the significant addition of five EH Publishing brands would continue to catapult revenues, yet revenues settled back to pre-acquisition levels.
Company Says Emerald's Revenues and Profits Likely to Decline in 2019
The company continues to maintain previously forecast 2019 annual performance guidance, but now they say Emerald will come in at the lower level of the range. Note that if in fact Emerald comes in at the low end of their guidance, which is revenue forecast of $378 million, this will represent a decline of -0.7% in total growth and -1.7% in organic growth.
Annual profits, in the form of adjusted EBITDA, are forecast to come in at $140 million. This is a surprising 14.1% below 2018's profits.
Analysts are struggling to be excited about this declining performance.