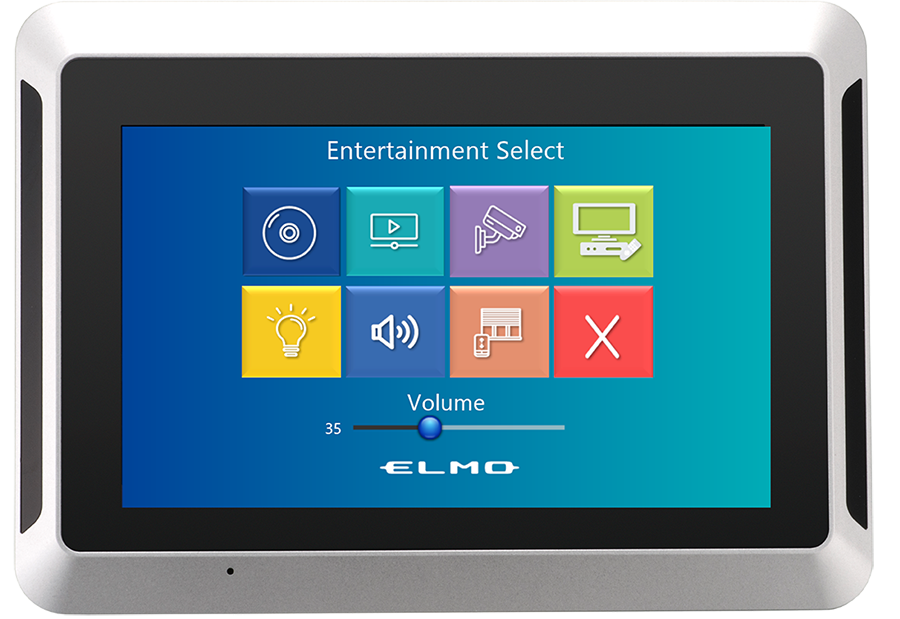 Elmo Company, a 101-year old global technology company predominantly in the education, professional, and enterprise channels, is now entering the residential space with a unique dedicated room control solution that features ease of installation and an intuitive user experience. This new system, called the CVAS Room Control System, is just the first of what will be an expanding line of bullet-proof, daily use products that offer an optimal blend of performance and value.
Learn more about Elmo and CVAS
Founded in Japan in 1921 as the Sakaki Shokai, Elmo became known as a leader in visual technologies which in those days meant projectors. Their first product was a finely crafted 35mm projector that is now a museum piece.
ELMO stands for: Electricity…Light…Machine…Organization. Their corporate slogan is: Connecting Minds.
A Venerable History of Visual Technology Excellence
In 1938, Elmo introduced 35mm cameras and their reputation for superior imaging was taking shape. In 1965 they moved into 8mm movie cameras, closely followed in 1969 with overhead projectors – a key turning point for Elmo. Thanks to their success with the overhead projector, the company is now a world leader in the education segment with an impressive 60% share of the global education market, according to Rick Williams, Elmo's Pro-AV Products Associate. Today, their most successful products are document cameras, sort of the digital era's version of the overhead projector.
Back in the mid-1990s, Elmo had a starring role during the O.J. Simpson murder trial which was televised on national television. During the trial as lawyers would discuss various pieces of evidence or documents, several times Judge Ito could be heard saying, "Put it on the Elmo" – referring to an Elmo document camera – so that everyone in the courtroom could see the evidence on large monitors. In classrooms, courtrooms, and conference rooms, Elmo products are valued fixtures.
Creating Easy Control Solutions
As Elmo products continued to get more sophisticated over the years, the company recognized the need for and began producing control solutions that would be easy for an untrained person to understand and operate. According to Williams, Elmo has been producing a wide range of simple control solutions for more than 20-years now.
CVAS is Elmo's first control solution that they are targeting for the residential channel. According to Williams, CVAS is the perfect choice for someone looking for a dedicated room solution – say a dedicated home theater or home office or den control system – that is affordably priced.
A Reliable Solution that Opens Up the Entry Level Market for Integrators
For some integrators, CVAS could potentially expand their addressable market by opening up an entry-level space under their major control brands such as Crestron, Control4, or Savant. But unlike other entry-level solutions, CVAS offers the client an attractive, upgraded color touchscreen user experience, while many of the others rely on more of a basic pushbutton interface.
In addition to affordability, CVAS is easy to set up, program, and use. This is a win for the integrator and a win for the client.
CVAS – Intuitive Colorful Touch UX, Easy Customization, and Flexible Connectivity
So there are two pieces to CVAS, the TPC07 color touchpanel and the IFBOX for interfacing legacy sources and inputs. The color touchpanel offers simple one-touch control of all of your devices. It can be either tabletop or wall-mounted and powered by PoE.
The touchscreen interface is completely customizable via a Windows-based design software solution. You can even easily add your own photos or icons. In addition to this, the company is offering professionally designed templates to make the integrator's interface customization super simple.

While the IFBOX is considered an option, it is highly recommended for integrating up to 8 legacy AV devices into the system. Offering a full complement of connectivity including serial RS-232, infrared, contact closure, and TCP/IP – the IFBOX allows for seamless whole system control by the TCP07. Have more than 8 legacy products to add to the system? You can simply add more IFBOXs to expand the system as needed.

CVAS System Pricing and Availability
The Elmo CVAS Room Control System is available now. With an MSRP of $1999 for the full two-piece system, CVAS brings color touchpanel control to the broader world of affordable AV control solutions.
Learn more about Elmo and CVAS by visiting: elmousa.com/cvas.
If you are an integrator interested in signing up with Elmo, you can reach out to Rick Williams, Pro-AV Products Associate at rwilliams@elmousa.com.