Draper, Inc. announced this week that it has added a new 100,000 sq. ft. building to its campus in Spiceland, Indiana. This is its tenth building and this addition brings the company's total footprint in Spiceland to no less than 500,000 sq. ft.
Learn more about this expansion by Draper
You may know that Draper is an industry-leading manufacturer of window shades and solar control solutions, as well as projection screens, AV mounts and structures, and even gymnasium equipment. They serve the residential and commercial channels and are a proud U.S. manufacturer that uses mostly U.S. suppliers and employs no less than 723 employees.
It's a family-run company and I can tell you from personal experience (I have visited the company multiple times), that its hardworking middle-American employees are proud to tell you how long they've worked at the company. Multi-generation employees are not uncommon, and multi-decade employees are very common. The company says that collectively, its staff embodies a total of 7,680 years of service. Since its 1902 founding, Draper has never laid off an employee!
So it was with great fanfare and pride that the company recently held a ribbon-cutting ceremony to mark its latest addition to the Draper family – Building #10.
When I visited Draper in Spiceland in 2022, Building #10 was just beginning construction. Company President Chris Broome is the fifth generation of the Draper family to head the company and he expressed to me great pride for what the company has accomplished over the years, as well as great enthusiasm for where the company is heading in the future.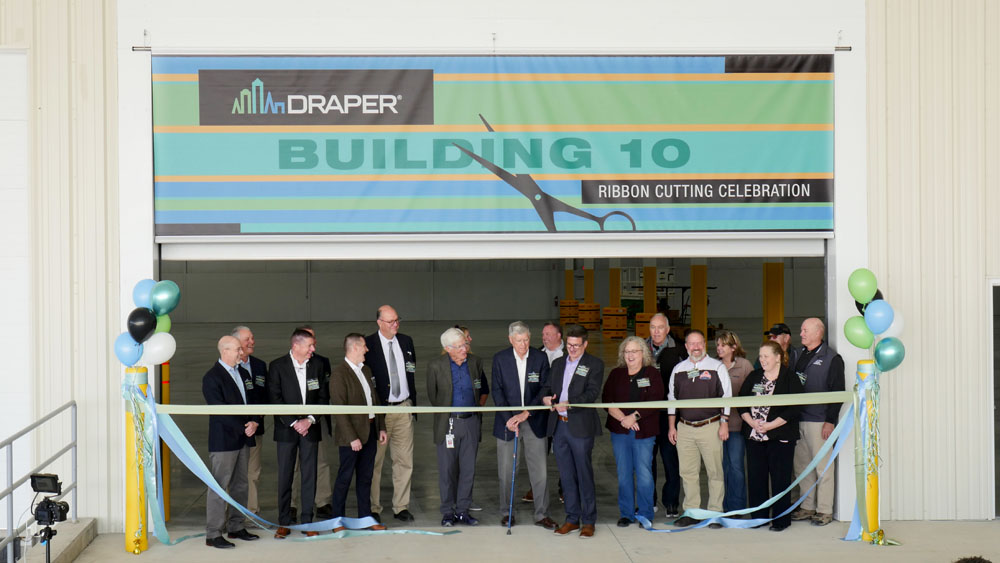 This building will add seven much-needed loading docks, and also storage and production space. It will enable us to add a third powder coating line. But more important than our buildings are our people. We are proud that in our 121-year history, Draper has laid off Zero employees. Draper currently has 723 employees, with a total of 7,680 years of service. 167 of our employees have passed the 20-year milestone. 12 have been here for more than 40 years.

Chris Broome, Draper President
The company says it needed Building #10 to provide room for further expansion, based on its growing residential shading business, as well as for other business opportunities. It is likely that this type of forward-thinking is what explains how a company can continuously grow for over 120 years.
See more on Draper by visiting draperathome.com.