JVC Kenwood Corp., the troubled consolidation of two struggling Japanese brands, seems to have turned a corner despite reporting fiscal Q2 and first half revenue declines and continuing losses. The company, which in January surprised many by announcing its decision to withdraw from the consumer electronics business to focus on B-to-B business, announced with pride that – although still showing a loss – the company has seen solid improvement in profits with dramatically reduced losses.
See more on this huge company in a big transition…
JVC and Kenwood, once two independent companies out of Japan, announced their intention to merge all the way back in 2007. The merger went through a series of steps with most divisions combining in 2010 and legally completed in 2011.
Although results from the merger were initially promising – sales and profits began declining at various paces since Fiscal 2011. The company engaged in a series of new plans and adjustments, but struggled to find the right business model.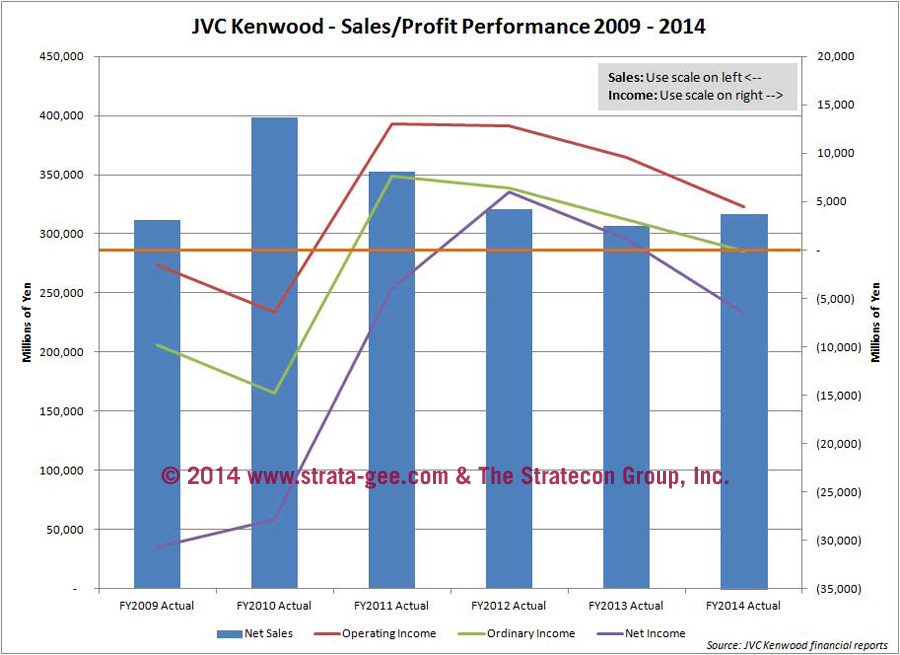 A dramatic announcement…
We began tracking their business closely as it began to look as though the merger may fail. Then in January of this year, the company made a dramatic announcement of its decision to withdraw from the consumer side of the business to focus on the (hopefully) more profitable business-to-business market.
Since that announcement, the company has gone through a series of wrenching changes including cuts in staff, a dramatic reorganization cutting the number of company offices worldwide, and investments in all-new businesses. Current results, for the first time, seem to indicate that the company is getting some traction as a result of this effort.
If not profitable, at least losing less…
"Business results are on a strong recovery track," proclaimed a slide in a JVC Kenwood fiscal results presentation the company prepared for investment analysts. And while revenues declined another 8.8%, this was mostly due to discontinued consumer business, the company said.
As you can see from the table above, sales this year were ¥135.4 billion ($1.2 billion) or 8.8% below ¥148.4 billion. But Operating Income actually moved from a loss last year of ¥2.2 billion to a profit this year of ¥1.1 billion ($9.5 million). All Income types improved, although Ordinary Income and Net Income are still showing losses.
Profits are improving…and so is the pace of improvement…
JVC Kenwood told analysts that not only were profits improving, but the pace of improvement is increasing. "indicating steady rooting of the surplus generation." Time will tell, however, if the company can maintain steadily increasing surplus (profit) generation.
The company also released a table showing the performance by business unit. JVC Kenwood has reorganized their businesses into five main categories: Car Electronics (CE), Professional Systems (PS), Optical & Audio (O&A), Entertainment Software (SE), and Others. It is easy to see the changing face of their business from these category results.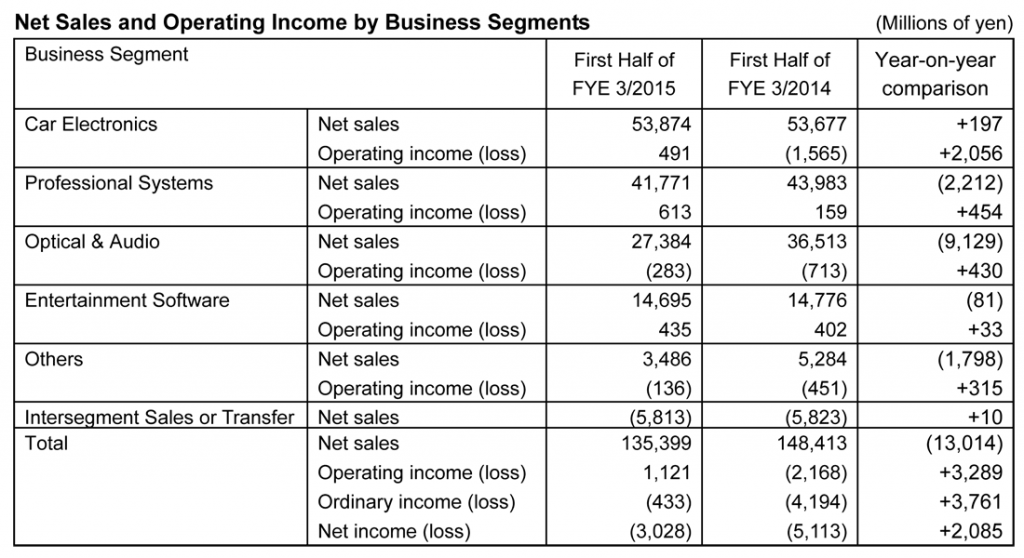 Results by business unit show a company being remade…
Sales in each of their business units declined – with the exception of Car Electronics, which increased slightly by .4%. In some of the categories, the sales declines were minor…only .5% in Entertainment Software, for example. But in other categories, the sales declines were significant…off 25% in Optical & Audio and off 34% in Others.
The Others category is a fairly small one for the company, and it chose not to explain the performance decline there. However, the Optical & Audio category is large – and the decline there was largely due to the shifting of their business away from consumer products to business products. The company dramatically downsized the audio business and placed what was left of it under Car Electronics control. The company says the audio line has been shifted to B-to-B (as all their categories have been).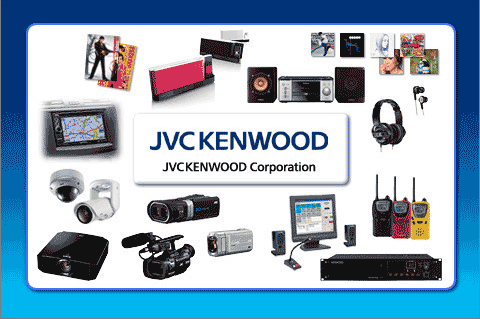 Cutting camcorders and losing projector sales…
JVC Kenwood also noted their camcorder product lines have been scaled back, contributing to the decline in sales for that category. And the company also noted that projector sales – once a crown jewel for their consumer business – were also off.
All of the business units experienced profit improvements through loss reduction. And three of their units…Car Electronics, Professional Systems, and Entertainment Software…were actually profitable. The company said that it had, in effect, turned a corner and they believe that their positive results will continue ahead of plan.