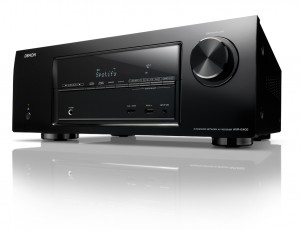 Denon Electronics, part of the D&M Group, introduced a new receiver line-up on Tuesday that really embodies a trend they've been championing for a couple of years now – to optimize their products for consumers by making them "easy" (as in easy to hook-up and easy to use). In fact, the company calls this new receiver line-up their "E-Series" and say the design philosophy was actually four "E's" – Easy, Exciting, Entertainment, and Experience.
See more on why Denon says this line is "easy"…
Denon's new E-Series A/V receiver line-up includes three new models: the top-of-the-line AVR-E400 7.1-Channel Network Home Theater Receiver…the mid-line AVR-E300 5.1-Channel Network Home Theater Receiver…and the entry-level AVR-E200 5.1-Channel Home Theater Receiver. Clearly positioned as a mid-fi line, the company says its E-Series combines ease-of-operation with "cutting-edge" performance and a wide price range to meet the needs of any level of enthusiast.
The meat of this line is clearly the AVR-E400 and AVR-E300, both of which feature Apple's AirPlay built-in so consumers can easily stream content from their Apple computers or iPhone/iPad/iPod Touch through their main system. But these models have enhanced networking capability so users can easily access Internet-based entertainment such as Pandora, SiriusXM, vTuner, Spotify, and even view photos on Flickr.
Apps and assistants to make things easier…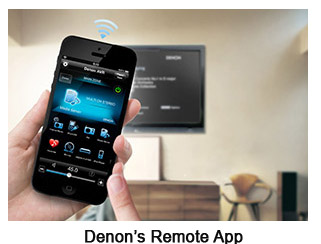 These models are also compatible with Denon's Remote App which when downloaded from your favorite App store turns your smartphone into a full fledged system remote control. With the Denon Remote App you can not only select an input and adjust volume, but you can also browse files on a media server, browse Internet radio stations, set surround modes, and navigate system menus.
Denon even gives users a Setup Assistant to make system configuration easy for even a technophobe. According to the company, this is an all-new and improved Setup Assistant that walks the user, step-by-step through complete setup – including optimizing the receiver for whatever speaker and source combination it is connected with.
E-Series setup even configures for the user's room…
To help ensure accuracy, Denon includes the widely recognized Audyssey MultEQ automatic room acoustic measurement and correction system. Now, users systems will even take their room acoustics into account as it is adjusted for best overall sound quality.
Denon has attempted to make everything easier – even the process of hooking up the speakers. The company has added color-coded speaker outputs and easy "push-in" clips to make it as easy as possible to correctly connect the right speaker to the right terminal.
Top-of-the-line AVR-E400…
The AVR-E400 7.1-channel receiver can be set up to either drive a full 7.1-channel theater or…at the user's option…drive a main 5.1-channel theater and a separate 2-channel or stereo system in another room. The 400 also contains video processing to upconvert standard definition to high definition. The 400 can also accommodate the latest 4K Ultra HD (3840×2160) for the latest video resolution standard.
Denon says the AVR-E400 is rated for a miximum of 185 watts per channel for all seven channels. The AVR-E400 will be available this month with a MSRP of $599.
The mid-line AVR-E300…
Like its bigger brother, the AVR-E300 features fully discrete amplifier output stages for maximum quality. In the case of the 300, power is a still robust 175 watts per channel…more than enough to rumble the walls with those movie explosions and jet fly-bys!
The video processing is optimized for today's predominant 1080p resolution. The 300 features a full complement of 5 HDMI inputs with 4 on the rear and 1 on the front panel to facilitate camcorder connection. And, like on all E-Series models, the 300's HDMI circuitry includes pass-through capability.
The AVR-E300 will be available this month with a MSRP of $399.
Entry-level AVR-E200…
The entry-level AVR-E200 forgoes many of the features of its upgraded brothers, but still boasts power of 165 watts maximum per channel and is packed with all of the latest Dolby and DTS surround modes for maximum movie enjoyment.  Like its bigger brothers, the 200 features the very user-friendly Quick Select function with four optimized selection buttons labeled for Cable/Satellite, Blu-ray, Game, and Aux inputs.
The AVR-E200 will be available this month with a MSRP of $249.
For more information on Denon's new E-Series A/V Receivers, see: denon.com/en-us.