Denon announced two new A/V receivers (AVRs) on Wednesday, both sporting Dolby's latest Atmos surround sound technology and, hedging their bets, ready for DTS:X with a free firmware update later this year. These new AVRs are moderately priced and, as is the rule these days, absolutely packed with features.
See more on these new major home theater contenders from Denon…
Part of the company's IN-Command Series, both of these new AVRs – the AVR-X1200W and AVR-X2200 – share quite a few features and technologies beyond just the surround technologies. Priced for the meat of the market ($600 and $800, respectively), these models should hit the sweet spot of large-scale adoption going head-to-head with the best from prime competitors Onkyo and Yamaha.
AVR-X1200W – A Blend of Performance and Value
Denon says the 1200 draws much from shared technology with their top-of-the-line models driving superior performance, but at $599 MSRP, is an affordable, high-value player. The 7.2-channel X1200W offers 7 channels of clean 80 watts of power in their typical discrete amplifier design. As we mentioned, the unit comes with Dolby Atmos built-in (and Dolby Surround Upmixing) and the output can be configured as 5.1.2 with the addition of two Atmos upward firing speakers added.

Consumers pondering a purchase of these new Denon AVRs do not have to worry about missing out on upcoming surround technologies, Denon says it will offer a firmware upgrade in later 2015 for those seeking to add DTS' newer surround offerings – DTS:X and DTS Neural:X Upmixing. Denon, clearly had their surround bases covered.
And while Denon has mastered the wired world, they haven 't forgotten the wireless world either – the X1200W offers Bluetooth and Wi-Fi built-in to seamlessly integrate their new AVRs with most consumers' typical home systems networks. The company notes that this wireless capability allows the X1200W to power great performances of consumers' audio files stored on their networks, as well as to access their Internet radio stations, streaming services, and more.
Beyond surround technology, Denon was also certain to include the latest HDMI 2.0a spec., as well as HDCP 2.2, on all 6 HDMI inputs. The X1200W features support for 4K60Hz Ultra HD video, 4:4:4 Pure Color subsampling, High Dynamic Range and BT .2020 passthrough on every input.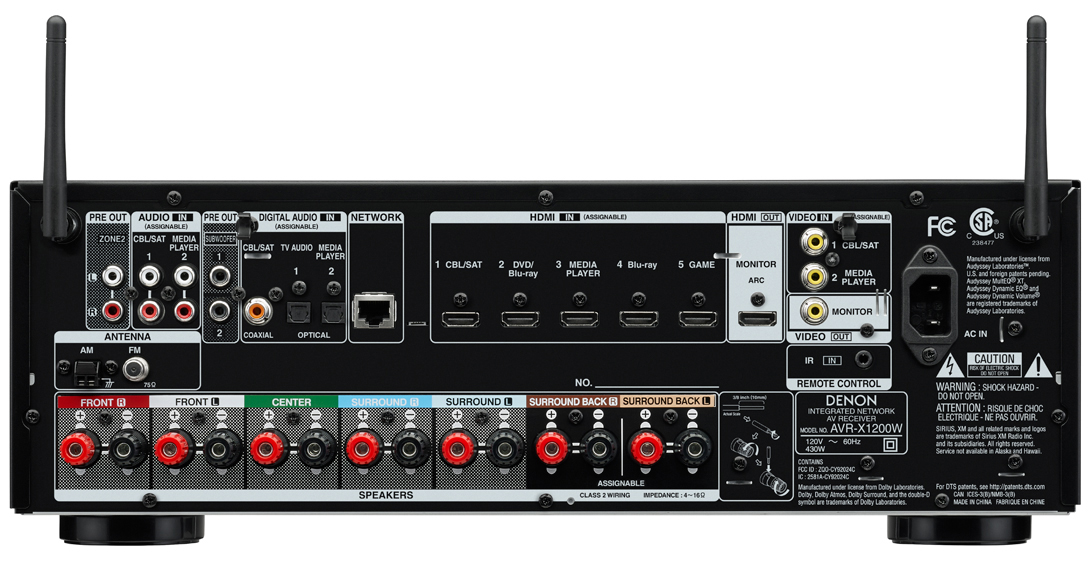 AVR-X1200W Specs
80 watts x 7 channels, discrete power amp
Built-in Dolby Atmos and Dolby Surround Upmixing
DTS:X ready (via firmware update later in 2015)
Quad-core 32-bit DSP processor
HDMI 2.0a, HDCP 2.2
6 HDMI inputs (1 on front panel); 1 HDMI output
Built-in Bluetooth; Built-in Wi-Fi with dual diversity antenna
USB input on front panel
Support to streaming formats including AirPlay, DLNA; Spotify Connect
Audyssey MultEQ XT with Audyssey Dynamic Volume and Dynamic EQ]
Multi-room/ Multi-source for independent second room
Setup Assistant
Dual subwoofer outputs
AVR-X2200W – An Upgrade in Power and Features
Denon's new X2200W shares most of the technology and feature set of the X1200W, but increases the power to 95 watts per channel for its seven channels for a slightly more robust performance. It also increases the price to $799 MSRP, still relatively affordable for this class of receivers. There are also more HDMI inputs (8)…and outputs (2) for greater connectivity capacity.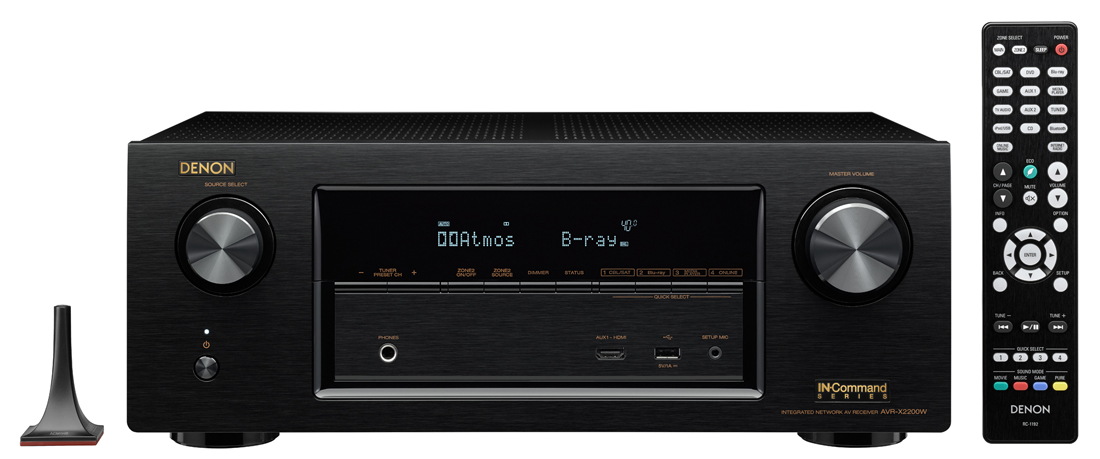 The company's announcement also says that the X2200W offers "Advanced Video Processing" ld upscaling of standard-(?) and high-definition signals to full 4K Ultra HD performance on both analog and digital inputs. But the most significant added feature, at least for integrators, is that the X2200W includes RS-232C terminal (which is not found on the X1200W).
We should also note that theX2200W isISF certified.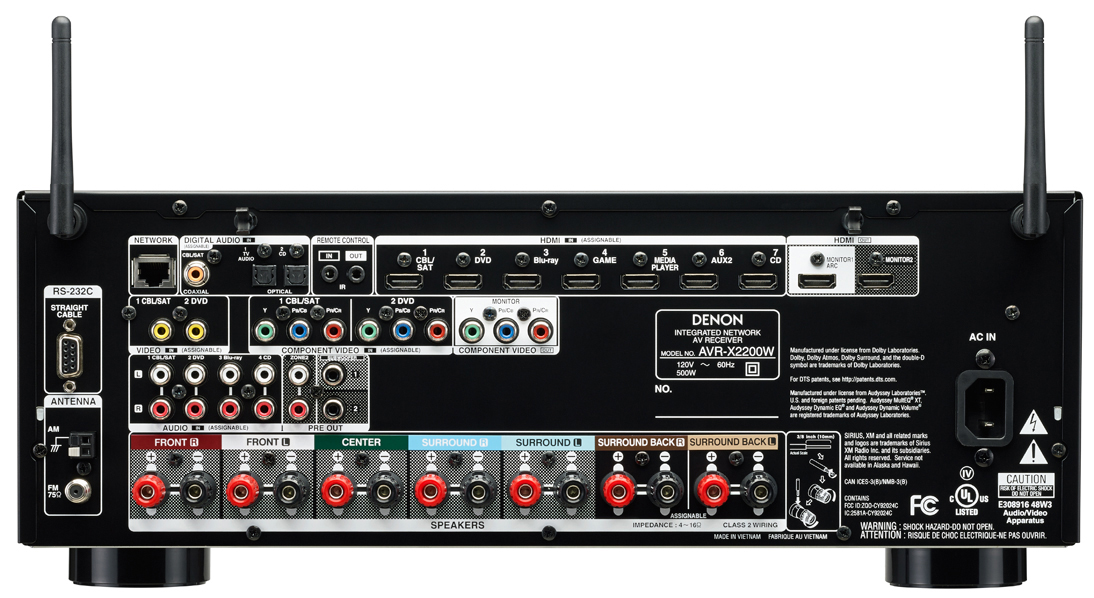 AVR-X2200W Specs
95 watts per channel x 7 channels, discrete power amp design
8 HDMI inputs (1 on front panel); 2 HDMI outputs
Advanced Video Processing with upscaling of standard-definition and high-definition signals to full 4K Ultra HD on both analog and digital inputs
ISF certification
RS-232C terminal
For more information on these, as well as other Denon products, visit: denon.com/en-us.