Control4 Corporation announced today that it will begin offering Denon products to Control4 dealers through a web portal at which products from both brands can be purchased. The move is a first for both brands, as far as we're aware, and represents a potential expansion of Denon's distribution channel.
See more on this new Denon/Control4 relationship…
This partnership with Denon "allows Control4 Dealers the opportunity to order Denon products along with the many other Smart Home solutions offered by Control4, all at a single website," the company said in their release. What is not clear is the nature of the relationship – whether this is a combined joint venture between the two brands, or if Control4 is simply serving as a national Denon distributor.
Control4 says it will offer a wide selection of Denon products including Denon HEOS systems, A/V receivers, "record players," and Blu-ray players. The press release does not clearly state that the Control4 website will have the entire Denon line, but says their Denon assortment will "address a wide range of homeowner needs."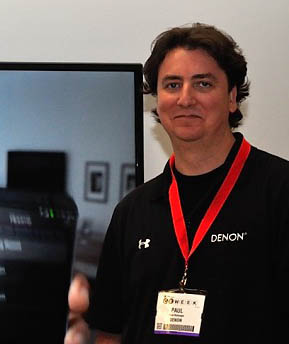 "One of Control4's primary goals is to enable the success of our dealer network in as many ways possible," said Noel Gouff, Senior Director of Business Development, Control4, in a prepared statement. "Enriching our dealer channel through our relationship with the Denon brand of high-demand products, creates a one-stop shop for dealers to source the products they need to complete a project of any size."
This development most likely came about as a result of Control4's decision to appoint D&M's Chairman and CEO Jim Caudill to its Board of Directors in late 2014. It is not known if a move like this was already in the works then, or whether it was approached sometime after that.
Control4 notes in their release that Denon was "one of the earliest adopters of Control4 Simple Device Discovery Protocol (SDDP) technology" which facilitates integration of products into the Control4 automation platform. It also makes it easy for Control4 dealers to sell Denon products that will simply interface with their control protocol.
"Denon products are at the forefront of home entertainment and their seamless integration with the Control4 platform solidifies their place in the Smart Home for many years to come," Paul Belanger, Global Business Team Leader – Custom Integration, D&M, said in the same prepared statement. "Control4's dedication to the CI channel is one of the many reasons why our relationship has naturally evolved into Denon products being offered directly to their dealer network with no extra steps along the way."
The typical Control4 dealer profile may resemble some or most of the Denon dealer profile, However, it remains to be seen how the existing Denon dealer base reacts to the announcement of what must surely be an expansion of the number of outlets offering Denon products.
For more information on Control4 and its products, visit: Control4.com.
Learn more about Denon and its line of home entertainment solutions at denon.com/en-us.