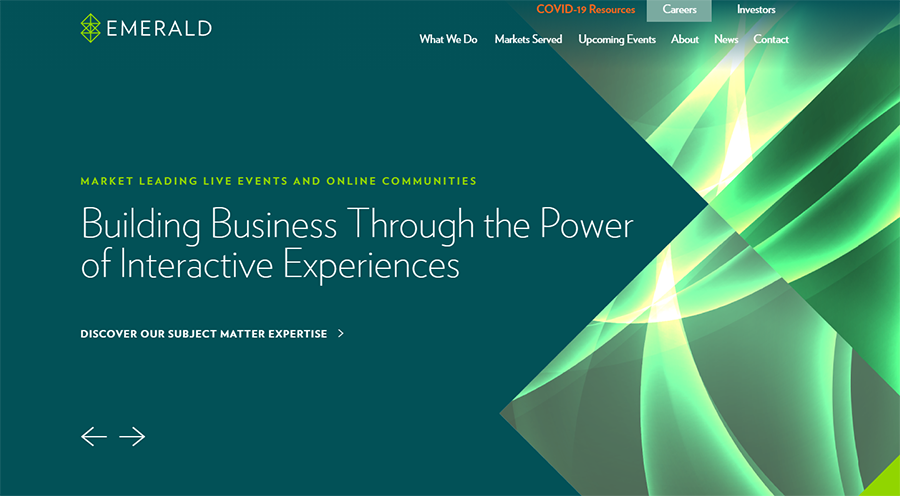 On Monday, Emerald Holding, Inc. (NYSE:EEX) (Emerald), one of the nation's leading business-to-business exposition companies and owner of the CEDIA Expo event and CEPro trade magazine, announced the results for their fiscal second quarter, the period that ended on June 30, 2022. The results showed a rebounding top line, with revenues increasing 376% over last year's COVID-impacted quarter – while the company still booked a net loss, although less of a net loss than in the same quarter last year.
Learn more on Emerald's fiscal 2nd quarter
Emerald's latest fiscal report shows a quick turnaround in their financial performance with the restart of their live in-person trade shows and conferences. The company says it fielded no fewer than 29 in-person events in the second quarter – drawing in more than 62,000 collective attendees and 3,600 exhibitors.
However, while this reality had a dramatic impact on their financial performance both in terms of revenue gains and reduced net losses, Emerald's biggest announcement was that they have negotiated a new final payout with their event cancellation insurance providers, whom they've been fighting in court for months now. Not only will this negotiated settlement bring them an instant payout of $149.25 million (expected to be paid in a lump sum in the third quarter), but it settles all outstanding claims and the surrounding litigation related to their event cancellation insurance and COVID event cancellations in 2020/2021.
Staging of Live and In-Person Events Drives Financial Performance
As the company continues the reintroduction of its many live, in-person events in this new post-COVID period the financials reflect the positive financial impact of that. Revenues in the second quarter of this fiscal year came in at $71.4 million, an increase of 376% over revenues of $15 million in the second quarter of 2021.
However, despite that impressive increase in revenues the company continued to report a net loss of -$0.7 million. However, that loss is substantially less than the net loss of -$46.5 million in the same quarter last year.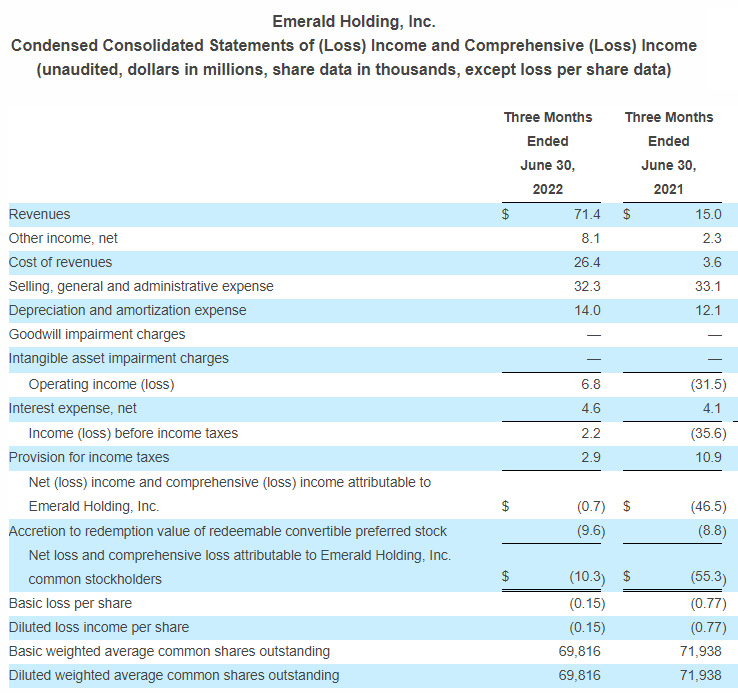 Share Buybacks and Acquistions Continue
Emerald also said that it had repurchased 1.0 million shares of its common stock on the open market at an average price of $3.38 per share during the second quarter. The company notes that they ended the quarter with $231.7 million in cash and securities and retain full availability of a $110 million revolving credit facility.
During the quarter the company acquired another event, Advertising Week, a show focused on marketing, media, technology, and culture. The company continues to seek out new events to acquire on an opportunistic basis.
We continue to see clear evidence of ongoing recovery in in-person events as qualified attendee and exhibitor counts track towards pre-pandemic levels. Importantly, our pricing power remains strong, further validating the unique value that our trade shows offer our customers. We believe that almost one quarter of our shows this year should exceed pre-pandemic revenues, keeping us on track to meet our FY 2022 financial guidance.

Hervé Sedky, Emerald's President and Chief Executive Officer
Why is Management So Optimistic? Fully 29 Events Staged; Settled with Insurance Companies
Emerald successfully ran 29 live, in-person events in the second quarter – the key to getting their economic engine restarted. It now says it will run a full assortment of events for the remainder of the year and are fully confident it will hit its financial projections for fiscal 2022.
Part of their optimism comes from reaching a settlement agreement with their event cancellation insurance providers. When COVID first hit in 2020, the company calmed investors by noting that the company's events were fully covered by event-cancellation insurance which is based on expected gross revenues less avoided costs of canceled events. However, the insurance payouts were coming very slowly and Emerald ultimately resorted to filing lawsuits against their providers to recover any remaining amounts due.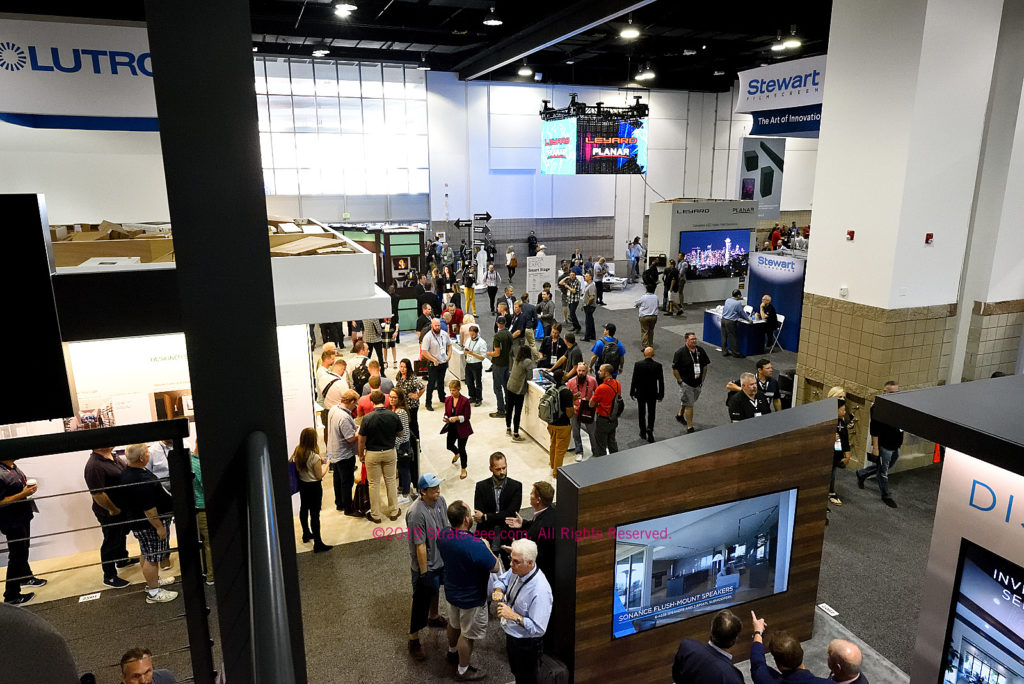 The company had filed claims for the events canceled during the COVID years of 2020 and 2021 totaling $348.4 million. Insurance payments received to date totaled $223.6 million. Emerald and its insurance carriers have settled their court cases with a lump sum payment (to be received in the third quarter) of $149.25 million. With this amount, Emerald will have received a total of $372.9 million from their insurers. Obviously though, the best part of this settlement is that the whole affair is behind them and they can move forward fully reimbursed (less attorney's fees) for the lost show revenues due to COVID.
Revenue Disaggregation Tells More of the Story
Looking at a disaggregation of revenues, we get a little more detail on Emerald's actual performance for the period. The company has once again restructured its business segments with seven "operating" segments reclassified into three "reporting" segments. It is always confusing when companies do this kind of change to how they report things…making year-to-year comparisons difficult.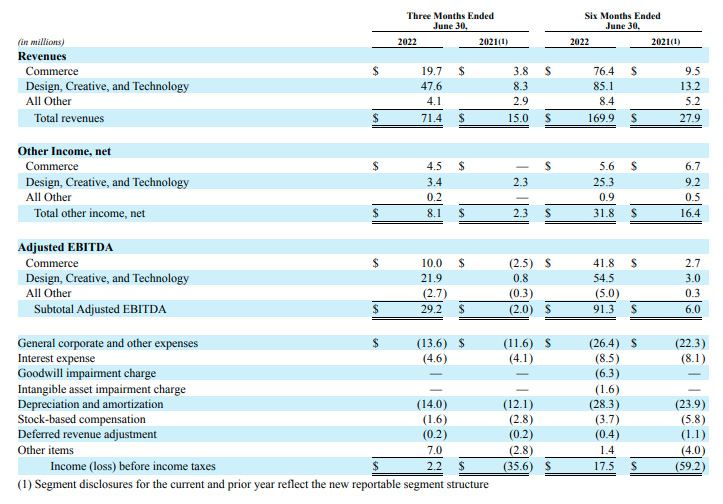 When it comes to their primary business, there are two main segments – Commerce and Design, Creative, and Technology. Their larger trade shows, conferences, and other events are divvied up between these two main segments and all other businesses are swept into a catchall segment category called, appropriately enough, All Other.
For Strata-gee readers, this means that the CEDIA Expo trade show is reported in the Design, Creative, and Technology reporting segment, while CEPro and various other media properties are reported in the aggregate under All Other. In a nutshell, the items placed in the All Other category are not large enough to be reported separately in their own segment.
Revenues Broken Down by Source of Revenue
Looking at the overall revenues broken down by source of revenue, we can easily see the big gain in the Trade Show category, as well as the Other Events category. All revenue types except Other marketing services (their publications such as CEPro and others from all segments) saw their revenues decline from $7.7 million in the quarter last year to $7.3 million this year.
While Emerald seemed to be breathing a sigh of relief in this report, remember that its numbers are being compared to a the second quarter of 2021 when it was only able to field a handful of events. Now that live events have restarted – 29 in the quarter this year – revenues should increase…and they did.
Nonetheless, all shows appear to have successfully restarted and the company is reiterating their previously provided guidance for fiscal 2022 – which means they are back on plan.
See more on Emerald by visiting emeraldx.com.