The Custom Electronic Design and Installation Association (CEDIA) announced today that it is launching an all-new, "intensive" Advanced Networking & Systems Integration Boot Camp for systems integrators and custom installers. Delving deeper into the subject than any of their other previous courses – or similar classes offered by other organizations – CEDIA says this course offers home technology professionals the opportunity to advance their skills to the advanced level necessitated by today's high-tech connected home and the Internet of Things.
See more details on this new boot camp…
CEDIA's new boot camp is so in-depth and detailed on networking and integration topics that it will take place over a full five-day period. The organization has announced the first two boot camps with the first one taking place July 22-26…with a second one being offered November 11-15.
The boot camp's advanced networking section will cover a variety of topics including VLAN (virtual local area network), QoS (quality of service), IP communication, wireless network design, and networking security for both wireless and wired systems.
The systems integration component of the boot camp will cover details on the installation, configuration, and programming of multiple subsystems which are part of a unified home automation system, as is common in today's connected home environment. Specific subsystems to be addressed include A/V, HVAC, lighting, closed circuit cameras, motorized shades, doorbells…all controlled via a smartphone.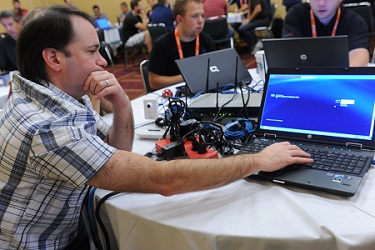 "Systems integration and control have continued to be an area of growth for our industry," Steven Rissi, EST II, CEDIA Technical Training Manager said in a prepared statement. "Systems integration has grown from 12 percent of gross revenue in 2007 to 15 percent in 2011 according to our annual Benchmarking survey. Coupling this training with need-to-know home networking skills is a natural fit. Training on these topics is essential for all technology professionals working in the home. CEDIA is the only source offering training of this scope and depth."
Registration is open now for both of these boot camps. The price to attend these events is $1,725, or $1,350 if you are a CEDIA member. In addition to this, CEDIA offers discounts for those companies sending two-or-more individuals to the same session. CEDIA also offers a $100 early bird discount if you sign up by June 24th for the first session, or October 14th for the second session.
At the end of the boot camp, participants can take CEDIA's "Residential Networking Specialist" examination. Upon passing this exam, the participant will possess a credential that CEDIA says "is the only credential of its kind" that is an "important identifier" of those residential technology specialists who have mastered the home network environment.
Both boot camps take place at CEDIA's training center in Indianapolis, IN. This summer, CEDIA will also offer online courses which are required pre-training for the boot camps. See cedia.net for more information.
For more information on the Advanced Networking & Systems Integration Boot Camp, follow this link…