OSD Audio, a specialty supplier of a wide assortment of audio solutions, continues to expand their offerings with new subwoofers, amplifiers, and streaming devices shown at last month's 2019 CEDIA Expo. The company also featured a dramatic 7.3.4 Dolby Atmos theater system which not only showcased their new Trevoce12 subwoofers (three of them, no less) but also their monster Theatro X11 amplifier with 11-channels of 380 wpc. To say it just about knocked my socks off would be an understatement.
See more from OSD Audio's CEDIA booth…
At the show, I met with OSD Audio's product guy Tim Leahy who started me off by showing several new streaming solutions from OSD Audio. The company has targeted this category which is growing leaps and bounds in response to tremendous consumer demand.
In their booth, the company had a whole display of streaming solutions, including a multi-zone streaming option. With both powered and preamp solutions, OSD Audio is looking to lead the field in offering integrators a full assortment of flexible streaming devices.
Nero Stream XD Streaming Amplifier
First up, we looked at the Nero Stream XD, part of OSD Audio's popular Nero series of products. The Nero Stream XD is just a simple to hook up/simple to use streaming amplifier that gives you everything you need out of the box to enjoy your favorite online music streaming services.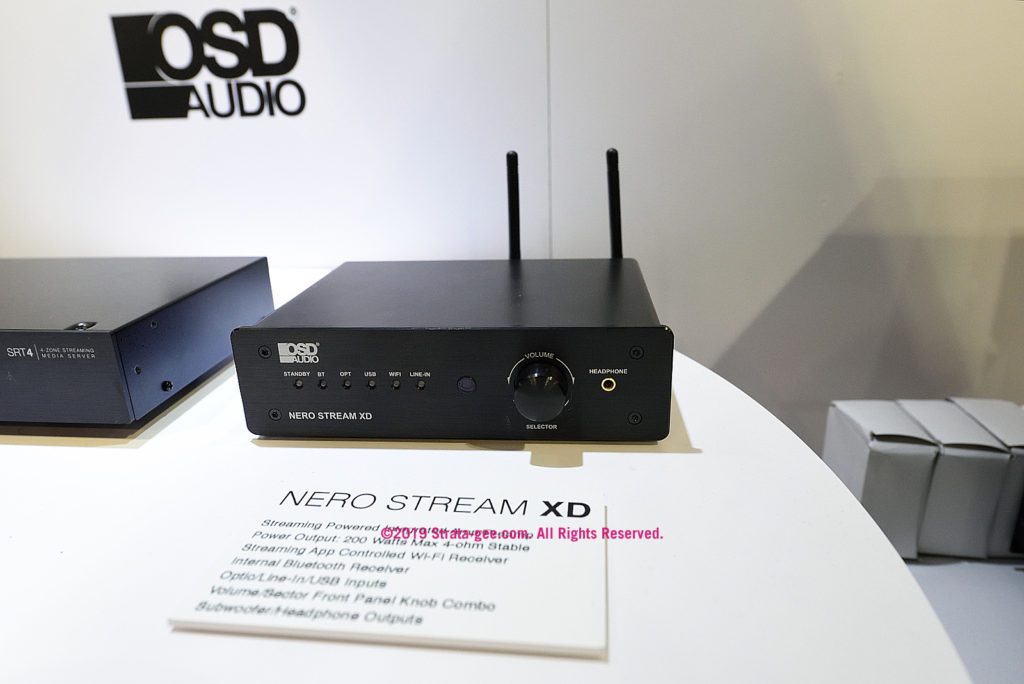 Fully app controllable, the Nero Stream XD features 40 watts of power @ 8-ohms, WiFi, Bluetooth built-in, optical/line-in/USB inputs, and a neat dual function volume control/input selector. It also has a subwoofer and headphone outputs. Like I said, pretty much all the essentials to get started with a solid streaming solution.
SRT 1 Streaming Preamplifier
Small in size, but big in impact, the SRT 1 is a new solution for the company that offers end users flexibility in matching the unit with whatever amp they need for their particular space. Like the Nero Stream XD, the SRT 1 brings a surprising amount of flexibility in a simple solutions package.
The SRT 1 also has some performance enhancements, such as high quality Cirrus Logic 16- or 24-bit/192kHz digital to analog converters and Bluetooth Version 4.2 w/aptX.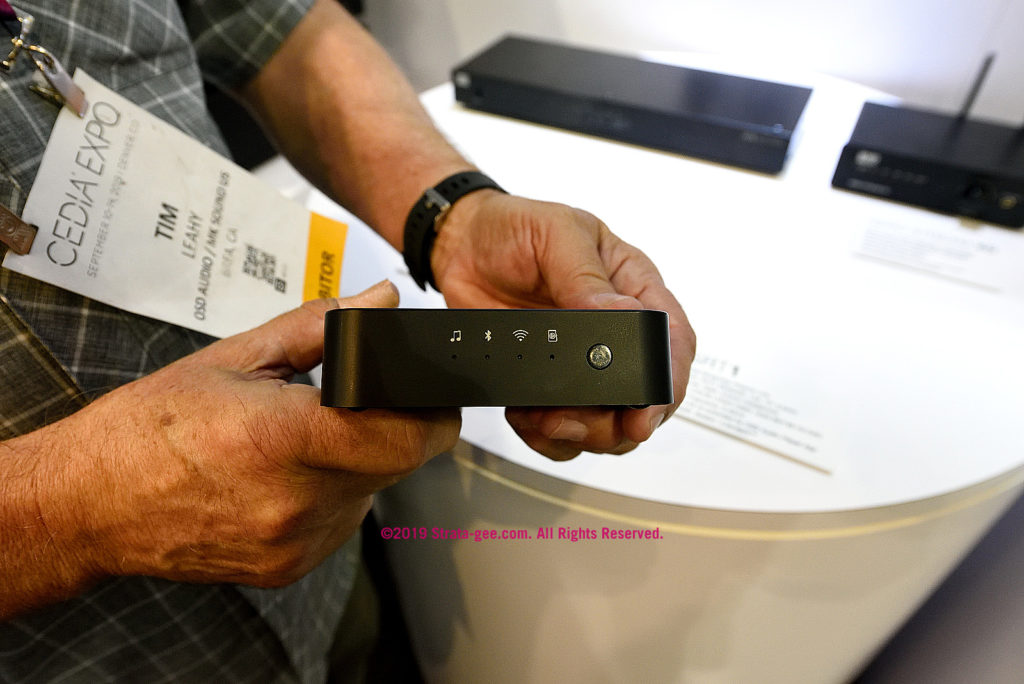 Along with this, the unit has WiFi, LAN connection, RS232C control, a 3.5mm input, and even a TF or SD card slot. There are optical and 3.5mm headphone outputs. And, of course, the unit can be fully controlled by the OSD Audio app.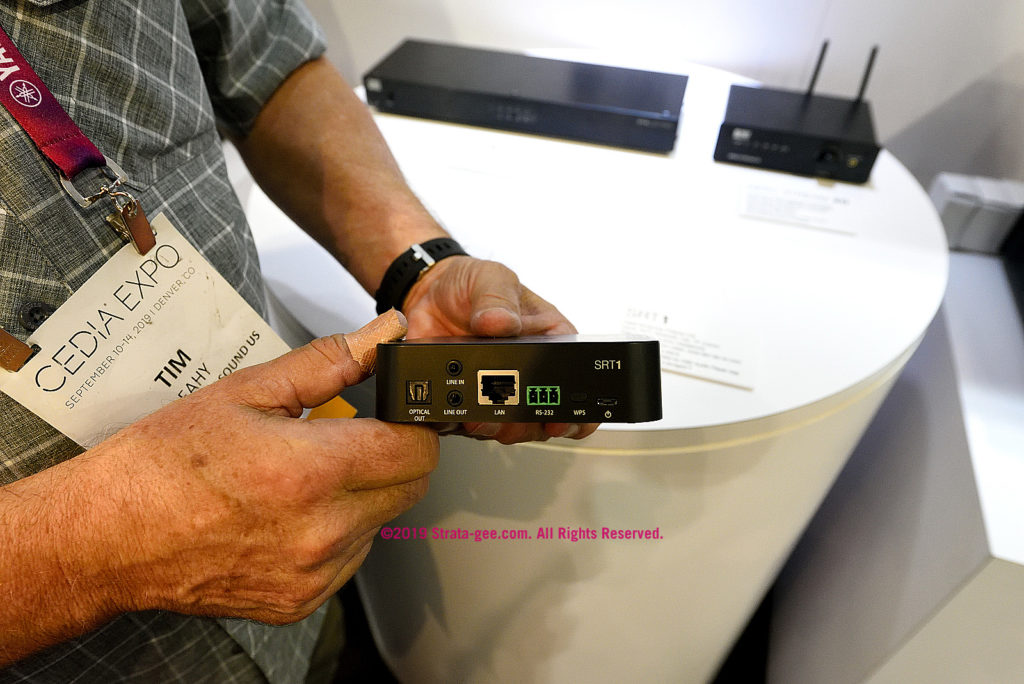 SRT 4 4-Zone Streaming Media Server
Finally, Leahy showed me a new SRT 4 with 4 stereo zones of WiFi streaming. Part of the company's Black series which offers dealers a higher margin, the SRT-4 offers a simple to set up and simple to operate multi-zone streamer.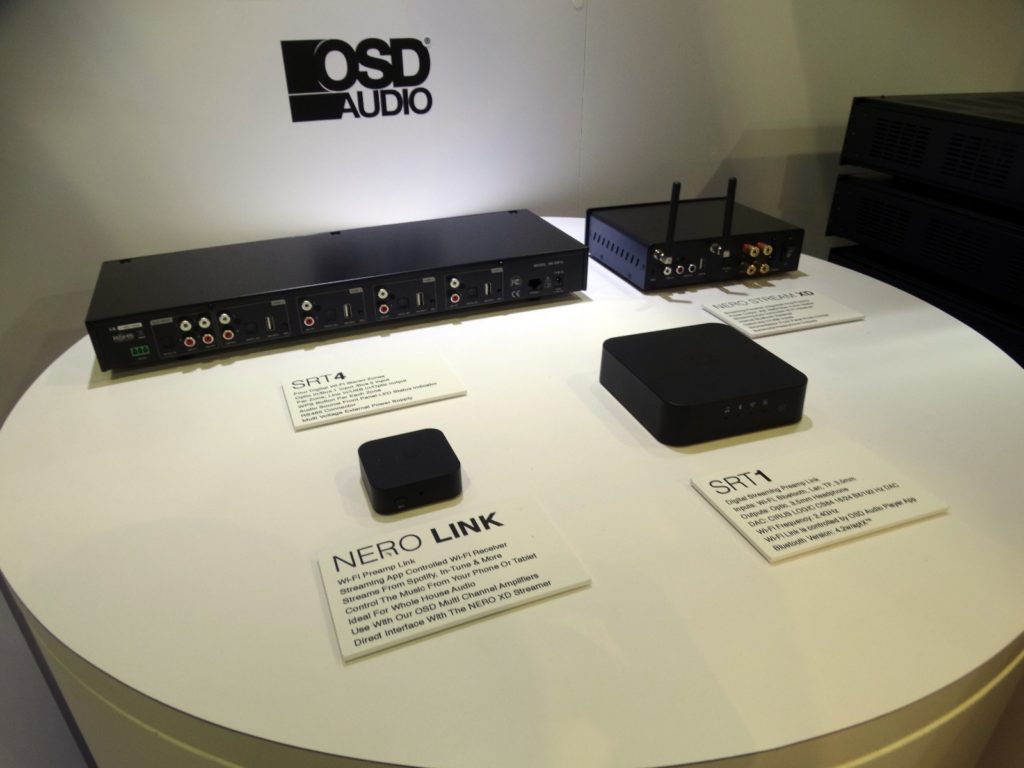 Leahy says there are independent USB content input connections for each zone, as well as line out and optical out for each channel. Each zone also has a Bus 1/Bus 2/Optical input and its own WPS button. The unit also features an RS 485 connection and Cirrus Logic 24-bit/192kHz DAC.
With all this multi-zone connectivity and technology, remarkably, the SRT 4 carries a very affordable $699 MSRP price tag.
Demo Theater Offered Impressive Performance
OSD Audio had recently launched their Trevoce subwoofer line-up. Each of these subwoofers features three bass drivers – a powered woofer and two symmetrically mounted passive radiators. The company featured the Trevoce 12, along with their T69 LCR speakers, S8T triple tweeter speakers, and R63A angled in-ceiling speakers in their 7.3.4 Dolby Atmos theater at Expo.
This huge assortment of speakers was powered by the incredibly huge Theatro X11 amplifer (that's it left/center in the photo below on a white display stand), which offers 11-channels of 380 watts each. Although the theater was an open-air design, the performance (and the sound pressure level) was breathtaking.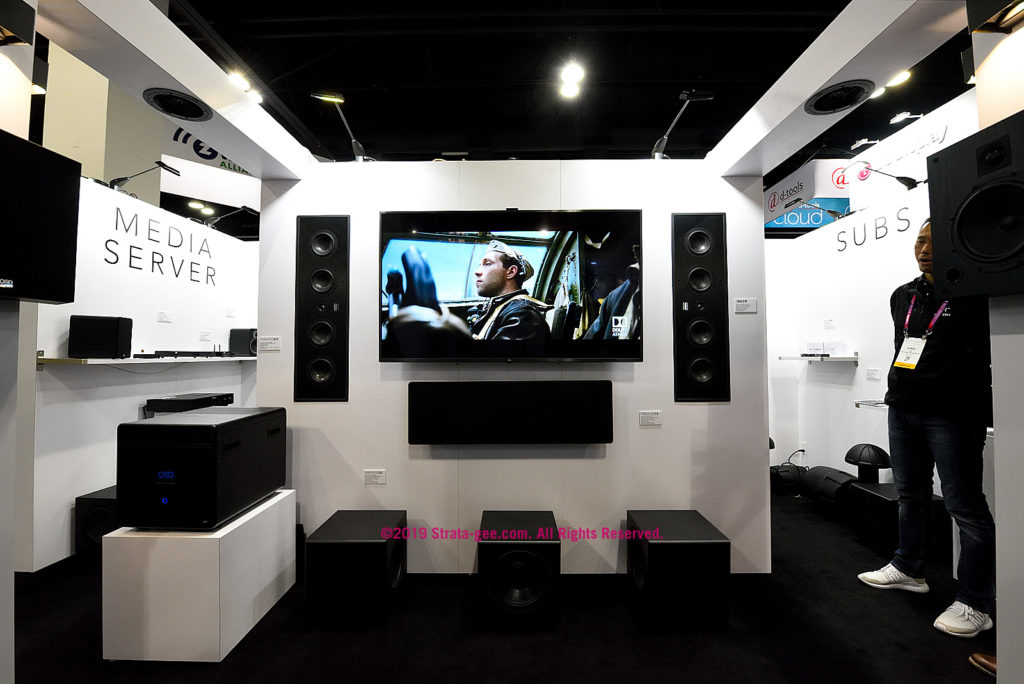 Pop in your favorite special effects movie and be ready to be blown away. As is almost always the case with OSD Audio, what was perhaps most surprising was the quality of the performance in a system that carries a reasonable total price of $17,500 approximate MSRP. That may have been the biggest Wow…
See more about OSD Audio by visiting: osdaudio.com.