At CE Week in Manhattan last week, I ran across Kangaroo, a simple home security system that just might disrupt the professional security world. Systems are simple, hubless, expandable, and incredibly affordable…what's not to like?
See the Kangaroo home security solution…
Bryn Terrell is one of the most enthusiastic home security marketers you'll ever meet, with a personality as big as her smile. She fervently believes in the greater mission of Kangaroo – to bring affordable, easy-to-use, reliable home security to everyone.
The basic building block of a Kangaroo home security system is a single motion sensor and an app. The sensor retails for just $15 MSRP, while the app is free and available on your favorite app store.
If Motion Detected, You Get an Instant Notification

When the motion detector detects any movement, you get a notification from the app, letting you know. Depending on the situation, you can then decide to take further action. You can also set the app up to send notifications to other members of your family…or even a trusted neighbor.
There is no charge for the notification service. But if you prefer, you can engage central station monitoring, where an agent can notify the appropriate local authorities if there is an intrusion. This service costs $9/mo or $60/year.
Generally, One Detector Per Room
The motion detector has a 120-degree field of view and can detect movement up to about 15 feet. According to Terrell, this approximates the size of a typical room. Depending on the size of your home, you can acquire multiple sensors and the company has various bundles, such as a two pack. She says that most of their customers purchase at least two motion detectors.
The detectors do not require any additional hub, they simply work with your normal home Wi-Fi system. Terrell says setup is a breeze and the sensors even come with peel-and-stick tape right on the unit.
Pet Rejection Technology Reduces False Alarms
One other thing that helps to make Kangaroo's system even more usable is that its motion detectors features built-in pet rejection technology. This helps to eliminate the number one source of false alarms and gives you more reliable readings.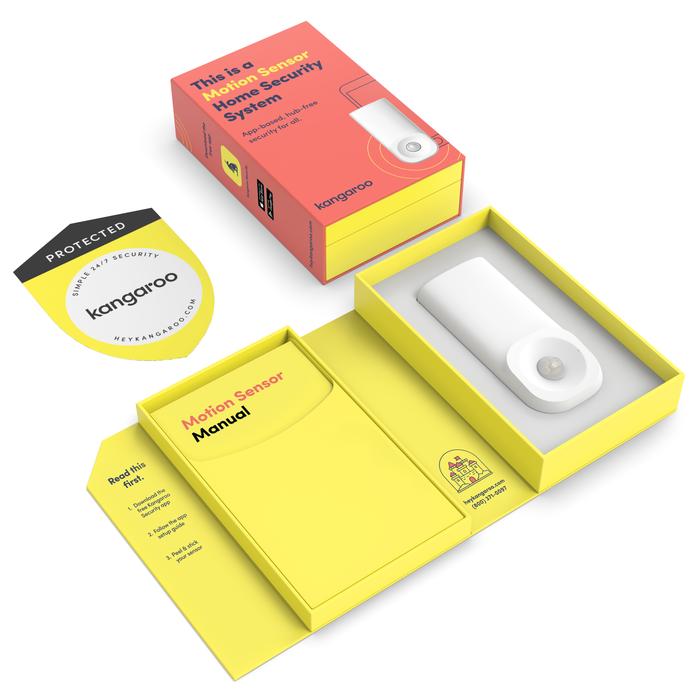 The motion detector runs on two AA batteries and is said to give you one full year of use. The app will even notify you when it's time to change the batteries. You will also be notified if anyone is attempting to tamper with the motion detector.
Modular System Grows as Your Needs Do
With Kangaroo, you can start small and build a larger system as your needs grow. The entire system stays easy to operate via the app.
Kangaroo motion detectors are available for sale now on Amazon, QVC, Lowes.com and Menards (coming soon).
For more details, visit: www.heykangaroo.com