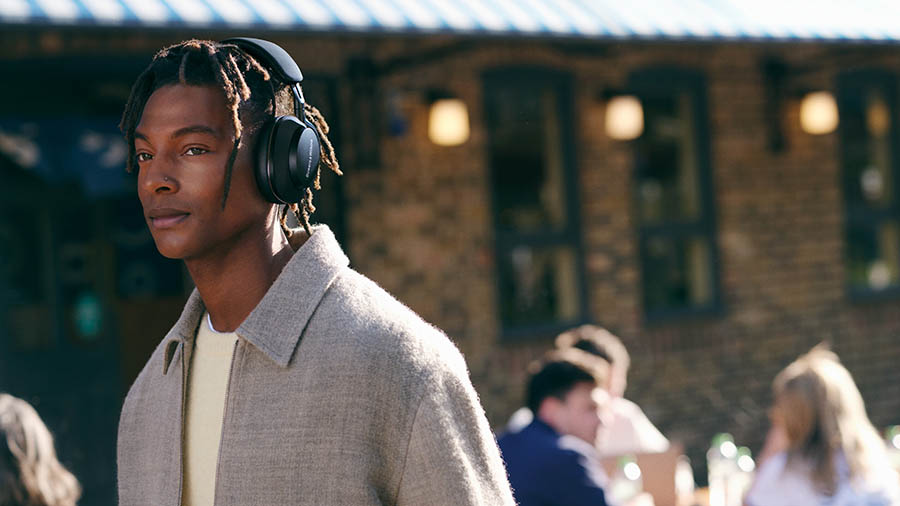 Today Bowers & Wilkins (B&W) launched the all-new Px7 S2 wireless noise-canceling headphones, designed to replace the previous PX7 that the company says was an "award-winning" product. A premium grade set of headphones, B&W says the new Px7 S2 will "deliver the most detailed, natural and immersive sound available – the True Sound of the artist's intent."
Learn more about the new B&W Px7 S2 wireless headphone
For over a decade now, B&W has been successful in translating its premium, reference-grade speaker design and manufacturing prowess to what is a completely different product area – headphones. Not all high-end loudspeaker brands are able to say that. Thanks to the company's superior engineering capability, they have been quite successful in offering better-built, higher-performance versions of a wide range of audio products, including headphones.
So as you may well imagine, B&W once again turned their engineers loose to push the envelope in sound performance with superior technology and design. Where to start? B&W engineers started by designing an all-new acoustic platform geared for high-resolution performance.
New Custom-Designed 40mm Drivers
First up: custom-designed 40mm drive units specifically engineered for an optimal headphone experience. The company says these drivers exhibit an ultra-fast response to "reproduce every nuance in a piece of music" while remaining very low in distortion…which is critical in high-resolution reproduction.
These drivers have been precisely positioned in a unique angled position in the earcup in order to maintain a consistent distance relative to the listener's ear with every point on the driver. The company says this helps to ensure a more natural and immersive soundstage.
Advanced Wireless Tech, B&W-Developed DSP, 24-Bit High-Resolution Audio
The Px7 S2 features Qualcomm's aptX Adaptive wireless technology which automatically optimizes the wireless transmission of music from any compatible smartphone, tablet, or computer. Add to this the inclusion of B&W-developed DSP and the Px7 S2 delivers sparkling 24-bit high-resolution sound quality, ready for your favorite streaming service.
To create the right atmosphere for critical listening many people turn to noise-canceling headphones which help to eliminate annoying environmental noises, such as droning jet engine noise. B&W says they've upgraded the proprietary noise cancelation technology used in the Px7 S2 to effectively tune out the noise that you don't want to hear, without causing any sonic harm to the music that you do want to hear.
Six High-Performance Microphones Drive Noise Cancelation System
To do this, the company includes no fewer than six high-performance microphones. Two of those microphones measure the output of each drive unit, two react to ambient noise from the space around the listener, and two offer exceptional voice clarity with enhanced noise suppression. It all comes together to offer a superior noise cancelation system.
New with this model, the Px7 S2 works seamlessly with the Bowers & Wilkins Music App. With this app, when paired with your favorite mobile device, the user can shape the sound any way they want it by adjusting the EQ, turning noise cancelation on or off, engage a "transparency" mode that allows you to introduce some of the sound of your outside environment for safety or communication, and keep an eye on your units level of charge.
Amazing Battery Life & Quick Charge Capability
There are also physical controls on each earcup for those who prefer to interact with the headphones directly (rather than through the app). Battery life is an impressive 30 hours allowing you to jam all-day and all-night…and then some! Run out of juice? With just a quick 15-minute charge, you gain another 7 hours of usage.
The Px7 S2 is available in three finishes – black, grey, and blue. They support USB-C and 3.5mm cable connections, with both types of cables included. The company also supplies a carrying case.
The Px7 S2 is available now and sells for an MSRP of $399. You can get yours off the B&W website or at an array of select dealers.
Coming Soon!
But wait, there's more! The company additionally teased in this announcement that they will be introducing another new model later this year called the Px8. This model will be the line's "flagship" reference-level wireless headphones that will sell for an MSRP of $549. About all I can tell you about it is that the Px8 is promised to offer "all-new levels of premium design, luxurious materials, and audio performance."
Learn more about Bowers & Wilkins by visiting B&W at: www.bowerswilkins.com.