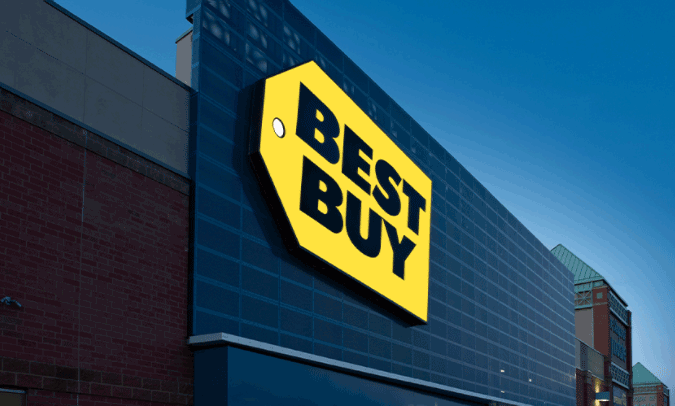 Best Buy Co. Inc. (NYSE: BBY) had what appeared to be a big win this week, generating financial results that handily beat its fiscal second quarter estimates, driven largely by a huge 242.2% increase in ecommerce sales. Their fiscal second quarter, the 13-week period that ended August 1, 2020 was big, coming in at $9.910 billion – even in a COVID-19 ravaged quarter – fully 4% higher than the $9.536 billion in the same quarter in 2019.
And yet, the company's stock value DROPPED on the announcement of their quarterly results. And in after-hours trading, Best Buy stock lost as much as 5% of its value. Why did that happen?
See why Best Buy stock got hit, on good news…
Best Buy had a lot to be proud of as they reported their fiscal second quarter results and no doubt company executives were heaving a sigh of relief. Like all of us, the electronics retail giant had faced unprecedented times during the quarter, as the coronavirus pandemic had forced most of the country to shut down all business and personal activities as state after state issued stay-at-home orders to try and protect public health.
Yet even in that decidedly unfriendly retail environment, the company managed to pull out solid results. Not only did revenues increase 4% as mentioned above, but the company also saw a strong increase in operating income at $568 million or 81% higher than the $313 million in the quarter the previous year. Also, net income surged over 81% from $238 million last year to $432 million this year.
Strong Metrics All Around; What's Wrong Wall Street?
In fact, it is hard to find any metric that didn't show solid growth. About the only candidate I could come up with is gross profit, which declined from $2.283 billion in Q2 last year to $2.270 billion this year – down just about a percent. Gross profit , the company says, was hit by higher supply chain costs, a higher mix of lower profit online sales, and less profit contribution from lower sales of their private-label brands and lower utilization of their co-branded credit card.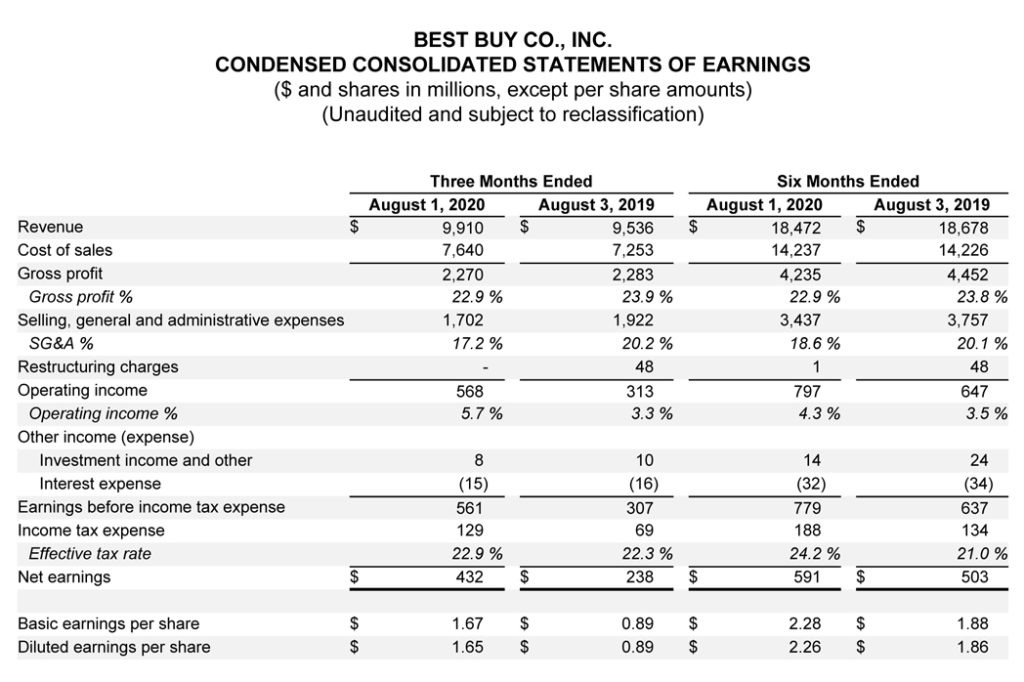 So what didn't Wall Street like? Best Buy's results were announced before the markets opened on Tuesday morning. But in after hours trading after markets closed on Monday, Best Buy's stock price dropped sharply…down as much as 5% at one point. So…obviously…something spooked investors.
CFO Discloses Concerns for the Future
The answer is that, in properly doing his job, Best Buy CFO Matt Bilunas was quite blunt in expressing significant concerns about the still uncertain future that Best Buy (and all retailers) continues to face. In looking at the CFO's comments, we see that – ironically – Best Buy's results were actually helped by the pandemic…but that 'help' will likely not continue.
How was Best Buy helped by COVID-19? First and foremost, Best Buy benefited from the stay-at-home orders trapping consumers in their homes and which stimulated tremendous demand for technology products – networking gear, computers, tablets, home theaters, video games, home office gear, and more. Even, the company says, they saw a big uptick in appliance sales.
Ironically, COVID Helped Best Buy's Results
And thanks to their forced store closings, another ironic result was revealed. Best Buy's profits were actually enhanced by lowering the company's SG&A (selling, general & administrative) costs thanks to lower store payroll expenses, lower advertising expenses (they stopped retail advertising), reduced incentive compensation expenses, and lower medical claims expenses.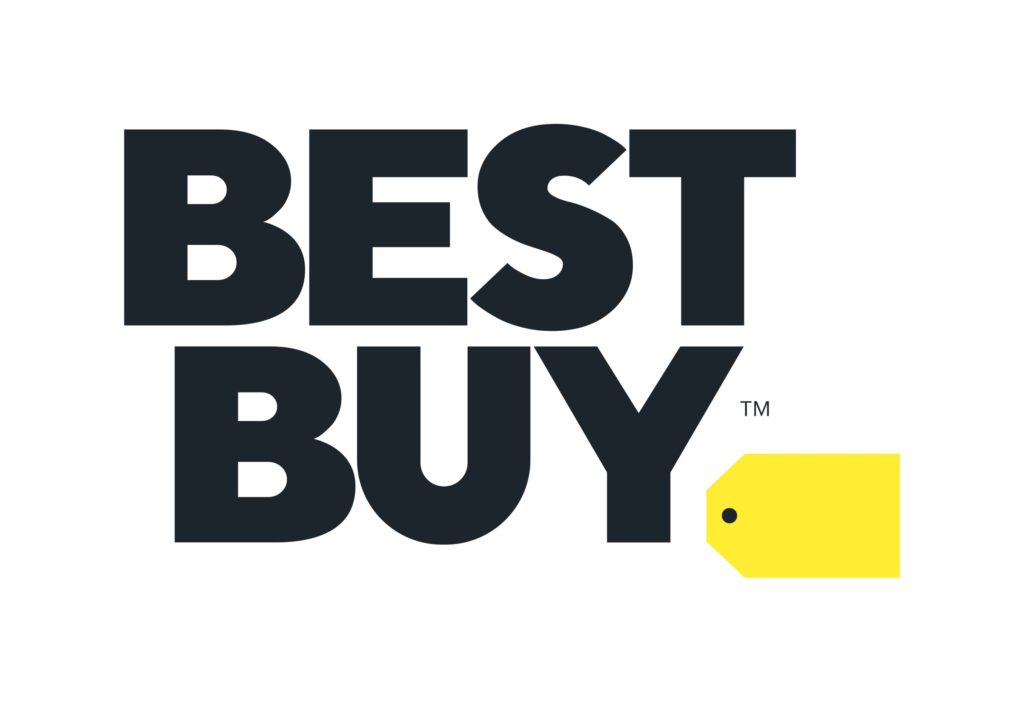 Yet more irony – Best Buy has always been a brick-and-mortar retailer first, and an online retailer second. In fact, many industry analysts have criticized their online efforts as second class when compared to other online competitors such as Amazon.com. But now…much as Target and Walmart have discovered…surging consumer demand to purchase via online stores drove the company's ecommerce results off the charts.
Online Sales: From 16% of Biz to More Than 50%
As I noted above, their online sales grew 242.2%. This means that the online revenues in their domestic division (U.S. only) of $4.85 billion was more than half of their overall domestic sales of $9.13 billion. Still not impressed? Consider this – last year, online ecommerce represented only 16.1% of the company's domestic revenues!
But the extreme operating environment the company experienced during this COVID-19 phenomenon – which clearly turned out better than they expected – will not last forever. And the rebooting to a "new normal" operating environment is going to load more costs into sales and rebalance their online/in-store sales with uncertain effect.
Best Buy Execs Have Some Big Concerns
CFO Bilunas told investors something they don't like to hear – that despite the wow numbers they revealed this week, the company will not be providing any forward-looking financial guidance "As a result of the ongoing uncertainty…" This means…basically…company managers don't know just what to expect is coming.
On the plus side, Bilunas said that so far in Q3, the company is seeing revenue growth continuing at a rate of about 20%. But then he said the following.
Overall, as we plan for the back half of the year, we continue to weigh many factors including potential future government stimulus actions, the current shift in personal consumption expenditures from areas like travel and dining out, the possible depth and duration of the pandemic, the risk of higher unemployment over time, and the availability of inventory to match customer demand." [Emphasis added]

Matt Bilunas, Chief Financial Officer of Best Buy
Big Risk Factors for Back Half of the Year
If you look closely at each of those variables that Bilunas identifies, you can see why he clearly has cause for concern.
Government Stimulus Actions – Currently, the government is debating potential further stimulus actions, with the Trump administration looking to scale back any future actions. Any such scale back could fail to stimulate consumers to future purchasing.
Shift in Personal Consumption – Many, many market watchers are waiting to see how consumers are going to target their spending down the road. Will they continue to boost technology spending? Or, once they've upgraded their systems, will these purchases stop?
Possible Depth and Duration of the Pandemic – If the pandemic regenerates in the Fall, as some experts have predicted, will this cause yet another slide in the economy perhaps worse than the last one?
Risk of Higher Unemployment over Time – While the number of new claims for unemployment have begun to moderate some, the fact remains that unemployment is way too high and promises to be a continuing drag on any economic recovery. The rate of unemployment right now is 10.2%.
Availability of Inventory – What Bilunas is referring to here is the continuing supply chain challenges. The ongoing status of the supply chain is not only impacted by the pandemic…but also by the economic recession and political issues, such as tariff policies and other trade practices.
These are big issues and their vectors are not clearly identifiable at this point. So for these reasons, investors pulled back on Best Buy stock.
COVID has Changed Best Buy Forever
At the end of the day, the Best Buy management says the company has been changed forever by their experience with COVID. How so?
DIGITAL FIRST – The company says the customer purchasing habits have been changed by COVID…and they believe this change is permanent. As a result, they are changing from a retail first/digital ecommerce second operating model to one that places digital first. In effect, Best Buy stores will exist to serve the ecommerce business, including local delivery and customer service and sales support for online purchases.
CHANGING STORES INTO SHIPPING HUBS – Yet another expression of the above point – the company plans to convert about 25% of their stores into major shipping hubs. This will get more products into more consumer hands…faster.
ADDING MORE THIRD-PARTY PICKUP LOCATIONS – The company is adding third-party pickup locations to facilitate quicker consumer fulfillment. The company says it already has 16,000 such locations, with even more planned.
SUPPLY CHAIN ISSUES WILL CONTINUE – Between sanctions on on Chinese suppliers and bulk purchases from school systems, Best Buy struggles with supply chain management. They expect this to continue for some time to come and are working on systems to help them be more efficient.
Learn more about Best Buy by visiting: www.bestbuy.com.