It seems like there is a new gold rush – the rush to provide streaming services to satisfy the seemingly insatiable level of demand from consumers. Almost every day, some new hardware company announces they will provide streaming services through their device. But in a meeting with Autonomic at CEDIA Expo last month, we learned that some things may not be what they seem…
See how Autonomic's streaming services are different & learn about the Mirage MMS-2A…
Autonomic CEO and Co-Founder Michael de Nigris is extremely proud of the company he has built. And with good reason – they were one of the first companies to provide whole-home music listening systems that fully integrate with most major control and automation systems.
Likewise, they were one of the first to recognize the power and growing demand for streaming services. Their popular Mirage Audio System streams all the most popular services, such as: Pandora, Rhapsody, Sirius XM, TuneIn, Spotify, Slacker, iTunes, Deezer and Napster.
Direct is best…
But as de Nigris noted, perhaps the most notable aspect of this all-star lineup of streaming services is that Autonomic has direct contracts with these providers. And that fact is NOT the case with all companies delivering streaming services on their devices.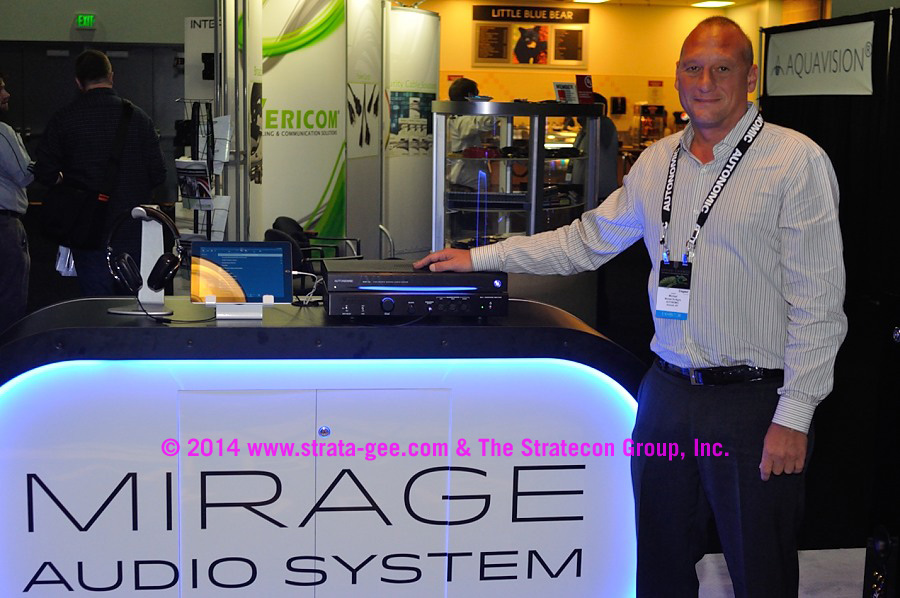 "Integrating music with automation and control has always been central to Autonomic's mission," de Nigris said in a recent statement and reiterated to us in person.
We have heard from several other industry executives, the major streaming services companies can be very difficult to do business with. They are very aggressive negotiators and demand burdensome contracts with guaranteed adoption levels and high revenue streams.
Problematical arrangements…
According to Autonomic, some brands that have announced streaming services have found ways to do an end run around the major providers contracts by cutting special agreements with other licensees – sort of sub-licensing arrangements. However, arrangements like this can be problematical…with longevity not assured and the possibility (some might say certainty) of service failings.
Autonomic, on the other hand, has direct contracts with all major streaming services which means their customers can be assured of reliable ongoing delivery. And thanks to the success of their Mirage Audio System, they've actually been able to continue to expand the number of these services they can make available to their customers.
New Mirage MMS-2A Music Player…
Recently, Autonomic launched their MMS-2A Music Player to their successful Mirage Music Systems line. The MMS-2A simultaneously delivers 2 independent streams of music to up to 96 zones. Like other Mirage cloud-based music server systems, the MMS-2A will store, synch, schedule and stream a users complete music collection along with their list of world-class streaming services. And with 96kHz/24-bit capability, the MMS-2A is not only whole-house…its high-resolution.
Autonomic says that the MMS-2A also features cloud synchronization which means that music from multiple locations can be brought together into a single collection that can be accessed from anywhere in the world. The MMS-2A also has three onboard AirPlay receivers allowing for guest computer/device streaming.
The MMS-2A is able to be fully integrated – through pre-programmed modules – with all major control and automation systems such as AMX, Control4, Crestron, RTI, Savant, URC, Elan, and more. There are also alternative options such as the Mirage Media Controller app for iOS and Android devices, AirPlay control and the Mirage Web Interface. The MMS-2A has an MSRP of $1995.
To learn more about Autonomic and its Mirage Music Systems, visit: www.autonomic.com.