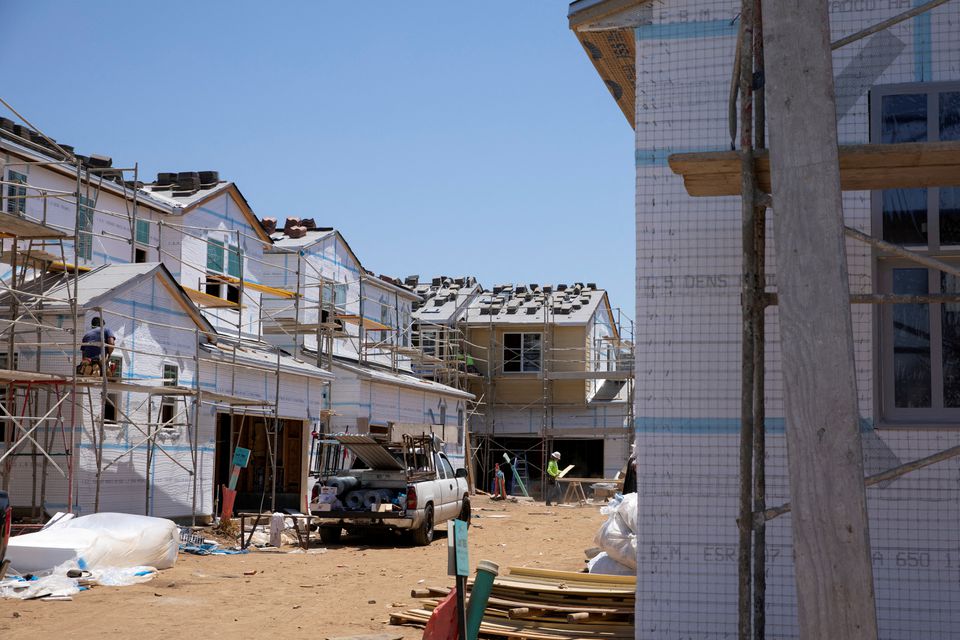 Homebuilder Sentiment Drops for First Time in Seven Months
Yet another sign of the struggling housing industry as climbing mortgage rates and historically high home prices combine to drop new residential construction – known as housing starts – to their lowest level in three years. Both single-family housing starts and overall housing starts, which includes multi-family dwellings, saw significant declines in August.
See the latest data on August housing starts
New residential construction, known as total housing starts, dropped in August to a seasonally adjusted annual rate of 1.283 million units, down a substantial -11.3% below the revised July rate of 1.447 million units, and down -14.8% compared to the rate of 1.505 million units in August 2022. This is the lowest rate of residential construction in more than three years, according to a report by Reuters.
Also declining in August was the rate for single-family starts – a statistic considered more meaningful for the custom integration segment – which came in at a rate of 941k units or down -4.3% as compared to the revised rate in July of 983k units and +2.4% above the reading of 919k units in August last year. While this rate was more moderate than the overall reading, both of these results fell below economists' estimates for the month.
Rising Mortgage Rates Impact Affordability of New Homes
Most experts point to the dramatic rise in mortgage rates – Reuters called it a "resurgence" – as the key culprit in this unexpectedly large reduction in residential construction. The overall starts of 1.283 million units was not only the largest drop in a year, it took the rate to the lowest level in three years since June 2020.
Coupled with this news, we learn that the National Association of Home Builders/Wells Fargo Housing Market Index, which among other things, measures the level of confidence among home builders turned negative in September for the first time in seven months. According to the survey, builder confidence dropped 5 points in September to a reading of 45. This followed a drop in August of 6 points.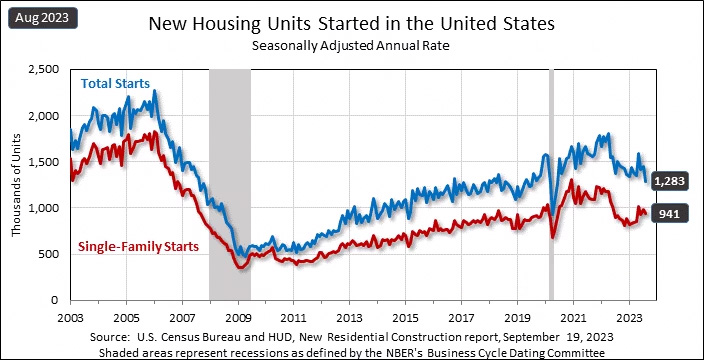 Homebuilder Sentiment Turned Negative for First Time in 7 Months
Any reading below 50 is considered a negative sentiment. All three of the survey components – current sales conditions, sales expectations for the next six months, and buyer traffic – declined in the survey. Builders say soaring mortgage rates are making homes unaffordable for buyers. As a result, builders have been forced to offer incentives to stimulate sales. Almost a full third of builders in the September survey say they've had to cut prices to move homes.
High mortgage rates are clearly taking a toll on builder confidence and consumer demand, as a growing number of buyers are electing to defer a home purchase until long-term rates move lower.

Robert Dietz, NAHB Chief Economist on declining builder confidence
Up to Now, Multi-Family has been a Bright Spot
It's important to note that residential construction, particularly multi-family construction has recently been a bright spot in an overall tough housing market. This was due to the fact that there is a nationwide shortage of apartment buildings which caused rental rates to soar and launched many new building projects around the country to help fill the void.
Today's news was a surprise to many economists who had predicted a housing rate of 1.440 million units, down just slightly from July's rate of 1.447 million units.
August's home construction data appear to be showing some cracks in the armor of what has been one of the few strong indicators in the houing market recently. Still, it's important to note that there could be a noise component here as much of the sharp decline in starts came from the multifamily sector, which is notoriously volatile.

Daniel Vielhaber, an economist at Nationwide in Columbus, OH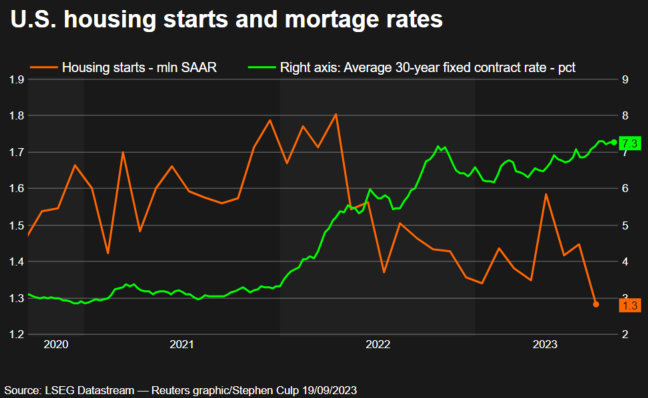 All Regions Outside the Northeast Showed Declines in Starts
On a regional basis, overall starts were up just 1.0% in the Northeast, but off in each of the other regions: Midwest (-7.5%), South (-4.9%), and West (-28.95). The reading for the West region was likely impacted by Hurricane Hilary.
Multi-family starts literally collapsed -26.3% in August to 334k units – also the lowest level since August 2020. Some real estate analysts believe the market for multi-family may have peaked in mid- to late-2022 when demand for apartments was at its highest level in recent times.
Still, Some Cause for Optimism
Still, there is some cause for optimism as permits issued for future construction – a leading indicator to housing construction, which itself is a leading indicator for the overall economy – jumped a significant 6.9% in August to a rate of 1.543 million. This is the highest rate of permitting since October 2022. Most permits were issued for multi-family construction, as single-family permits increased by just 2.0%.