In a new round of filings from the designated "Assignee" in the matter of Audio Research Corporation's filing of an Assignment for the Benefit of Creditors, we actually learn a few new things and get a little more detail on the state of affairs for the beleaguered but popular high-end audio brand. And these new details help to put a finer point on just where things stand at the moment for the company.
See more on what the Assignee told the court…
Strata-gee first reported on Audio Research Corp.'s initial filing just one week ago, on Monday, May 1, 2023. The filing of an Assignment for the Benefit of Creditors is a form of receivership, in which the company's assets are placed in a trust that is then fully turned over for control and disposal by an "assignee" whose goal is to benefit the company's creditors. Other than the Minnesota Bank and Trust filing a notice to the court that they are a secured creditor of the company, and which lawyers represent them – we didn't really know much more than that.
However, at the end of the week, the "Assignee," who is Patrick Finn from Lighthouse Management Group, Inc. – a management group that is an expert in matters such as this assignment – made several filings in the case. Many of these filings were housekeeping matters, such as getting the assignment set up and releasing some more details, such as a corrected list of creditors of the company.
Assignee Files Motion with Two Critical Requests
However, one of the assignee's filings did provide some more salient details on the rapidly evolving situation. This filing, titled Assignee's Memorandum of Law in Support of Motion to Extend Stay and Order Approving Receiver, added details that served to offer weight behind the assignee's critical requests of the court.
So as the title suggests, the assignee had identified two critical needs for immediate action. The first is to get the "stay" blocking any actions from creditors or others against the company extended – we'll go into that in more detail in a moment – but probably necessitated by the aggressiveness of Minnesota Bank and Trust. The second action is for the court to issue an order approving the proposed assignee as qualified to be the receiver in this case.
The second issue is pretty straightforward, the assignee needs the court to confirm his assignment such that he has the full weight of the law behind him to conduct his duties as assignee. With that matter being a clearly understandable issue, I'll leave that second issue alone and rather focus on the first issue.
Most Important: Extending the 'Stay' on Actions Against the Company by Creditors
I think it is no coincidence that the assignee placed the matter of extending the "stay" on any actions by creditors or others against the company – as his highest priority issue. When a company files court papers notifying it of an Assignment for the Benefit of Creditors, a statutory stay is automatically imposed that extends for a 30-day period.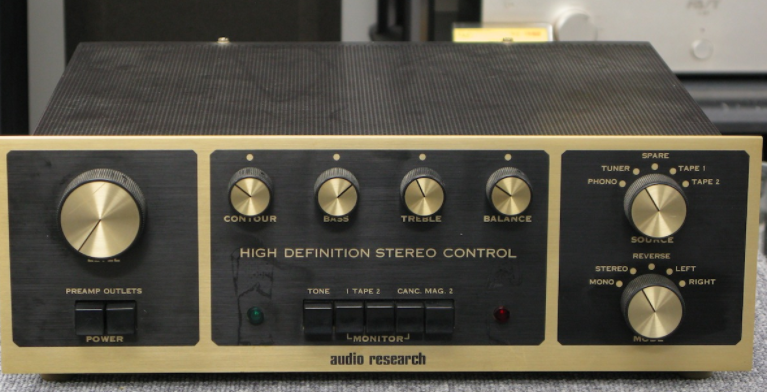 Generally, the assignee can request another 30-day stay by the court and although it is not automatically implemented, it is typically approved. Beyond that, it gets tougher to get more extensions and the assignee has to convince the judge that a further extension is in the best interest of all creditors.
Asks Judge to Extend Stay to September
In this case, the initial stay is set to expire on June 3rd – only about three weeks from now. But in what is an interesting strategy by Finn, instead of requesting the perfunctory additional 30-day extension, he has instead asked the court to approve a 90-day extension, which will protect the company from any actions by creditors until September 1, 2023.
Why does he need this much extra time? Well, he offers a series of facts impacting the company's situation that he asks the judge to consider.
In a section of the filing offering background information on the current status, Finn notes that Audio Research has a secured loan "payable to Minnesota Bank & Trust." This loan is one in which the bank holds a security interest "…in substantially all assets of the company which was perfected by the filing of a financing statement on December 29, 2021." The sticky part? That would be the section noting that the security interest has been "perfected."
Debt Totals $2.6 Million; $1.6 Million Bank's Security Interest is 'Perfected'
According to Investopedia, a perfected security interest is:
A perfected security interest is any secure interest in an asset that cannot be claimed by any other party. The interest is perfected by registering it with the appropriate statutory authority, so that it is made legally enforceable and any subsequent claim on that asset is given a junior status.

Investopedia, Excerpt from: 'What is Security Interest? Definition and Legal Requirements'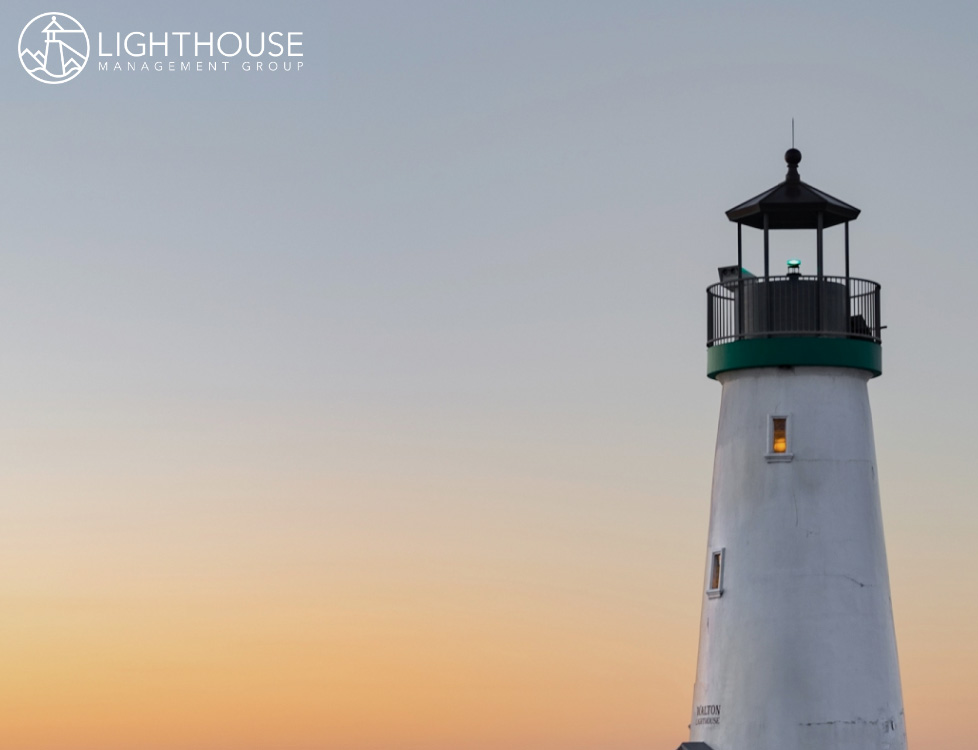 A perfected security interest means that the Minnesota Bank and Trust is in a pretty good position – although in an overall pretty bad situation. The secured loan held by the bank is for $1,600,000. But wait – as the late-night infomercials like to say – there's more. It seems that Audio Research is also carrying another debt, this one an unsecured debt, "…of at least $1,000,000.
A Bad Situation for Unsecured Creditors, And They Know It
Those unsecured creditors are in a bad situation…and they likely know that. One bright spot in the assignee's filing? He reports that "…all payroll and sales taxes are current, and all employee wages and benefits are current." Believe me, if those categories were screwed up, the situation would be much worse.
Finn reports that Audio Research's "principal assets" consist of "…its accounts receivable, inventory, work in process, materials, intellectual property, customer lists, manufacturing and office equipment and cash on hand." He does not reveal any claimed value to these items.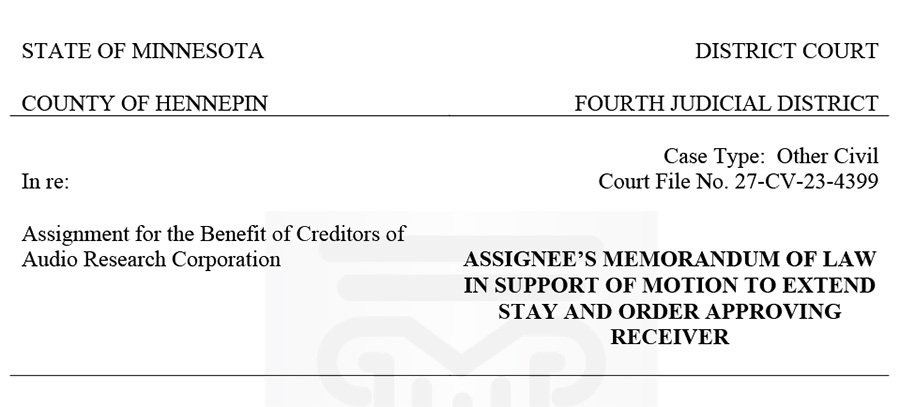 'Several' Potential Buyers Have Emerged; Assignee Needs More Time to Close a Deal
Perhaps the hottest news from this filing is that it seems that Finn has multiple potential buyers for Audio Research on the line. And it is for this reason, he is asking the court to give him more time "…to maximize value for all creditors."
Immediately upon its acceptance of the Assignment, the Assignee has been marketing and seeking purchasers for Audio Research's assets and investigating Audio Research's financial affairs. Several parties have shown interest in acquiring the Assignment Property as a going concern and have commenced due diligence.

Excerpt from 'Assignee's Memorandum of Law in Suppoty of Motion to Extend Stay and Order Approving Receiver'
Hopes for One or More 'Letters of Intent' by Next Week's Hearing
Finn seems confident in a relatively quick resolution, telling the court in the filing that he "…hopes to have letters of intent in hand very soon and to have selected a buyer by the time the hearing on this Motion is held." The hearing he's referring to is scheduled for next week on May 17. Still, the assignee knows that conducting a deal of this nature is time-consuming, and that is why he is requesting an extended period of the stay.
"The success of this case depends on having time to market and sell Audio Research's business and assets," the assignee notes in his filing. "A rushed process would be unfair to all creditors, including any existing or potential litigants."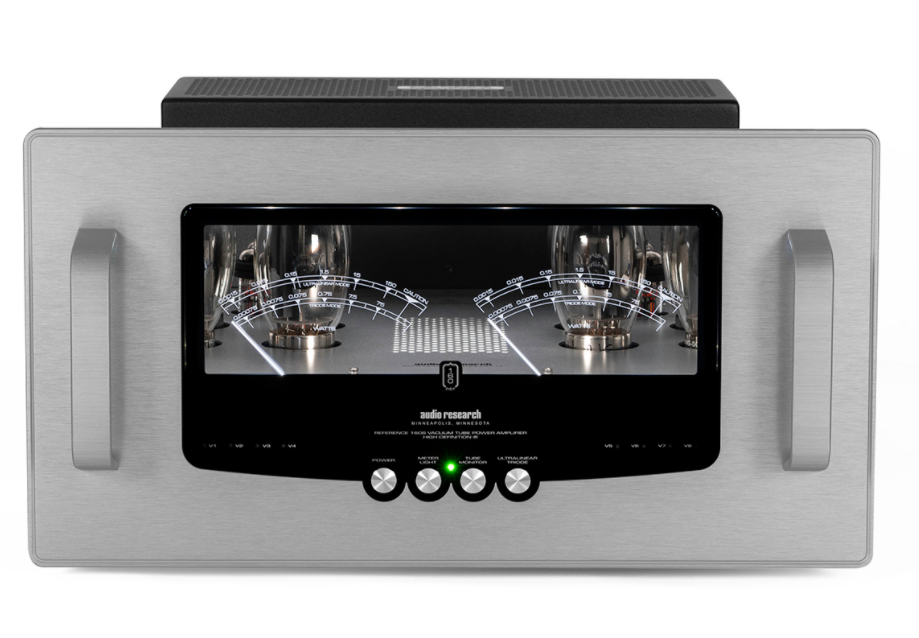 More Details May Emerge at Hearing
With that, it appears that the matter is on hold until the May 17th hearing on the various motions filed by the assignee. It will also be interesting to see if we get an inkling as to who these suitors for Audio Research turn out to be. We just might, if Finn is successful in obtaining a letter or letters of understanding.
Learn all about Audio Research by visiting audioresearch.com.