Audio Control announced this week the availability of its new high performance HDBaseT extenders that allow installers and integrators the ability to safely and successfully run HDMI signals over long distances reliably. The company has been in the audio/video extender (baluns) business for some time now, with these new models – the HDBT-S1 and HDBT-R1 – pushing the performance edge.
Learn more about these interesting new models from systems specialist Audio Control…
Audio Control, the unique specialty electronics manufacturer based in the Pacific Northwest (outside of Seattle, WA) – or as they like to call it, the "Northwest rainforest" – has always made a wide range of solution products for both the residential and the 12-volt (automotive) markets. Now the company steps up their game with its first HDBaseT extender, ratcheting up performance by extending high-definition HDMI signals up to 70 meters (230 ft.).
Like all HDBaseT baluns, the Audio Control system is two pieces, a transmitter (HDBT-S1)) and a receiver (HDBT-R1). The company plans to offer them individually, as well as in a combo pack (HDBT-SR1).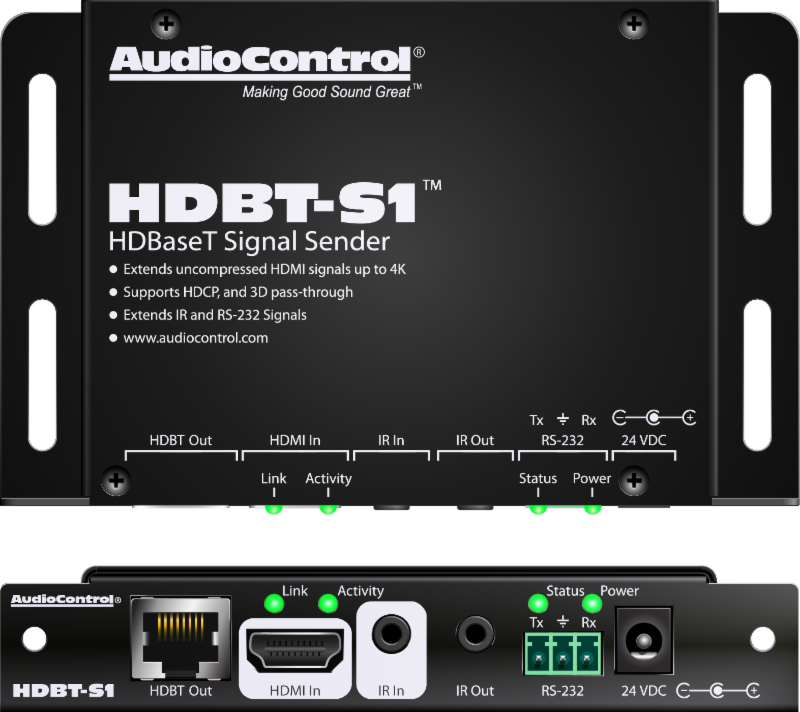 The HDBT-SR1 system is HDTV & 4K Ultra HD compatible, with 3D pass-through. The system is HDMI 1.4 compliant, supports CEC, and is HDCP compliant. The company rates high bandwidth at 10.2Gps and says the SR1 system transmits EDID and Hot Plug Detect signals constantly to the display via CAT5e or CAT6 cable. (The company recommends CAT6).
The SR1 system will also extends bi-directional IR and RS-232 signals. The unit features full LED status read outs for at-a-glance confirmation…and a savvy top and side silk-screen arrangement for convenient set-up in any system configuration.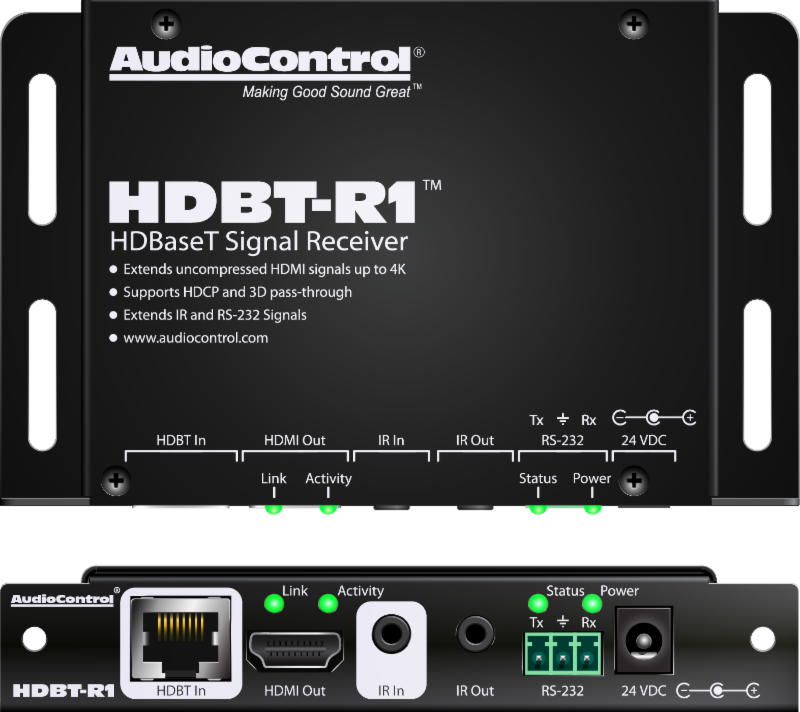 Also of note, Audio Control says that it is now offering the ability to order their Maestro M8 Surround Sound Processor with either an HDBT-S1 or HDBT-R1 factory installed in the unit via its expansion port to have – in effect – HDBaseT built-in. This could be helpful in certain installation situations.
Finally, Audio Control says that it puts each and every HDBaseT balun through a rigorous set of test protocols with very tight bit rate tolerances as tested by a 4K test gear from Quantum Data. And not only that, but each unit is packed with a certificate confirming its test results. We are not aware of any other company that is conducting 100% testing of their baluns…so this is meaningful.
The HDBT-S1 and HDBT-R1 have an MSRP of $380 each and are available now. The HDBT-SR1 combo pack has an MSRP of $740.00 and is also available now.
For more information, see: www.audiocontrol.com.