One of the big themes at CE Week 2014 was the unofficial official rollout of Dolby's latest surround sound technology – Atmos. Both Onkyo and Pioneer intro'd, displayed, and demo'd Atmos systems. However, since both companies showed prototypes, what we heard was only an approximation of what the final production units should sound like.
We participated in demos of, and closely listened to, BOTH the Onkyo and the Pioneer Atmos systems.
What did we think of our first Atmos demos? See more below…
On the eve of the launch of CE Week 2014, both Onkyo and Pioneer distributed press releases on their new products featuring Dolby's new Atmos surround sound technology. Onkyo announced three new models under the Onkyo brand (TX-NR1030 THX certified AV receiver, TX-NR3030 AV receiver, and the PR-SC5530 AV controller) and another three models under the Integra brand (DTR-60.6 AV receiver, DTR-70.6 AV receiver, and DHC 80.6 AV controller).
Pioneer also showed three new AV receivers that are Atmos upgradable (Elite SC-85, SC-87, and SC-89). But in a move that surprised some present at AV Week 2014, Pioneer also showed a line of Elite Atmos speakers, called the Elite 5.1.4 speaker system.
Pretty complete overhaul…
If you haven't heard about Atmos, it is a pretty complete overhaul of how surround sound is created. For the purposes of this post, I'm going to over-simplify the big benefit. What Dolby Atmos really brings to the table is a new dimension – height. In a Dolby Atmos commercial theater, speakers are mounted overhead to add sounds and effects coming at you from above…in addition to the front L/R, center, and surround positions that existing systems normally offer.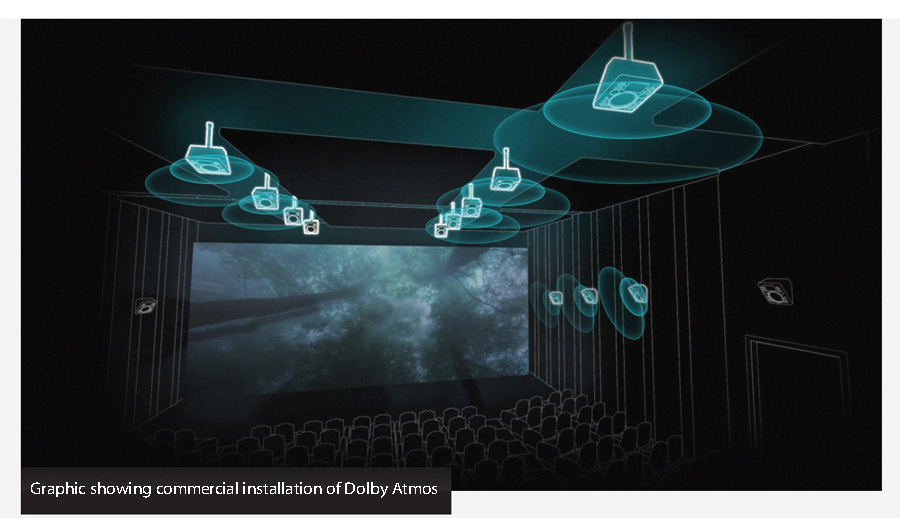 Wisely, Dolby has figured out that asking home users to punch holes in their ceilings to add speakers…and figuring out how to wire them into the system…is just not realistic. Pragmatically speaking, a new solution had to be created. So the company invented dual purpose speakers that fire forward – normal front L/R or surround L/R – AND also fire up.
Adding up…
Yes, I said up. Speakers are mounted on top of the front-firing speaker cabinet, but angled up at the ceiling (with their own set of binding posts.). Dolby says that the sound will travel up…bounce off the ceiling…and arrive at your ears as though it had originated from the ceiling. I know…I know…sounds a little crazy. But the eggheads at Dolby swear it works.
So, with the advent of Atmos, we all need to learn some new nomenclature. As you most likely are aware, typical surround system configurations are known as 5.1 [L/C/R fronts (3), Surrounds (2) & subwoofer (.1)]…or 7.1 [L/C/R fronts (3), Surround (2), Surround Back (2) & subwoofer (.1)] .
But now that Atmos has added a height dimension, we have new designations: 5.1.2 [L/C/R fronts (3), Surr. (2),  subwoofer (.1), AND height (2). Or 7.2.4 [L/C/R front (3), Surr. (2), Surr. Back (2), subwoofers (.2), AND height (4).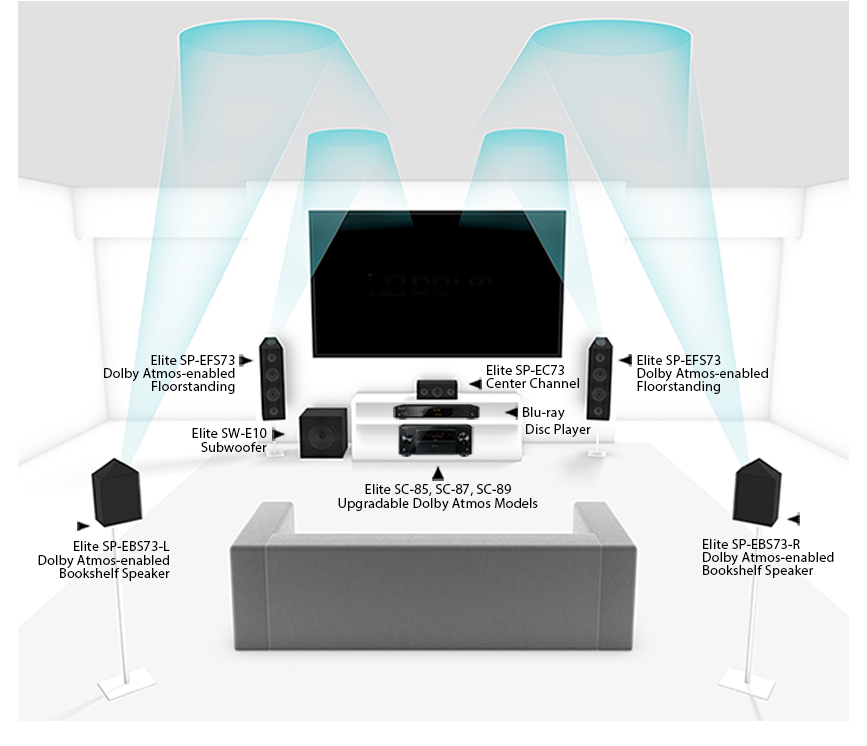 Anxious for the first time…
Leading up to CE Week, we were quite anxious to experience Atmos first hand, having only read about it up to that point. Given the fact that the audio industry needs something new to promote, what we were reading sounded promising.
Frankly, we were curious to see whether the added dimension of "height" was a game changer…or just a small enhancement to what we already enjoy with today's capable surround sound systems. Actually, I'll admit some concern as to whether I'd even be able to hear the effect at all.
Bookended demos…
We bookended our day with Atmos demos, participating in the morning (literally in their first demo group) at Onkyo. We then made our last stop of the day at the Pioneer presentation, which we had been trying to get in to all day long…but it was always jammed.
So, with great anticipation, we climbed into the tall black director's chairs at Onkyo for our first Atmos experience. Onkyo had taken a room off the main floor and converted it into a demo room. The room was dark…very dark.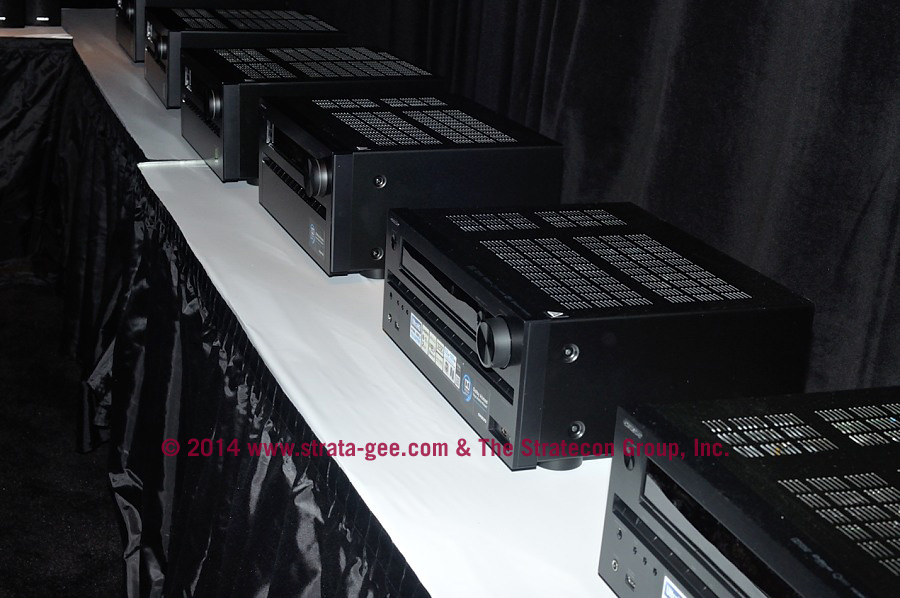 Atmos included and Atmos upgradable…
Along the back wall, Onkyo had a draped table with a line of receivers on it. Aside from the newly announced Atmos-inside AV receiver models, Onkyo also showed their existing popular TX-NR636, -737, -838 AV receivers all sporting a large new sticker that said "Dolby Atmos Upgradable Model" with "Firmware update available in September" in smaller print underneath. [See photo of the TX-NR737 below]
Impressive. This means that by late Q3 or early Q4, Onkyo will have a total of 6 Dolby Atmos models on the market. And if you include their Integra brand – that total grows to 12. This is an impressive feat given that Dolby Atmos is only launching for the first time in late August. [NOTE: Both Denon and Yamaha have announced support for Dolby Atmos this year as well.]
Onkyo's 7.2.4 demo…
For Onkyo's demo, the company borrowed an Atmos-enabled prototype speaker system from Triad. Triad had little to say to us about these prototypes, but they did say that an Atmos-related announcement was forthcoming in advance of this fall's CEDIA Expo. Onkyo's system was set up in a 7.2.4 configuration, so the Triad front and rear surrounds had both a front firing speaker – and a upward firing driver aimed at the ceiling.
Onkyo National Marketing & Product Planning Manager Paul Wasek gave a brief introduction to Atmos and made sure we knew which Onkyo models would have Atmos included…and which models would be upgradable with a firmware update. Then, Wasek started the demo with a couple of short videos from Dolby that introduced Atmos.
After the Dolby corporate videos, Wasek played a movie clip that included a scene in which we were immersed in a thunderstorm. Certainly this was designed to show how the system would envelop us. Not to mention how the storm would sound raining down upon us.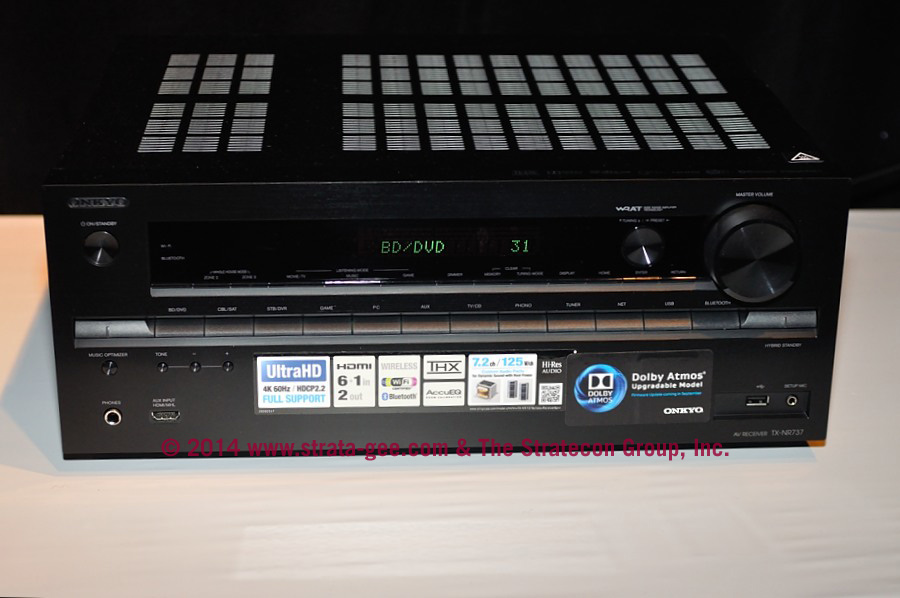 I heard it. Like being in a sonic dome, sound came from everywhere…including above us. This presentation offered a pretty good demonstration of what Atmos can do.
Sound not final…
Keep in mind, however, we were listening to a new technology…through a not-final prototype AV receiver…reproduced through not-final prototype speakers. The room environment was not ideal (high ceilings/draped walls). The CE Week show floor was loud – and even though we were in a closed door room – there was a very audible noise floor that was constant and pervasive.
You don't have to worry about content availability, according to the Onkyo executive.. Wasek told reporters that  there are 120 feature films released in Atmos and that all major studios have committed to the format. Even some smaller independent studios will offer Atmos encoded movies.
"[Dolby Atmos is] a different way to create surround that's enveloping," Wasek proclaimed.
I heard it.
Pioneering the Atmos technology…
Later in the day, we visited the Pioneer demo room which, like Onkyo, was just off the main floor. And like Onkyo, it had all the same issues – high noise floor, high ceiling, draped walls, and pitch black room.
Unlike Onkyo, Pioneer used their own design Atmos speakers. Engineered by speaker designer Andrew Jones, the Pioneer speakers looked competitively built with a good fit-and-finish and configuration.
Pioneer has announced three different AV receivers in their Elite line that are Dolby Atmos upgradable with an upcoming firmware update. These models are the Elite SC-85, SC-87, and SC-89. They are all 9.2 channels providing for a maximum Atmos configuration of 5.2.4. The receivers are all very fully featured and look quite competent as the centerpiece for your home theater.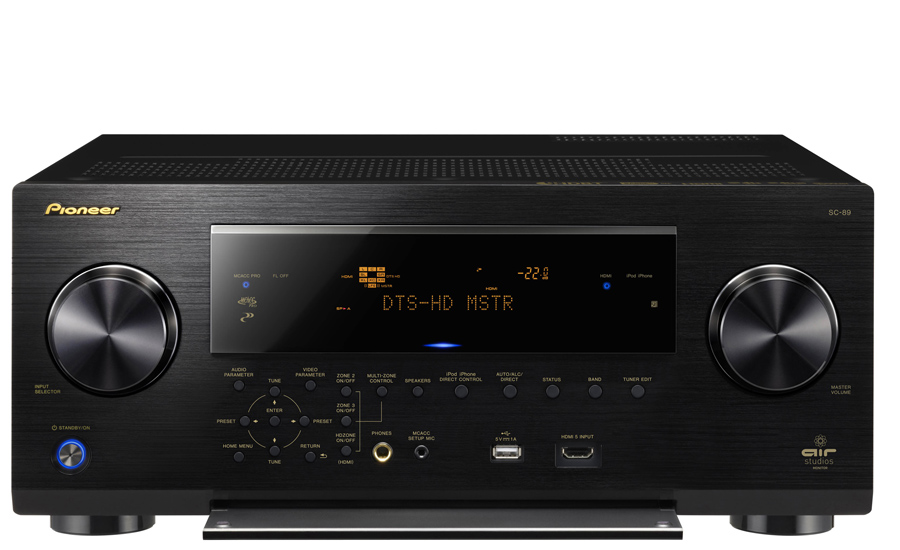 Interestingly, the SC-89 includes HDBaseT built-in. This should help to make the Elite receiver popular with many installers and integrators who have come to rely on HDBaseT for long run HDMI -based signal transmission.
Speaking Atmos…
We were also captivated by the new Elite Atmos-enabled speaker line. A full line-up that includes tower speakers, center-channel, surrounds, and – thanks to Atmos – upward firing speakers…the system looks well designed and engineered.
The core technology in the Pioneer Atmos-enabled line is the utilization of a coherent source transducer. Not completely unique, but considered an essential concept by many in the industry – coherent source technology (CST) mounts the midrange and tweeter coaxially so that the directional characteristics of the drivers completely conform.
Good for our feet…
At the demo, we again settled into our seats which, after a day of walking all around the show, felt pretty darn good to get off our feet. Like Onkyo, the Pioneer representative spoke briefly about Atmos…preferring to let the video content give most of the specifics.
Then we watched the same Dolby corporate videos we saw at Onkyo. Full of claims of how significant this new system is…and after a lot of swooshing and swirling sound effects – we were sufficiently indoctrinated in the fundamentals of Atmos for the presentation to turn to a movie excerpt.
Atmos[pheric] experience…
This time, though, the clip was more – if you'll pardon the expression – atmospheric. The clip used by Pioneer had us walking through the woods with birds chirping away and flying around our heads. Although in a completely different way, it was equally impressive to Onkyo's "rain" demo.
And much like we experienced at Onkyo, the birds definitely sounded as though they were above our heads. The video also showed leaves falling, with their soft swishing in the wind, came from the trees way over our heads to land at our feet.
"With Dolb Atmos, audio technology has finally caught up with today's visual advancements of 3D or even 4K," Chris Walker, director of AV product planning and marketing  for the Home Electronics Division of Pioneer Electronics (USA) Inc. said in a prepared statement.
I heard it.
Atmos asks a lot of consumers…
So can we pass judgment on Dolby Atmos? Is it the Next Big Thing? (NBT) Or just another "rule of diminishing returns?"
We have many concerns. First, there is almost no consumer content available yet. If we've learned nothing else in this industry – we've learned that nothing kills a new technology faster than lack of content that takes advantage of …and shows off – the technology.
But besides the content question, consider this: If consumers decide that Atmos is the NBT…then they not only have to throw out their receivers to buy a new Atmos-inside AV receiver…but they have to also trash their speakers to buy a new Atmos-enabled speaker system. In the short run, Dolby has invented add-on "modules" which are simply small upward firing speakers in a small box you can set on top of your existing speakers to provide the necessary upward firing sound. But these won't look good…they won't match the sonic signature of your current speakers…and will be a clunky installation at best. Spouse Acceptance Factor could be a real problem with these modules as well.
Seeking to reserve…
As far as the impact of this new, all-encompassing, hemispherical surround system…we're going to reserve judgment. Until such time as we're able to critically audition a system – A/Bing it against a comparable existing surround sound system – there are just too many uncontrolled variables in this initial demonstration to say conclusively it is the NBT.
But we are concerned. Our experience was certainly pleasant. We definitely heard the effect. But it wasn't a knock-your-socks-off, greatest-thing-since-sliced-bread, oh-my-god-I've-got-to-have-it level of impact. It was there…it sounded good…but – it was subtle.
Already have the illusion…
The problem is, existing surround systems have provided the illusion of height already. When Top Gun's Maverick buzzes the conning tower with his fly-bys…thanks to psycho-acoustics fooling our senses…we feel like his F-14 jet flew OVER our heads…not through our bodies. No doubt a Dolby Atmos version of this movie might more easily fool us – but our existing version was pretty convincing.
We'll give Dolby and the manufacturers the benefit of the doubt for the moment. Further testing is certainly necessary.
But we're concerned…
To learn more about Dolby Atmos, see: www.dolby.com.
To see more on Onkyo and its Atmos-enabled and upgradable products, visit: www.onkyousa.com.
And to see Pioneer's Atmos offerings, visit: www.pioneerelectronics.com.