Atlantic Technology announced this week that it is launching a new line of home theater and music speakers, including a unique product they call a "front-stage" speaker which resembles a traditional soundbar, but is passive. All models are based on the same drivers, so that whether used separately or together, the sound is fully timber-matched for consistent imaging and sound quality.
See more on these new models from Atlantic Technology…
The star of Atlantic's new system is the FS3 front-stage speaker that consists of three identical sets or modules with two woofers and a tweeter, all contained in one 42-inch black horizontal cabinet. Each channel's module consists of two 3½-inch woofers and one ¾-inch tweeter.
The woofers for each channel in the FS3 are made from a special composite polymer/paper (CPP) material which is said to offer the same fast transient response of a standard polypropylene woofer with the "inherent self-damping traits of cellulose." The tweeter is a silk-dome design which the company says "exhibits smooth response and broad upper-octave dispersion."
The Devil is in the Details
The company notes that it has paid extreme attention to important details, such as using a front panel grill assembly that is designed to minimize wave diffraction…and mounting the tweeters slightly off-axis relative the woofers to reduce "overlap interference." The goal, according to the company, was to design a speaker that offered broad dispersion with no dead zones.
Filling out the assortment, Atlantic Technology is also offering the LCR3, which is a separate speaker that utilizes the same design as the individual modules in the FS3. Identical in every way, dealers can implement as many, or as few, elements as the customer desires – from a simple two-channel stereo solution…up to a full-fledged multi-channel home theater solution with side and rear surround speakers.
An Ideal Match for Moderately Priced AV Receivers
"Both the FS3 and LCR3 represent our best thinking for the newest AV technologies," said Peter Tribeman, Atlantic Technology's president and founder. "Elegant in design and compact in size, these new speakers represent an ideal match to this year's newest generation of moderately priced AV receivers. Among other things we paid special attention to precision timbre matching so that our '3 series' excels in reproducing a smooth coherent soundfield with all channels."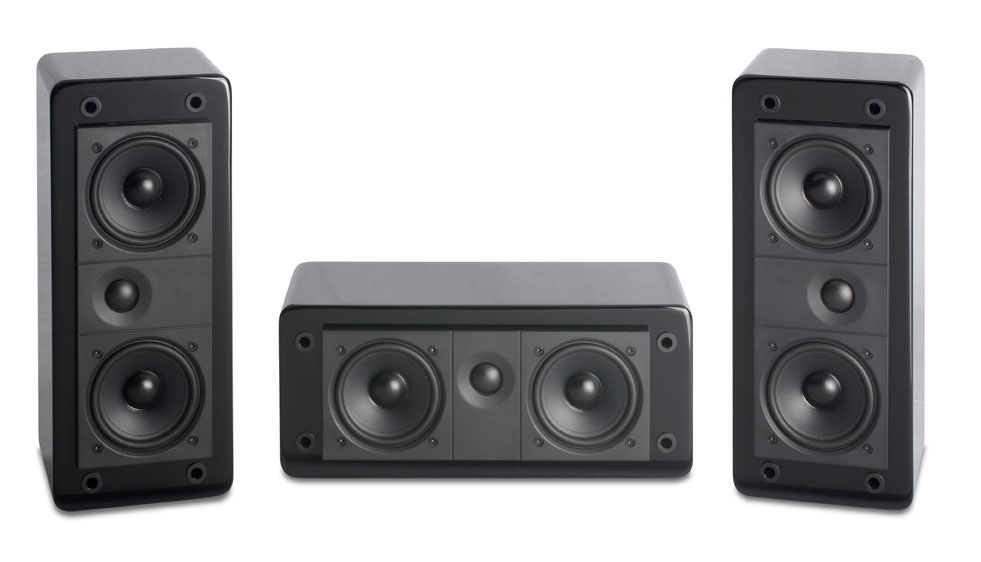 Both the FS3 and the LCR3 use push type binding posts and can be wall mounted with a simple keyhole mount or a standard ¼-inch threated mounting plate. Both models are available now in a black gloss finish. The LCR3 is also additionally available in a gloss white finish.
The FS3 has an MSRP of $650 and the LCR3 has an MSRP of $275.
SPECIFICATIONS
 
FS3
LCR3
Configuration
3 sealed box, 2-way speakers
Sealed box, 2-way speaker
Woofers
6-3½″ Composite Polymer/Paper cones
2-3½″ Composite Polymer/Paper cones
Tweeter
3-¾″ Silk Dome
1-¾″ Silk Dome
Frequency Response
100Hz-20kHz, 3dB
100Hz-20kHz, 3dB
Impedance
6 Ω
6 Ω
Crossover
3.5 kHz
3.5 kHz
Sensitivity
88dB
88dB
Recommended Power
10-125 watts RMS
10-125 watts RMS
Dimensions
42″ x 4¾″ x 3″
(1068 x 120 x 76 mm)
4¾″ x 11¼″ x 5″
(120 x 284 x 127 mm)
New Weight (ea)
13.5 lbs (6.1 kg)
4.78 lbs (2.1 kg)
See more about these and other Atlantic Technology products at: www.atlantictechnology.com.