In new data released Wednesday by the U.S. Census Bureau and the U.S. Department of Housing and Urban Development, residential construction – otherwise known as housing starts – returned to growth again, after registering a concerning double-digit decline in August. However, most analysts believe housing will continue to be challenged by a combination of high prices and high interest rates combining to make housing unaffordable for most buyers.
See more on the latest residential construction or housing starts numbers
For some, it was welcome news to see residential construction rebound in September after falling a concerning 12.5% in August. Furthermore, August starts were revised downward from their originally reported 11.3% decline.
In September overall housing starts came in at a seasonally adjusted annual rate of 1.358 million units or 7% above the revised August rate of 1.269 million units. However, it is still 7.2% below the rate of 1.463 million units started in September 2022. Still, this year's rate beat analysts' estimate of a 6.8% growth.
Single-Family Housing Starts Increased as Well
Single-family housing starts this September came in at 963K units. This rate is 3.2% above the revised August rate of 933K units and 8.6% above the rate of 887K units in the same month last year.
Multi-dwelling units (MDU), buildings of five or more units, saw a huge boost in starts as builders sought to address a nationwide housing shortage. MDU starts jumped to 383K units, 17.1% over the revised rate of 327K units in August but still 31% below the rate of 559K in September 2022.
Increased Construction Rate Due to Permits Issued Before Mortgage Rate Hikes
A report by Reuters attributed the jump in September housing starts to a bump in permit approvals a few months back before mortgage rates jumped again. In fact, in the last two weeks, rates jumped to historically significant rates.
CNBC reported that Mortgage News Daily said that the average rate on 30-year fixed mortgages just hit 8%, its highest level since mid-2000. Separately, Reuters noted that another analysis showed that applications for loans to purchase a home plunged to the lowest rate since 1995.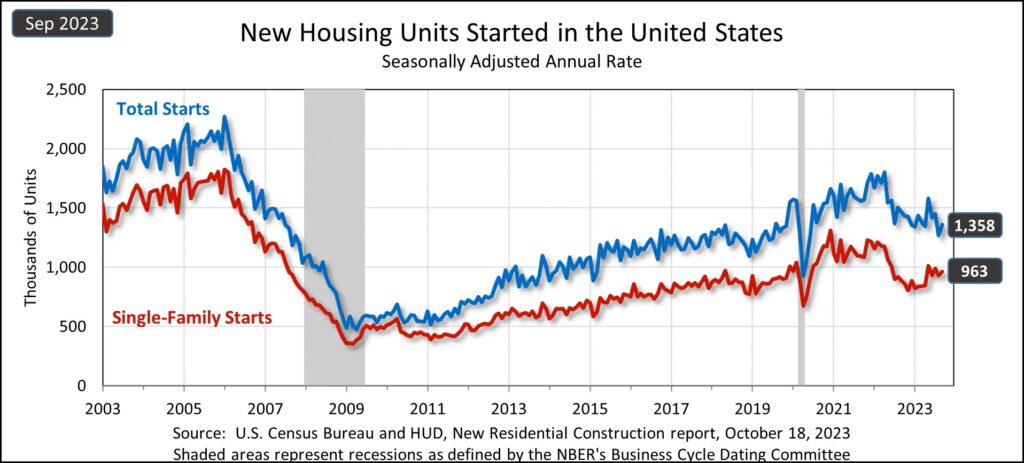 Survey of Builders Shows Drop in Confidence
Perhaps it is for these reasons, that a survey of single-family home builders confidence dropped to a nine-month low this month. In that survey, builders said they are experiencing lower levels of customer traffic.
In the very short-term, single-family construction activity is likely to increase with permits rising in every month of 2023 thus far, but at some point mortgage rates are likely to put a lid on new construction activity for home purchases.

Conrad DeQuadros, Senior Economic Advisor for Brean Capital in New York to Reuters
Fewer Permits Issued in September
Considering all of these factors may serve to explain the drop off in new permit activity. Permits are considered an indicator of future construction activity. According to this latest report, in September overall units authorized by building permits came in at a rate of 1.473 million. This rate is 4.4% below the revised August rate of 1.541 million and 7.2% below the rate of 1.588 million units in September of 2022.
Single-family permits were up slightly – 1.8% to 965K units. MDU permits, however, dropped to 459K units off 14% MoM and down 31.6% YoY.
Regional Starts Increased in All Regions But One
On a regional basis, housing starts were up in three major regions: WEST, +5.6% (overall) / +5.2% (single-family); SOUTH, +6.5% / +2.8%; MIDWEST, +35.3% / +14.2%. Only one region registered a decline in housing starts – NORTHEAST, -24.5% / -19.0%.
All eyes remain on the Federal Reserve Board to see if they will resume raising interest rates which would impact mortgage rates and home affordability. Or perhaps the Fed will continue to pause rates as it did at its last meeting to see if inflation will continue to moderate on its own.