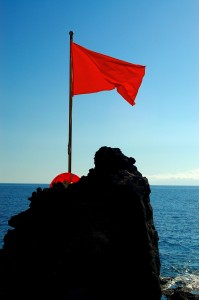 In our travels around the TECH industry, we've had the good fortune to speak with literally thousands of business owners and managers,,,maybe tens of thousands – we've lost  count! We've watched start-ups launch, sputter, founder, and then catch and take-off. And we've watched well-established former high-flyers begin to lose altitude, sputter, and crash and burn.
As informed and experienced observers, we've learned many lessons from these interactions – including six warning signs your business is in need of a strategy overhaul…
Any business is based upon a unique formula. No matter what industry, nor what position within a given industry, every company is unique. Even for those less creative companies that have chosen to attempt to enter markets by creating products similar to successful products already being sold – it is impossible to exactly copy another company's success. Impossible, because there are just too many unreplicable variables.
We've identified six scenarios that are red flags that your business is in need of a strategic overhaul. Your business may need a strategy overhaul when…
WHEN WHAT YOU'RE DOING IS PRODUCING DIMINISHING RETURNS – Really smart companies continuously analyze their results and see a red flag when they begin to see diminishing returns from what their products-programs-promotions normally produce. This, by the way, isn't always easy to determine because, after all – every business goes through cycles (such as seasonality) from which they might bounce back. It can be hard to tell if a deviance is a short-term hiccup…or something more sinister.
But the smart companies recognize when a product/technology/market position is eroding. If you are seeing your normal efforts producing diminished results – this is a red flag that your strategy might need an overhaul.
WHEN YOU'RE WORKING HARDER AND HARDER TO PRODUCE THE SAME RESULTS – You feel like you are caught on a treadmill, running faster and faster, but standing still. Clearly, your strategy is losing traction. Yet even managers who feel this way oftentimes fail to take corrective action early. And that failure can materially reduce your odds of successfully turning around your business.What you're doing isn't working. But instead of recognizing that fact, a company in this situation simply decides to work harder – do it more – pick up the pace.
The fact is, working harder to produce the same results is just a way-station on the path to your business taking a more durable downturn…and one from which it is much harder to recover. Instead of working harder, you need to consider more profitable strategic alternatives.
WHEN REVENUES ARE AT OR NEAR PLAN…BUT PROFITS ARE WAY OFF – Yet another red flag is the drop-off of profits…even if revenues are OK. For whatever reason this situation has developed , whether, for example, your sales team is discounting prices to close deals…or, you find the need to promote or advertise more, often at lower prices, to try to get more sales. Dropping profits to keep revenues rolling is a clear indication that something is amiss.
This is a very important red flag to which you need to pay close attention.
WHEN SALES LEADS IN YOUR PIPELINE PETER OUT – If you usually have leads steadily streaming in as a result of your normal marketing processes…but then they drop off dramatically…well, you have another red flag. Related to this is the situation where the only leads you have coming in are from your sales team. Clearly, your sales team should be generating leads – but they shouldn't be your only…or primary source.
There are a variety of tactics to generate leads and if what you're doing isn't successful, it can sometimes be a simple matter of shifting approaches. On the other hand, the situation can also be an indicator that you have a more fundamental strategy problem causing your prospects to no longer respond to your marketing.
WHEN PROSPECTS HAVE NO IDEA WHAT YOUR COMPANY DOES OR SELLS – If you talk to prospective customers and they are clearly clueless about what your company sells or what services it offers, this is a BIG red flag. It's easy to comfort yourself by saying, Oh we just need to… "run another advertisement"/"make another blog post"/"post to social media"/"send an email blast", etc. But beyond your marketing, this situation can be a sign of the need for a serious strategy overhaul.
You want EVERYONE to know who you are, what you sell, what services your offer…even if they don't fit your target customer profile today (they may in the future).
WHEN CURRENT CUSTOMERS SAY, 'I DIDN'T KNOW YOU OFFERED THAT!' – If you talk to your current customers and they make it clear to you that they didn't know you offered this or that, this too can mean trouble. If your marketing isn't communicating with your customers on a regular basis, or worse, if it IS talking to them regularly – you may have drifted away from your strategic center.
This is another red flag that indicates the need for a full review of your business' fundamental strategy.
Pay attention to these red flags and be prepared to take corrective action by overhauling your strategy. Your business…and your livelihood…may depend on it.