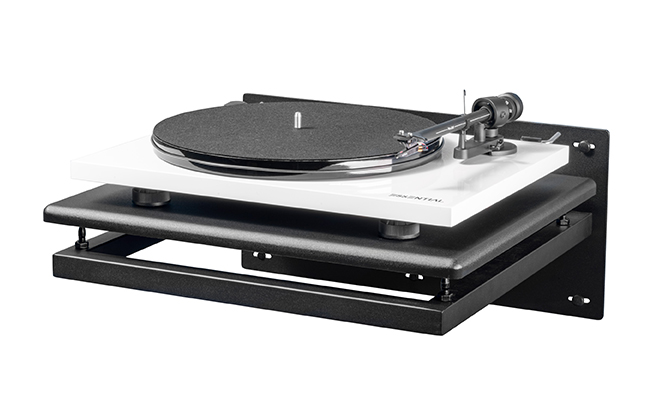 Rarely in the affordable high-performance audio market are product designers able to offer a solution that possesses an optimal combination of convenience, attractive design elements, and performance. But Pangea Audio, out of Grand Rapids, MI, has been able to achieve this holy trinity with their new Vulcan Turntable Wall-Mount Shelf.
Learn all about the Pangea Audio Vulcan Turntable shelf
A first from the company, their new Vulcan Turntable Wall-Mount Shelf is designed to delight the DIY consumer and the custom integrator client as well. A clever concept that offers consumers more choice on where to place the turntable – the Vulcan turntable shelf provides this flexibility with no trade-off in performance.
The Vulcan turntable shelf uses multiple design elements to protect the turntable from "performance-robbing vibrations." For example, the mounting system utilizes a one-piece steel U-frame, a steel backplate, and a non-resonant MDF shelf insert, which all work together to dampen vibration. Also, the system uses adjustable metal spikes for leveling.
The system comes with a full mounting kit and the unit can be mounted to any of the common residential wall materials, including wall studs, masonry, brick, concrete, thick wood paneling, and other such sturdy wall surfaces. The steel mounting plate facilitates mounting to wall studs with holes drilled 16″ on center – but still offers left/right adjustability after installation.
The Vulcan series of turntable stands is a customer favorite, thanks to them being an even mix of looks, value, and rugged reliability. The wall-mount shelf extends the Vulcan concept to an application that is gaining momentum as the market for turntables and vinyl continues to grow."

Steve Niemi, Pangea Audio Director of Global Sales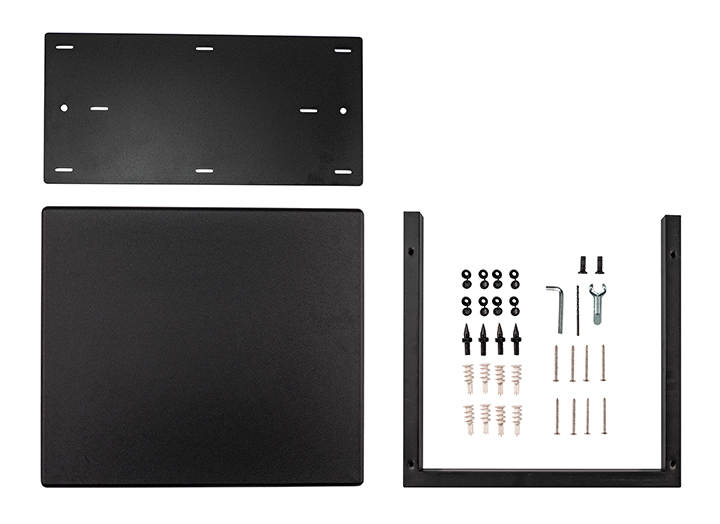 The unit not only offers a very convenient way to position a turntable in an out-of-the-way position, but it also provides an aesthetically attractive look. The shelf is 18″ wide x 15½" deep and is a full 19mm thick. It is designed to support a turntable weighing up to 25lbs. There is even a 1″ space behind the shelf to facilitate cable management for a clean, uncluttered look.
But perhaps the most amazing fact is that the Vulcan Turntable Wall-Mount Shelf has an MSRP of just $149.95! The company says it is available now.
For more information on this turntable shelf, visit their website at this link…