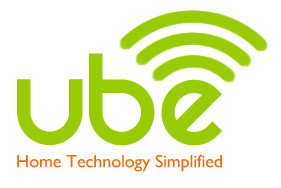 Start-up Ube, the new company founded by former CEDIA CEO Utz Baldwin and partners, offers an all-new mobile device-optimized, cloud-based home control technology bringing new power – and new simplicity – to the masses. This new technology could be a highly disruptive game changer with a re-conceived business model that just might gut the heart of the highly lucrative residential systems installer market. Or not…
Today, Ube [pronounced YOU-bee] announced their first major step forward in the wake of their stunning technology show win at last fall's DEMO 2012 in which the company received the People's Choice Award earning them $1 million in media from the show's promoter. Ube has begun a campaign on the crowdfunding website Indiegogo to raise funds so that the company can manufacturer their first 10,000 Wi-Fi smart dimmers. The company also announced a BETA test program open to residential A/V electronics installers and integrators.
See more on this fascinating first product Ube is launching on Indiegogo…and on the special "BETA" test program for integrators and installers…
Ube has caught our eye virtually from its launch. With the involvement of co-founder Utz Baldwin the company seems to represent an intriguing mix of old world (Baldwin's background includes stints at retailers Federated Group and Jonas Miller Sound, manufacturer M&K Sound, integrator AD Systems, and trade group CEDIA) with what looks like the future, including an all-new front-end product/networking model…AND a new back-end business/revenue model as well.
First product out of the gate for Ube is an interesting Wi-Fi Smart Dimmer (priced for between $49-$69 on Indiegogo) that users can use to replace their standard dimmer and control it directly at the dimmer or – more uniquely – via an App on their favorite smartphone. The smartphone App will be available free at the time of the launch of the new dimmer.
A dimmer so smart…it's simple…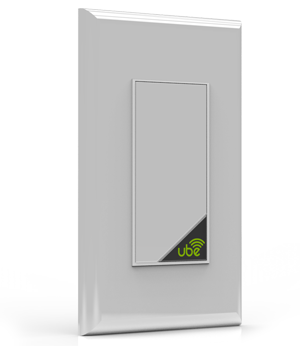 This new Smart Dimmer offers a whole roster of unique capabilities thanks to their novel technology. For example, the dimmers can communicate with each other offering users the opportunity to control one, many, or all of them simply…either on site or remotely. Lighting "scenes" are easy to set up and control via the App in minutes. There is no need to hire a programmer and spend a fortune on programming time.
Any standard 120v dimmable bulb can be controlled by the Ube Smart Dimmer regardless of whether its incandescent, fluorescent, or LED. End users can set up away modes or remotely turn lights on and off to simulate occupancy for increased home security.
Offering integrators a BETA test program to make it even better…
In addition to launching the Smart Dimmer project on Indiegogo, Ube also announced that they are offering a BETA program for integrators to encourage them to test the Smart Dimmer in their favorite system set-ups. This program, the company calls it a "test" program, is for residential integration pros – particularly those engaged with major control systems such as Crestron, AMX, Savant, Control4, and others.
To participate in this BETA testing program, integrators simply pre-order at least one Smart Dimmer at the Indiegogo campaign and agree to provide feedback to the company on their experience interfacing the product into their normal control systems network. Those who participate will receive wholesale pricing on future orders from Ube – gaining them the best price without any mandate for order quantity.
"Integrators can now install a single smart dimmer in a theater, or media room without the need for any additional hardware, and control it over the homeowner's local area network from existing control system," said Utz Baldwin in a prepared statement.
For funders who want some fun…
The Indiegogo campaign allows users of all types to support the company's launch of the Smart Dimmer whether they are consumers, dealers, integrators, or whomever. Those who support the project are called "funders" who generally have agreed to provide money to Ube with a level of investment that can earn them  "perks" such as the Ube Smart Dimmer.
In order for the project to go forward, the project must achieve a certain funding goal – in this case $700,000…by a certain date – in this case March 22, 2013. If they fail to gain enough funds to hit the $700,000 goal, then the project will be cancelled and the funds will be returned to the funders.
Bringing project to fruition means perks for funders…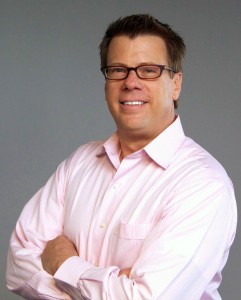 If, on the other hand, the project achieves its goal then the funds are transferred to Ube and they move forward in manufacturing the Smart Dimmer. And, of course, they must provide the perks based on the investment level of the funders. Most of the perks are promised to be delivered to the funders by June 2013.
In a previous discussion with CEO Baldwin, we had been told that the company was meeting with a series of "class A" venture capitalists to obtain funding for Ube. We asked Baldwin today to update us on the status of their attempts to obtain funding for Ube.
"We're working on assembling a syndicate of both institutional and strategic partners," Baldwin told us in a telephone interview this afternoon. "But we want to do it right, we want to make sure that we have the right team supporting us. And the better VCs, the smarter money, wants to ensure that they place us with the right team so we want to get our minimally viable product out to the market very fast, prove our assumptions, and then sit down with them again [to hammer pout a deal]."
From our conversation with Baldwin it would appear that Ube is seeking to use the Indiegogo campaign to not only fund the Smart Dimmer, but also to obtain significant amount of feedback from users. "It's really a proof-of-concept," Baldwin said, noting that one of the benefits of the Indiegogo program is that they can directly communicate with end users to obtain valuable feedback.
To see the Ube Indiegogo campaign, see: http://igg.me/at/ube/x/180506.
For more general information on Ube, see: www.myube.co.


RELATED STORIES
Former Harmonious Head of CEDIA Delivers Disruption – Launching ube Today
Start-Up ube Wins $1 Million Peoples Choice Award
10 Connected Technology Companies Debut The Internet of Things Consortium at CES 2013