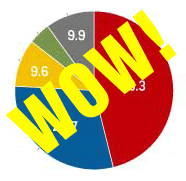 In a report that is sure to surprise many and even stun some, the Korea Fair Trade Commission, South Korea's fair trade watchdog, announced that just four large companies – or conglomerates – generate 90% of all of the total net profit earned in the country in 2013. The commission, which closely tracks the performance of what they call the largest conglomerate companies, issues their report every April with this year's report showing the share of the top four have continued to grow since 2011.
But wait until you see the percentage of profits from just the top TWO companies…
The Korea Fair Trade Commission defines a conglomerate as a group of at least two or more companies controlled by the same individual, family, or corporate entity. Those conglomerates that generate over 5 trillion won ($4.78 billion) receive the special designation of large corporate groups and are prohibited from mutual investment and debt guarantee practices within their group companies.
Every year in April, the commission releases a report on the top 30 non-financial entities. According to a report by the Nikkei, there are 49 such entities this year – excluding public corporations.
The 4 biggest are…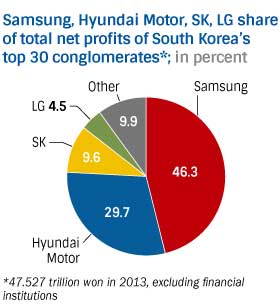 According to the commission, the four largest conglomerates in South Korea are Samsung, Hyundai Motor, SK, and LG. These four companies were said to have generated 42.842 trillion won in net profits out of a total of 47.527 trillion won for the entire group of 30 companies. That is more than 90% of the total.
But perhaps even more impressively – Samsung and Hyundai Motor alone…just the top two companies…were responsible for more than three-fourths, or 76%, of the total profits from the group. Results like this are a source of both pride and concern in South Korea.
A crucial role…
Each of these large companies have played a crucial role in helping South Korea's economy develop, driving growth in core industries such as automobiles, semiconductors and smartphones. Still, the centralization of the economy in just a relative handful of companies is also concerning.
To that end, South Korea President Park Geun-hye announced plans in February to address the country's skewed industrial structure. The president's plan calls for a three-year long economic innovation program. The government has also said it will invest 4 trillion won in new companies.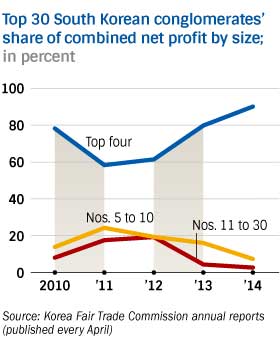 Not surprisingly, the big companies are not enthusiastic with the government's plan to grow more small- and medium-sized businesses to nibble away at their market share. The big four especially, have enjoyed more than 50% of the total net profits generated since 2010. They have even seen their share grow in the last three years or so…with a 10.3% spurt in just the last year.
[Charts: Nikkei]