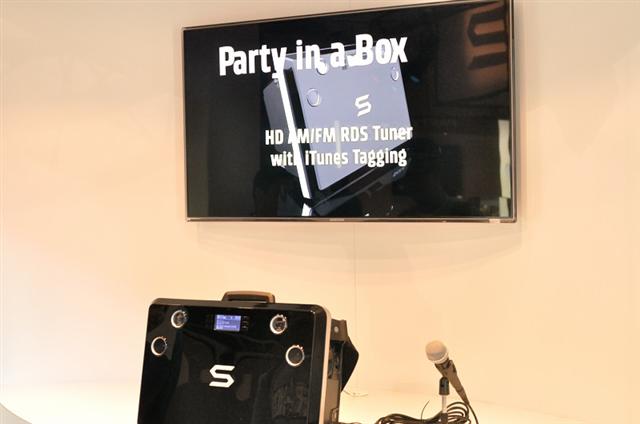 <January 25, 2012> First revealed by the ALERT just after the 2010 CEDIA Expo, Soul by Ludacris at CES showed their remarkable product with a funny name, the Party In A Box. [ See original story here…]Sort of a boombox on steroids, PIAB was meant to re-invent boomboxes adding in today's new technologies and taking the street beat to a whole new level.
The company had a large booth at CES and in the back corner had a prototype PIAB which they showed to prospective dealers both to get feedback and grease-the-skids for an eventual launch. It's large, although the company had no specifications to share with the press – so we can't say just how large and heavy it is.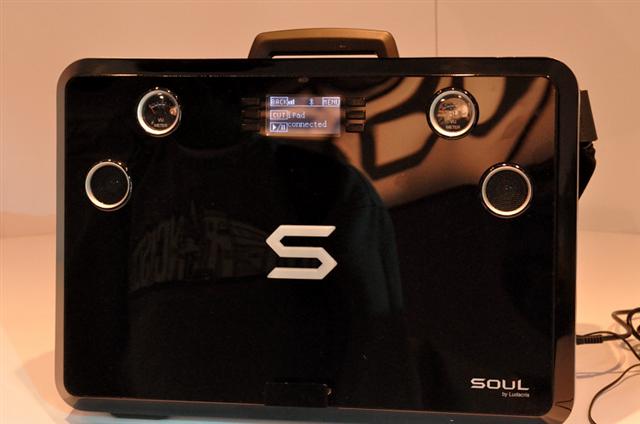 However, consider that it has eight speakers, with two 6.5-inch woofers, two 3-inch midranges, and four 1-inch tweeters. It has a large handle on the top and also comes with two large pegs to hold a wide guitar strap to facilitate carrying this beast.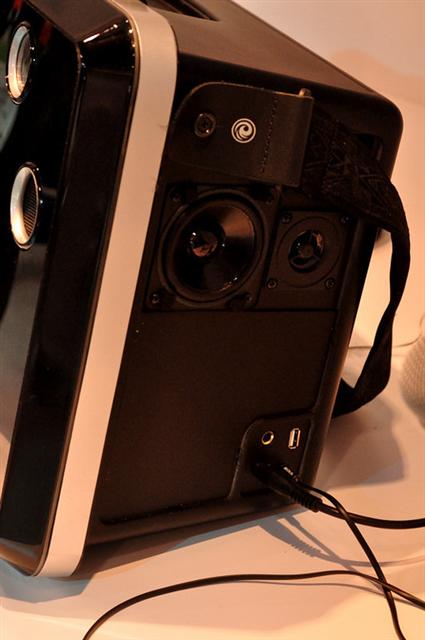 The large face of the PIAB is glossy black and has four round inserts including two tweeters and two old-school, round VU meters. According to a company official, the final version will also have a "perimeter" light running around the outer edge for an interesting light show.
One thing that the PIAB does not have is H-PAS or Hybrid Pressure Acceleration System as was first reported. There was no comment by either Soul by Ludacris or Atlantic Technology as to why H-PAS was not ultimately incorporated.
However, PIAB does come with an AC cord for power. The company says that a separate battery pack will be optionally offered for those who are not near a power outlet. It's probably going to be a pretty big battery for this bad boy!
There will also be an iPod/iPhone dock on the front of the PIAB. And the carrying handle on the top of the unit cleverly locks to hold an iPad on top.
The PIAB will also feature Apple's Air Play technology as well as Bluetooth for wireless connectivity. Wired connectivity options are also covered including an auxiliary connection, HDMI, and even a connection for a microphone so you can play DJ along with your tunes.
PIAB comes with an FM tuner built-in to give you even more entertainment options.
But wait…there's more! Sure to ruin your relationship with your neighbors, the PIAB will also include a 5.8GGz two-way transceiver that provides a CD quality, uncompressed wireless signal that can be synched with other PIAB units…"for an expanded sound system." Oh yeah…that'll do it!
There were no details on pricing or availability at show time. For more information, see www.soulelectronics.com.