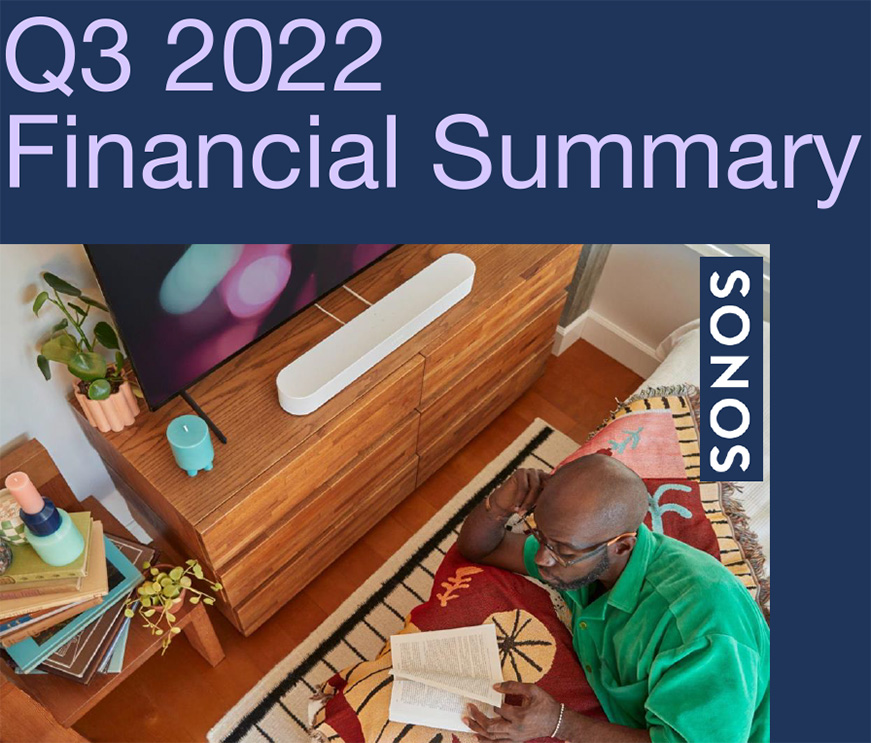 Consumer Biz Softens, Revises Forecasts Downward, CFO Departs
Wall Street hates surprises, especially when public companies fail to hit analysts' estimates and when the company is forced to cut previously issued financial estimates based on a deteriorating macroeconomic environment. Sonos hit a surprisingly sour note in its report today on fiscal 2022 third-quarter results – soundly missing expectations, cutting forward guidance on future results, and announcing the CFO is leaving the company. The result of this terrible trifecta of bad news? Sonos stock dropped as much as 20% in after-hours trading.
See more on Sonos' third quarter report
After many consecutive quarters of positive financial results, Sonos surprised the market today with a decidedly downbeat performance. The company reported a revenue decline, a net loss, a downward revision of its forward performance guidance, and announced its CFO was leaving the company.
Both GAAP (generally accepted accounting practices) and non-GAAP adjusted performance results missed analysts' expectations and caused investors to turn cold on the company, with Sonos stock value dropping by more than -20% at one point in after-hours trading.
Normally Irrepressibly Positive CEO is Chastened
Sonos Chief Executive Officer Patrick Spence, normally an irrepressible optimist, today sounded the alarm in his prepared statements. Spence not only warned about a "significantly more challenging" macroeconomic environment, but he also alleged that adverse consumer sentiment, high inflation, and the rising dollar all combined to negatively impact their results.
Sonos' Q3 revenues came in at $372 million down from the $379 million booked in the third quarter last year. While that revenue decline of only 2% might not seem big, it's the first revenue decline from the company in a long time. Not only that, but it was well under analysts' expectation of revenues of $424 million for the quarter.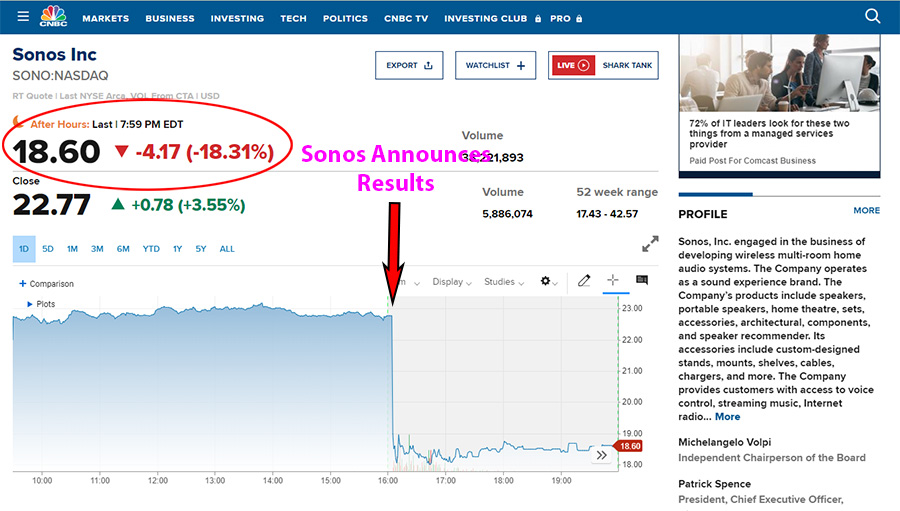 Company Drops to a Net Loss
Also disappointing, the company booked a net loss of $0.6 million which looked pretty dismal compared to the net profit of $17.8 million in the same quarter in 2021. What a difference a year makes. Here too, analysts had forecast a GAAP net profit of $0.06/share. Even on an "adjusted" non-GAAP basis, the company said it earned $0.19/share versus last year's adjusted earnings of $0.27/share. According to MarketWatch, analysts tracked by FactSet had set a consensus target for Sonos' adjusted earnings of $0.21/share. So that was another big miss.
 We have seen the macroeconomic backdrop become significantly more challenging for us starting in June as the dollar's appreciation and high inflation have adversely affected consumer sentiment globally, particularly in the categories in which we play. As a result, revenue missed our expectations for Q3 and we are adjusting our FY22 outlook accordingly.

Sonos CEO Patrick Spence
Added to the Mix, Sonos Announces CFO Bagley is Leaving
As if all of this wasn't a lot to absorb, Sonos went on to announce that popular Chief Financial Officer Brittany Bagley "is stepping down to pursue another professional opportunity." In a separate announcement today from Axon Enterprise, Inc., the maker of the Taser and other public safety devices, the company said that Brittany Bagley is joining Axon as its new Chief Financial Officer.
So what is Sonos doing in the meantime for this critical CFO slot? The company says that its top lawyer, Chief Legal Officer Eddie Lazarus is stepping in to succeed Bagley as "interim CFO" effective September 1st. I'm not quite sure how the financial markets are going to feel about that.
Cuts Revenue Expectations by Hundreds of Millions of Dollars
As I said, the company revised its previous financial guidance for expected go-forward performance. They now set a new revenue range of $1.730 billion to $1.755 billion, a growth of about 1%-2% over fiscal 2021. Previously, the company had revised its forecast upward to $1.95 billion to $2.0 billion in revenue for the current fiscal year.
Not only that, but adjusted EBITDA (earnings) had been previously forecast to come in at $290 million to $310 million for growth of between 4%-11%. This has now been dropped to a range of $215 million to $230 million for a decline of 23% to 17% from fiscal 2021.
One last note on Sonos' aggressive forward fiscal guidance. The company had previously set a stretch goal of revenues of $2.5 billion, 45%-47% gross margins, and 15%-18% Adjusted EBITDA to be achieved by 2024. It now says this goal "is being extended beyond FY2024."
We expect to weather the current environment while operating from a position of strength: we are profitable, we are debt free, and we have a huge market opportunity. We are tightly focused on expenses while prudently and deliberately investing in a number of products and initiatives in new and existing categories that we believe customers will love and will drive our long-term success.

Patrick Spence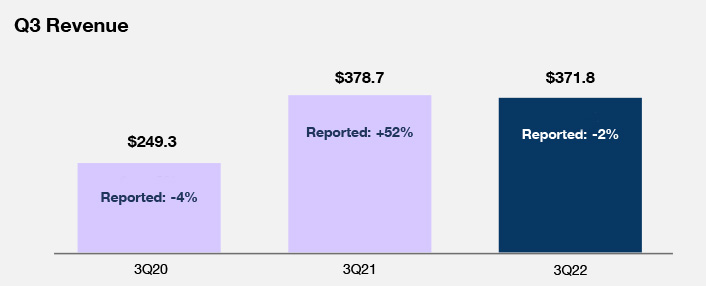 Breakdown of Revenues
In a conference call with financial analysts, Spence was pretty clear in articulating that the company is feeling a softening in demand from consumers. To some degree, there are indicators that consumers have moved from acquiring products to redirecting their "spend" on travel and services. This was especially noticeable beginning in June and is continuing.
Spence also mentioned that the launch of Ray and Roam Color did not generate the demand they had hoped for. Also impacting results is the continuing supply chain issue. Both Spence and Bagley noted that there is some relief on supply chain matters, but the challenges still continue. Bagley mentioned that with softening demand across the industry, the supply chain challenges may further diminish – but for now, on products like Amp, it is still a very real issue.
Revenues by Product Line; Revenues by Region
In looking at revenues by product category, Sonos speakers grew from $310.2 million in 2021 to $314.2 million in the quarter this year. But both of the other two categories showed declines – Sonos system products dropped from $47.6 million last year to $38.4 million in the quarter this year. Likewise, Partner products (Sonance, Ikea) declined from $20.8 million last year to $19.2 million in Q3 this year.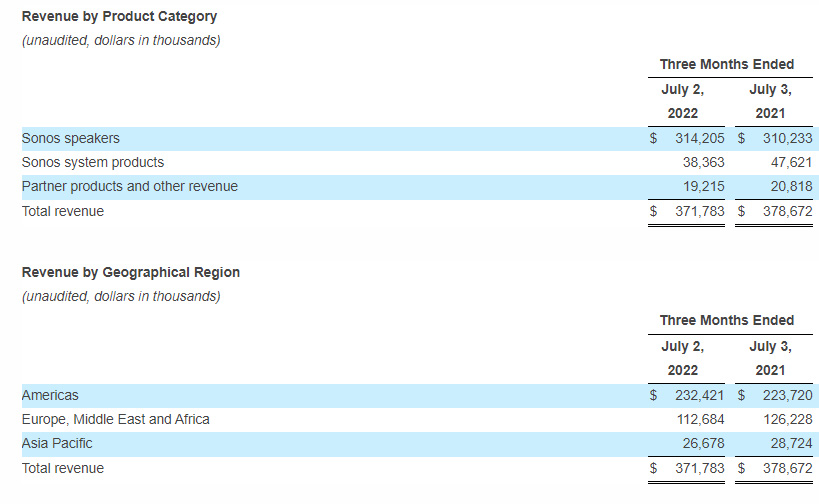 Finally, I really thought I detected a note of concern in both Spence's and Bagley's voices as they said that the company's retail partners in the U.S. "and especially in EMEA" (Europe, Middle East, and Africa) are expressing caution on the deteriorating economic environment and pulling back on their inventory purchasing plans.
Looking at Sonos' results broken down by region, we see revenues grew in the U.S., from $223.7 million in 2021 to $232.4 million in the quarter this year. But revenues declined in both the EMEA and Asia Pacific regions. EMEA revenues dropped 11% from $126.2 million last year to $112.7 million in the quarter this year. Revenues in Asia Pacific declined from $28.7 million in the third quarter last year to $26.7 million in the quarter this year.
Sonos is Freezing Hiring and Cutting Executive Travel to Contain Costs
With the macroeconomic environment showing signs of stress, the company says it is watching cost items closely. Bagley says the company is freezing hiring and cutting executive travel to keep operating expenses under control.
But in a separate slide show accompanying the financial presentation, they showed a slide titled "Investing in the Business in Q3." On that slide, the expense item that had increased the most was "legal and transaction related costs" – which had come in at $7.5 million in Q3. This was 39.4% greater than the $5.4 million spent on legal in the same quarter a year ago.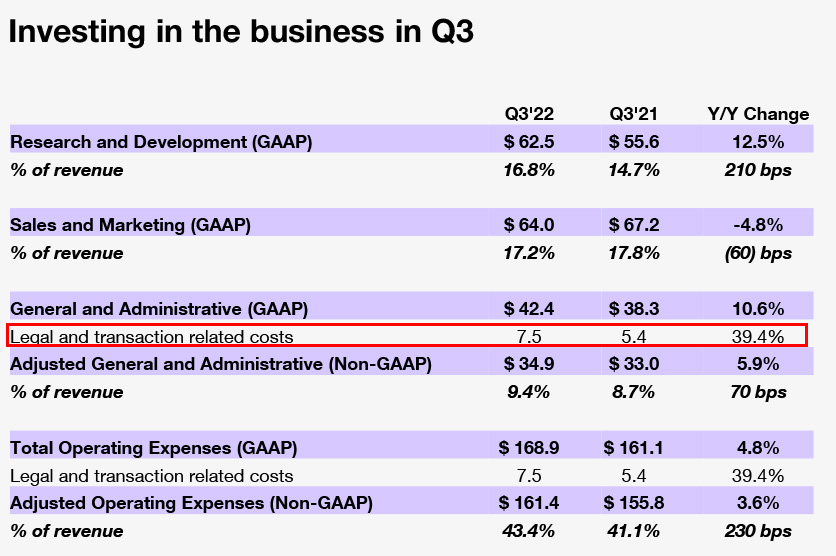 As most Strata-gee readers know, Sonos is in a huge battle with Google that it is fighting in courts around the world. If the country falls into a recession – and let's all hope it doesn't – Sonos could find it difficult to fund this continuing multi-year, multi-court battle with Google.
Learn all about Sonos by visiting sonos.com.