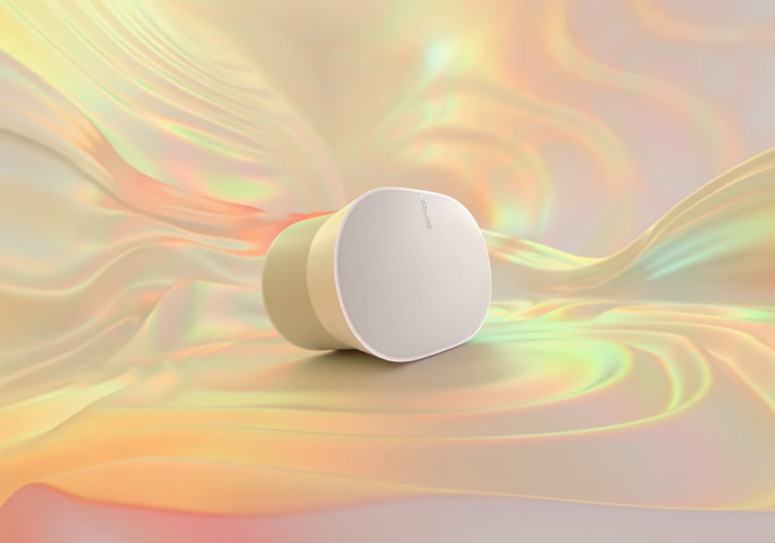 Sonos (NASDAQ: SONO) announced on Tuesday that it has launched two new smart speakers that implement spatial audio for a more immersive listening experience. The company says these new models are the next-generation of smart speakers, utilizing Dolby Atmos technology to launch "…a whole new chapter in sound and design innovation." They also call them "revolutionary" and "bold" and the "best experience for out loud spatial listening."
Learn more about the Sonos Era 300 and Era 100
Whether these new smart speakers live up to the marketing hype or not, they clearly represent a new direction for the company. Both of these new models will be available on March 28, 2023, with the Era 100 – an update of the company's previous Sonos One model – selling for an MSRP of $249 and the Era 300 offered at $449.
The Era 300 is the bigger story here, and I'm not referring to its price. It features six drivers set to direct the sound left, right, forward, and upward to recreate that immersive sound that was originally conceived for movie soundtracks but is now available in music recordings as well. The company says this configuration delivers "breakthrough audio performance" thanks to the Dolby Atmos technology that "places listeners at the very heart of their movies and music."
Era 300 is 'Designed to Be Spatial'
In an age of constant background noise, quality listening matters more than ever. Our vision is to make listening an experience that is charged with feeling, and help our customers feel joy and vitality through their favorite music and audio content. The Era family is the next generation of smart speakers, epitomizing our commitment to sound innovation, responsible design and a deep connection to the creator community."

Patrick Spence, Sonos CEO
Era 300, Sonos says, was "designed to be spatial" thanks to its unique cinched hourglass design with "every angle, proportion and perforation enhancing the direction and dispersion of sound." It is their first speaker that delivers multi-channel surround sound when employed as rears in a home theater. Users can use two Era 300s to create a "supercharged Dolby Atmos experience."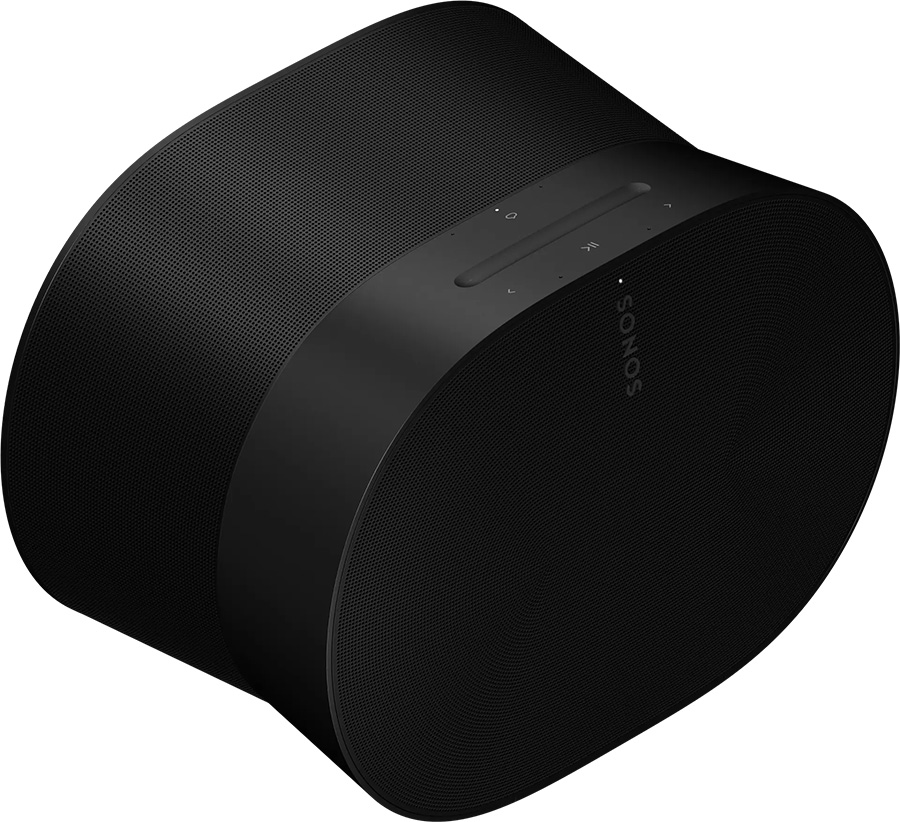 Sonos says the Era 300, like its other products, has been "meticulously fine-tune[d]" by artists, creators, and its own Sonos Soundboard members.
Dolby Atmos created a new way for music and audio entertainment to be experienced. Sounds and music come alive with unparalleled clarity and depth. Era 300's sound innovation with Dolby Atmos creates a completely immersive music experience.

Kevin Yeaman, Dolby Laboratories President and CEO
Era 100 – More Evolutionary than Revolutionary
In the case of the Era 100, things look a little more evolutionary than revolutionary as it serves to succeed the previous Sonos One. The company does say the Era 100 has all new hardware and software with…wait for it…"next-gen" acoustics and design. It delivers, the company says, "detailed stereo sound and deep bass."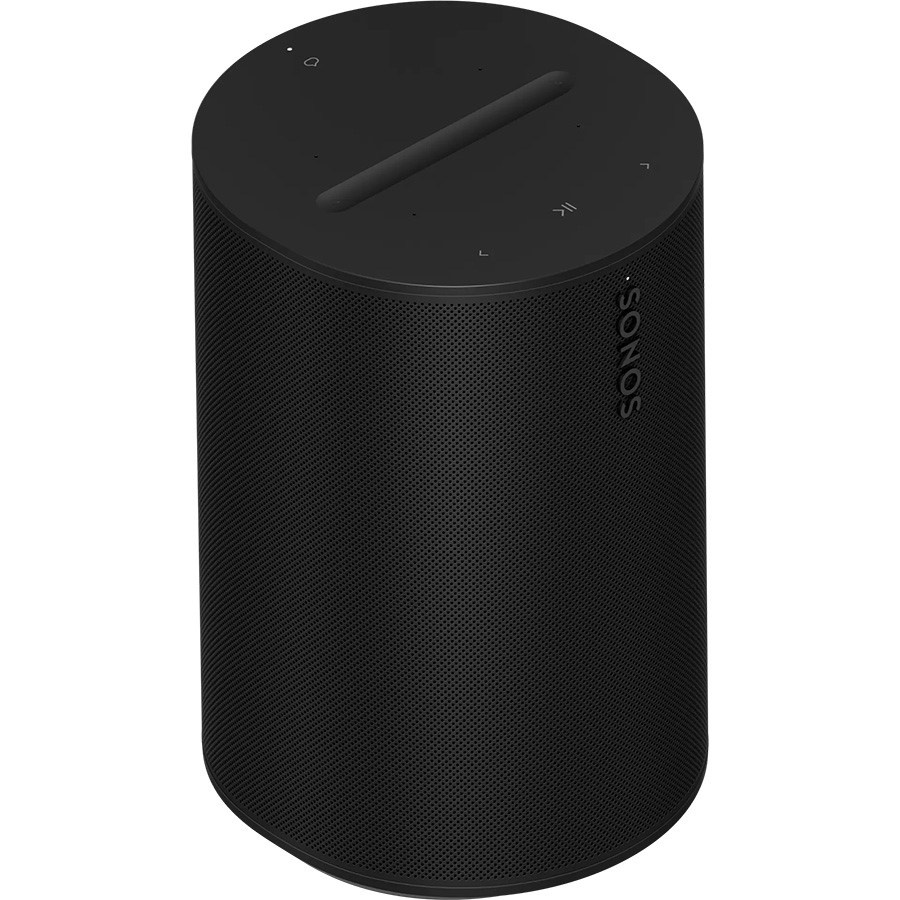 Updates on this model include two angled tweeters for a more compelling stereo sound and new larger midwoofer for more bass extension. The company says its "slim modern design" makes the 100 a "chic accent piece" for your bookshelf or counter.
Sonos Suggest Customers Buy Two for Surround or Stereo
As they did with the 300, Sonos is suggesting customers buy two Era 100s to use as surround speakers with their soundbar to "Level-up movie night." Or perhaps music lovers will prefer to buy two of them for "room-filling stereo sound." I'm sensing a theme here…Sonos wants consumers to buy two of these models…I wonder why?
Sonos says both of these models are examples of "responsible design" in order to help with the challenges facing our environment. So what exactly does that mean? Both models are made with post-consumer recycled plastic. Both are packaged in materials such as 100% sustainably sourced paper.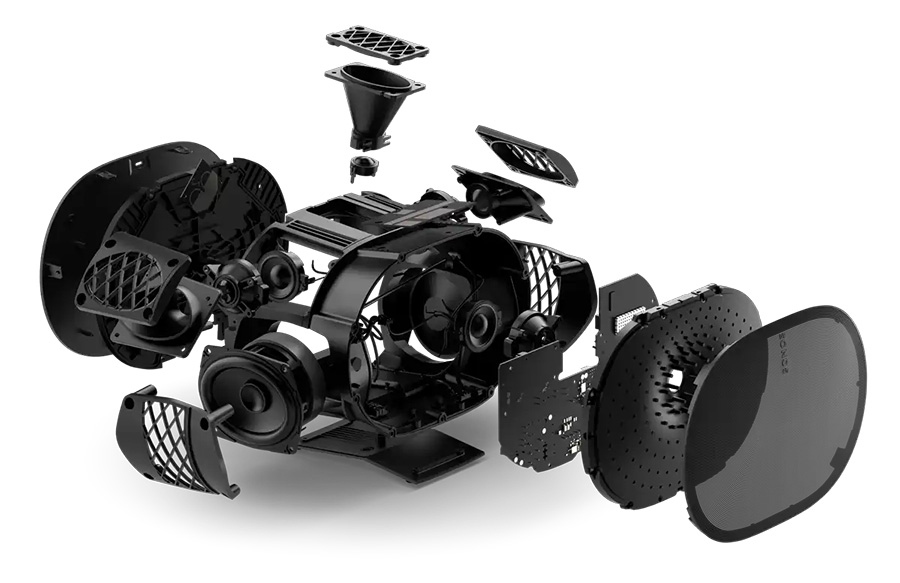 Examples of 'Responsible Design'
In addition to this, Sonos says they have been engineered to deliver idle power consumption of less than two watts. They add these models have been "built to last" so it will take longer for them to make their way to your nearby landfill. They claim the 300 and 100 are designed for serviceability by reducing the use of adhesives and incorporating more removable screws for disassembly and repair.
Finally, both models incorporate the company's Trueplay technology. Trueplay is a technology that incorporates a microphone that monitors the room acoustics and optimizes the sound for each individual space.
For more information on these new models, visit sonos.com.