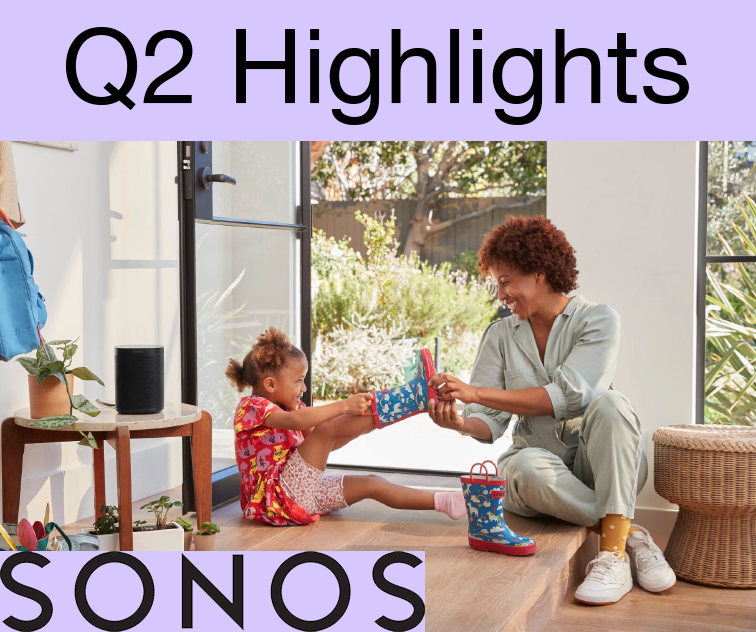 Sonos reported on Wednesday that they had a strong second quarter fiscal 2022 result with good revenue growth. In the case of revenues, the company notes that they continue to track toward its annual revenue guidance of $1.95 billion – to – $2.0 billion. However, the company admitted that its profit margin took a hit as supply chain issues continue to bedevil it (and the rest of the industry) as well. They cut their forecast for profits in 2022.
See more on the Sonos fiscal 2022, 2nd quarter financial results
Sonos reported today that they had a "record Q2 revenue of $399.8 million" for the current fiscal year. This represents a 20% increase over the revenues of $332.9 million in the same quarter last year. The company admitted that while they are happy with this 20% increase, sales were constrained by supply chain issues. Note that in Q2 of 2021, the company experienced an impressive 90% growth in revenues, so growth has clearly moderated. This fact led one analyst to ask whether consumer demand for Sonos products is softening in the Q & A portion of a presentation to Wall Street analysts. (The company said no, demand is still strong).
Incidentally, on that call with analysts, I detected a subtle shift in tone. Generally, the analysts were supportive, but questions often flashed a sign of skepticism. Management had an answer for everything, but some of the questions were a little sharper-edged than usual.
Supply Chain Issues Were a Theme Throughout the Presentation
The company reported that net profit took a solid hit, falling to $8.6 million or over 50% below the net income of $17.2 million in the same quarter in 2021. The company blamed supply chain disruption for the added hit to the cost and availability of components and increased shipping charges.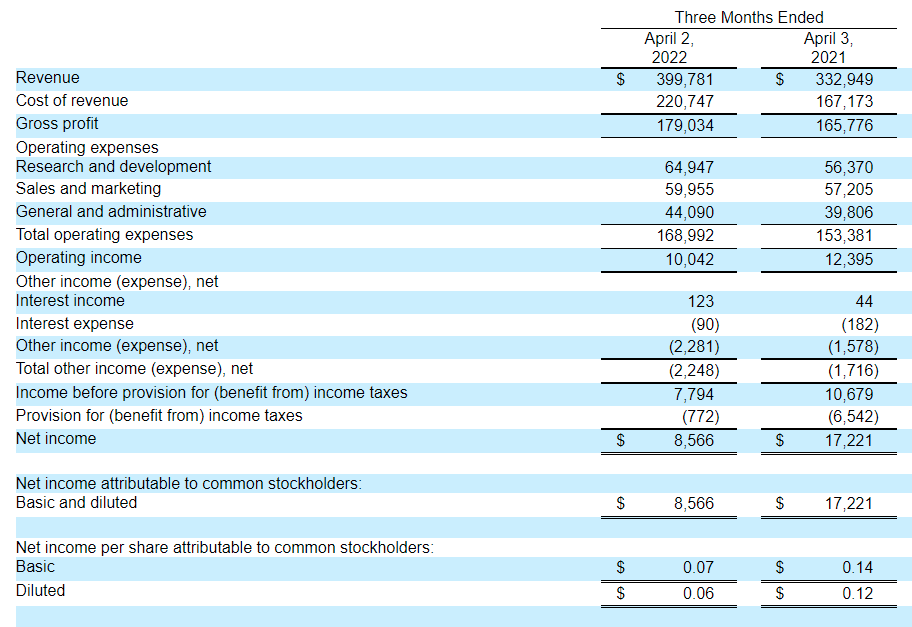 Discussion of supply chain issues was a theme that ran throughout the presentation to financial analysts. The company said that its gross margin for Q2 declined by 500 basis points (an impactful -5%) to 44.8% from the same quarter the previous year when it was a more robust 49.8%. The company cited specifically issues like the "need for spot buys given component shortages, higher shipping and logistics costs, FX [foreign exchange rates] and product mix [a shift to lower margin models]." The drop in gross margin was a little more moderate at -300 basis points, as compared to Q1 results.
While Sonos maintained their revenue guidance for the full year 2022 results, they believe supply chain issues will continue to dog them for the remainder of the year. For that reason, they downgraded their Gross Margin guidance from the previously forecasted 46%-47% to 45.5%-46% now.
New Products and Initiatives Along With Financials
We are pleased to report record Q2 revenue of $399.8 million, representing 20% growth over last year. Our Adjusted EBITDA of $46.9 million illustrates our continued ability to deliver sustainable, profitable growth despite the ongoing, industry-wide supply constraints and rising cost pressure. Our consumer demand remains strong and we announced three exciting new products today. While the world remains unpredictable, we remain confident that we can deliver another record-setting year in Fiscal 2022.

Patrick Spence, Sonos CEO
The company also released several product announcements along with its financial report. In a nutshell, they are:
Sonos Ray – The Sonos Ray is an entry-level soundbar designed to appeal to a new home theater customer. The Ray is said to offer "room-filling sound," that is "precisely balanced" and "tuned to perfection" all in a very compact size. It will be available on June 7th with an MSRP of $279.
New colors available for Sonos Roam – The company is making available some new color options for its Sonos Roam portable speaker product announced last year. These colors include Olive, Wave, and Sunset. They will be available starting May 11th for $179.
Sonos Voice Control – In 2019, Sonos acquired a French voice software maker called Snips. Now, the company brings house brand voice control to their products. This helps them hedge their bet as they are engaged in an ugly legal battle with Google – which also supplies Google Assistant for use in Sonos products. And most likely, the company has its sights set on Amazon, which also makes Alexa available to Sonos products. The company says Sonos Voice is "designed with privacy at its core" and processes commands within the product – not by communicating with a central facility. It will be included for free starting June 1.
New radio station SOLARSYSTYM with Lorde – Sonos Radio is getting a new station called SOLARSYSTYM in partnership with pop star Lorde as a kind of guest DJ and feature her music and stories.
To learn more about Sonos and its products, visit: sonos.com.