We have been reporting on TiO and its various predecessor permutations (Colorado vNet, 3vNet, ACTP) for some time now. TiO, which stands for Turn it On, is an interesting hybrid of software and hardware enabling an incredibly flexible home automation system that strikes a balance between easy operation, system capabilities, user experience (UX) and powerful performance.
TiO is app driven and also has a proprietary system software solution . And now the company shows us the power of a strong system software foundation with an "update" that dramatically expands the systems capabilities.
See more on how this upgrade expands the TiO capabilities…
TiO, a division of Florida-based Anuva Automation, has updated its software suite to version 1.05. That sounds unremarkable, until you learn that this update was not just another "bug" kill patch – this new version adds a very powerful capability that literally positions the product to open the light commercial market like never before.
With this new version, TiO introduces the concept of "Action Groups." What is an Action Group, you ask? Action Groups is where "multiple lighting loads can now be assigned to a single button." So with the touch of a button, dynamically linked independent lighting loads automatically move up or down in synchronization.
Dynamically adjusting for twilight…
So at the approach of twilight, a restaurant/bar manager can – with a simple 1-button touch – bring up lighting in the dining room…including the small table lamps, overhead ambient room lights, frame lights on artwork, stair-step lighting, or whatever. Another touch and up comes the bar/lounge lights – including the under bar lighting, the behind-the-bar under-bottle lights, wall sconces, and more.
Up to 12 loads can be assigned to a single button. And the company says this action group button is in addition to any other button, such as buttons that may control the independent lighting loads. This brings a tremendous amount of added flexibility to your installation…whether a sophisticated residential system, or a light commercial installation.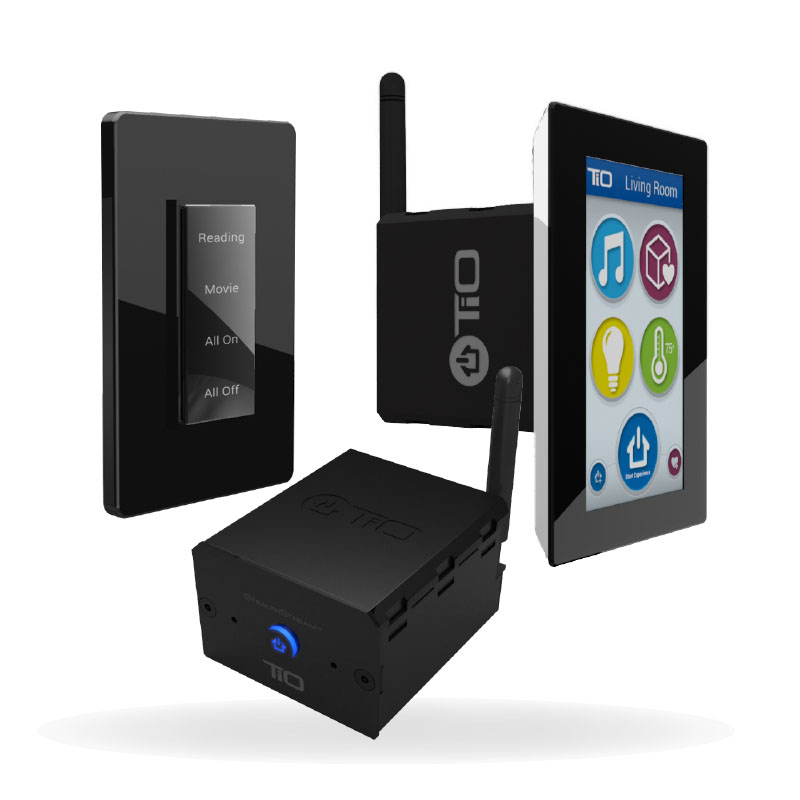 An idea straight from users…
TiO President Mike Anderson told us in a telephone interview that this feature resulted from direct end-user feedback coming out of the rather extensive Beta testing the company has been conducting for months. It is, he tells us, an example of how the company seeks to be responsive to both issues…AND opportunities…that arise from the many thousands of hours of actual system utilization by testers.
Other system management capabilities have been expanded as well. TiO says this update adds Element Version Reporting which allows an integrator to more easily track the software version of each Element as reported on a "Manage Elements" screen. This version information can be important to an integrator when diagnosing system issues.
New integrator tools as well…
A new TiO Pro Login has also been added to the system's Settings page. This allows an integrator to easily login (with a password) to advanced system settings for future enhancements or troubleshooting.
Finally, the company has added another cool capability – you can now save the system configuration on a USB drive. This configuration can then be restored in the future. This capability is handled through the TiO system's Master Coordinator which resides between system elements and your home's network.
"We continue in our commitment to innovation with these updates to TiO's intuitive and powerful home control system," Vinu Patel, CEO of Anuva Automation said in a prepared statement. "We believe strongly that TiO should continue to grow easier to use and faster over time. By investing in continued app development, Anuva Automation is making it happen."
As we have previously reported, apps are available in both Android – and now in iOS as well. Learn more about the TiO system at: www.tiohome.com.