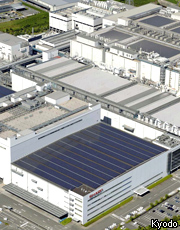 The giant LCD panel manufacturing plant built by Sharp Corp. and now a joint venture between Sharp and Hon Hai Precision Industry Co., Foxconn's parent company, has reported that it generated a net loss of ¥7.4 billion ($75.7 million) for the April-December fiscal period. The news is another indicator of the degree of desperation that Sharp is facing in trying to turn around its financial condition which, like many Japanese manufacturers has struggled as a result of the global slowdown and declining profitability.
See why Sharp suggests that the situation is improving…
The plant, located in Sakai, Osaka Prefecture, Japan, was once the pride of Sharp who built it several years ago to create the largest world-class LCD panel manufacturing facility with the latest generation LCD panel production technology to gain a cost advantage over competitors. However, shortly after launching this plant, the industry fell into a protracted period of intensifying competition from powerful Korean companies like Samsung and LG. This competition caused a price war that deflated profits from their television division – and at the same time, a global recession caused a drop-off in consumer demand.
As Sharp's fortunes declined, they began a campaign to find a partner to share the load of this plant for mutual opportunity. Eventually, they worked out a deal with Hon Hai who was looking for direct access to a supply of LCD production. This is the first financial report since that partnership was completed last year.
The jointly owned company that runs the plant, Sakai Display Products Corp., also reported that they had booked an operating loss of ¥3.3 billion on total sales of ¥108.6 billion for the period. While these numbers are undoubtedly a disappointment for Sharp and Hon Hai, the company has said it was, in fact, making progress.
According to a report by the Japan Times, the loss was primarily due to low levels of factory utilization early in the reporting period. During the April-June quarter, this large factory was only operating at a 30% level due to sluggish demand for LCD TVs.
However, panel sales picked up in the wake of the partnership with Hon Hai in July and carried forward through December. Unfortunately, the pick up was not enough to offset the losses generated during that fiscal first quarter.